shingle style: capturing the view(6)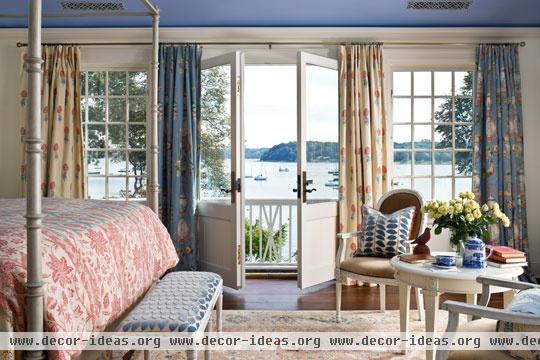 shingle style: capturing the view
A sky-blue ceiling and an array of quaint fabrics keep the mood light in the master bedroom. Curtain panels in alternating fabrics offer privacy when needed, but don't block the view. "I wanted the landscape to become part of the architecture," Eliza says.
Sources:
Bed ("Willa"); armchairs ("Sophie Armchair''); armchair fabric (toffee mohair): Oly, 775/336-2100, olystudio.com, trade only.
Bench; round table; rug: antique.
Bench and pillow fabric ("Dora-2''/Beige, Blue #AM-Dora-2, by Andrew Martin): Lee Jofa, 800/453-3563, leejofa.com, trade only.
Drapery: owner's collection.
Bed cover (using fabrics from the room): Custom Cool, 516/413-6313.
Paint: custom mix of Farrow & Ball, 888/511-1121, and Benjamin Moore, 888/236-6667.
shingle style: capturing the view(6)
http://decor-ideas.org/cases-view-id-1287_6.html