shingle style: capturing the view(5)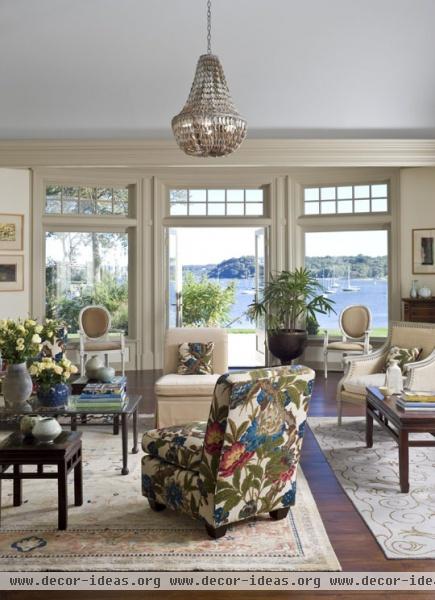 shingle style: capturing the view
Like much of the house, the living room has a great view of the sailboats on Oyster Bay.
Eliza Gatfield is happy to give credit where credit is due, and when it comes to her gently worn pine floors, the honors go to Pug, Mopsy, Cooper, and Sesame. "We have four dogs, and they have aged the floors beautifully," she says, "I know it would drive some people insane, but I love the wear and tear. It gives the floors such a wonderful lived-in feel."
Carpenters hammered black nails randomly into the chocolate-stained wide planks to play up the antique look. "The floors are key," Eliza says. "Everyone who comes here comments on how it feels like the house has been here for centuries, and gradually updated."
Sources:
Chandelier ("Jenny Chandelier''/natural shell with antiqued silver finish): Oly, 775/336-2100, olystudio.com, trade only.
Bergère ("Hanna Chair''); fabric (raffia with white herringbone cushion); armchairs by window ("Sophie Armchair); armchair fabric (toffee mohair): Oly, 775/336-2100, olystudio.com, trade only.
Area rug (antique): owner's collection.
Safavieh area rug: Safavieh, 866/422-9070, safavieh.com.
shingle style: capturing the view(5)
http://decor-ideas.org/cases-view-id-1287_5.html