Designers Get Creative in a D.C. Show House
The 2014 D.C. Design House was built in 1929 and originally owned by the founder of the city's Madison Hotel, Marshall B. Coyne. Its three levels, including six bedrooms and five full baths, provided an ample canvas and an array of challenges for the participating designers. The show house is a fundraiser for the Children's National Health System, which has been providing pediatric care in the Washington metro area since 1870.

While the home retains many of its original features, such as crown molding, wood floors and custom cabinetry, a tremendous amount of updating was done. Fantastic design ideas and a worthy cause — what more could you ask for? Come along as we step through the entry into this historic home.

2014 DC Design House info: April 13 to May 11, 2014; Saturdays and Sundays, noon to 5 p.m.; Tuesday through Friday, 10 a.m. to 3 p.m.; closed Mondays; 4600 Linnean Ave., in Northwest Washington, D.C.; $25 general admission. More info

Photography by Angie Seckinger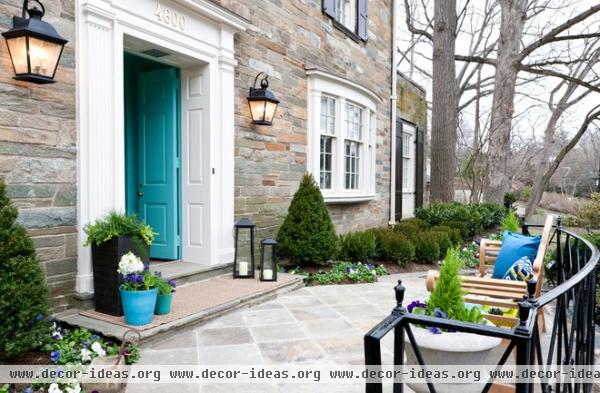 Jim Rill and David Benton of Rill Architects make a big impression right at the front door. "Like many home entrances, the main challenge was to offer guests a place to stop and recognize it as a designed space," says Benton. "By painting the entry and front door an unexpected brilliant blue and creating an outdoor seating area, we offered a space where we hope visitors will stop and take in the elegance of the exterior of this house, as they will the interior."
The door color and accessories help guests feel welcome despite the visually heavy stone, which might otherwise have felt imposing. "The robin's egg blue is traditionally used as an interior color, but we wanted to set the stage as people enter the home for the new and imaginative interiors," says Benton.
The architects took inspiration from the traditional details of the great homes of D.C. to add new features such as lighting, hardware and shutters.
Pillows, lanterns, planters, tray, rug: Crate & Barrel; bench: Country Casual; paint by C2, Barry Dixon line: front door: Pond Shimmer; shutters and glass door: Angus; carriage lights: Mount Vernon Collection, Dominion Electric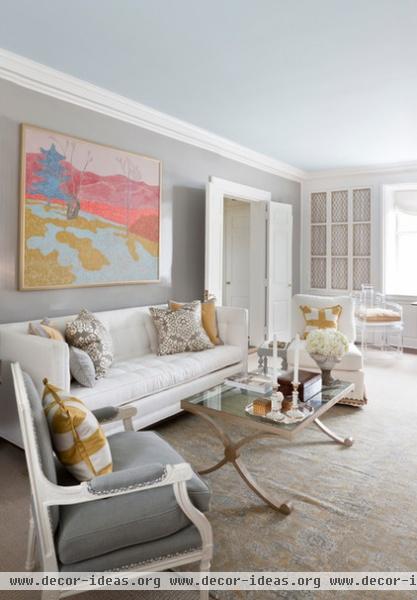 The color scheme for Kelley Proxmire's living room was inspired by the silver, gold and white Bergamo silk embroidered fabric. "I wanted to create a design that was becoming to the house, which was built in 1929, and have the room appear as if it had evolved over the past 80-plus years," she says.
Lucite chairs: Spectrum Furniture; paint: Whiteout, C2; Oriental rug: Galleria Carpets and Rugs; sofa: Pearson, Henredon; side tables: Taylor Reed, Hollis and Knight; coffee table: David Latesta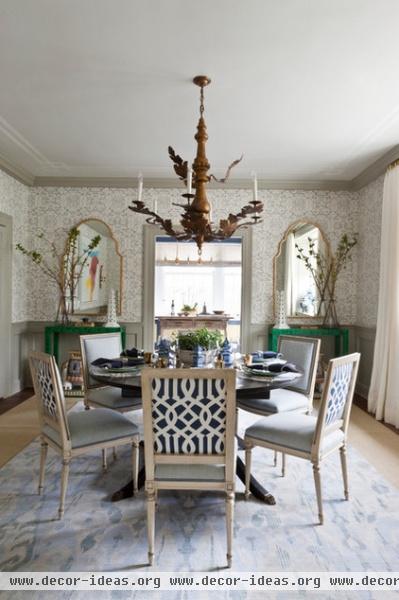 To add architectural interest to the dining room, Marika Meyer paneled the walls below a new chair rail. China Sea's San Marco wallpaper in gray and ivory tones was the starting point for her design, which includes chinoiserie motifs.
"The distressed traditional pattern is balanced by the modern bold lines of Imperial Trellis [fabric] in navy and white to create a timeless setting for many events," says Meyer. Custom faux-malachite console tables and gold-framed mirrors add symmetry and drama. More drama comes from the vintage 22-karat gold-leafed chandelier.
"The round distressed walnut table proves durable yet formal enough for the finest soirée," Meyer says. Indoor-outdoor fabric covers vintage Louis dining chairs, making them both beautiful and practical.
Chandelier, Chinese painted pagodas, console tables, dining chairs, mirrors, vintage elephant garden stools: Marika Meyer Interiors; blue and white jars: John Rosselli; dining table: Bausman and Co., J. Lambeth; fabric for chair backs: Schumacher, Imperial Trellis II in ivory/navy; fabric for chair fronts: Perennials, Chelsea Square, Blue Heaven; ikat rug: wool, C.G. Coe and Son; wallpaper: Quadrille, San Marco Reverse, Gray on Almost White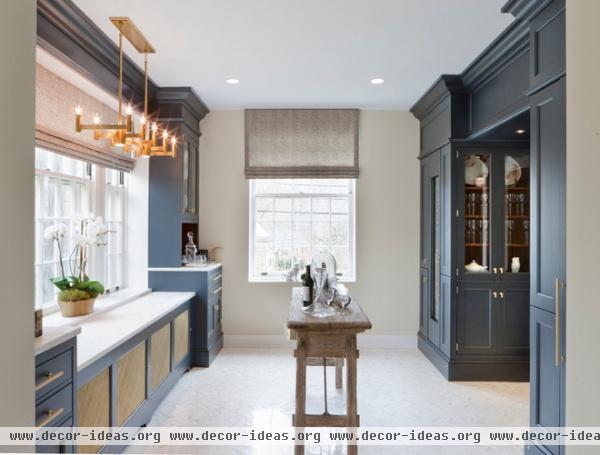 In the butler's pantry, Nadia Subaran of Aidan Design was challenged by a space that had no alignment between the doors and windows, as well as awkward bulkheads and chase walls. Her design solution was to build out cabinetry to conceal the awkward jogs and streamline the space.
"We wanted the butler's pantry to function as an extension of the kitchen and serve as a central place for all entertaining needs," says Subaran. She saw the butler's pantry as an ideal wine-tasting room. It has two Thermador wine columns that hold a total of 140 bottles, and custom cabinetry designed for ample storage of stemware.
"Wood-Mode's new vintage navy finish was our first and only choice for the cabinetry," she says. "The combination of finishes — deep navy, Calacatta marble and brass — turned this room into a little jewel box."
Appliances: Thermador; cabinet hardware: Lewis Dolin Bar series; countertops: R. Bratti Associates; floor tile: Architectural Ceramics; furnishings, fabrics, accessories: Victoria at Home; lighting: Delany Linear Chandelier: Robert Abbey; paint by C2: walls: Noodle (flat), trim: Sheer (semigloss), ceiling: Kind of Blue (flat)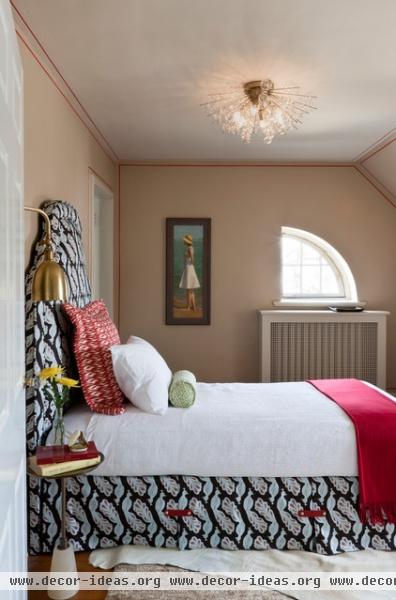 There's cozy, and then there's the very small guest room with angled walls that Melissa McLay designed. Instead of ignoring the room's architectural eccentricities, McLay celebrated the angled walls with a thin red banding stripe that adds a tailored, preppy vibe.
"The modern peacock fabric inspired the lively color palette and provides a fresh twist on a traditional theme," says McLay. The custom headboard picks up the undulating shape of the peacock feathers.
"The bubble glass chandelier adds glamor, shine and much-needed light," says McLay. "And whimsical artwork such as 'Chesapeake Girl,' by Rick Casali, will make guests smile."
Headboard: custom upholstered, Melissa McLay Interiors, fabric: Peacock by Victoria Larson;
ceiling fixture: Solaria Lighting; bedding: Peacock Alley, Isabella; sconce: Visual Comfort; cowhide rug: World Market; rug: Jaipur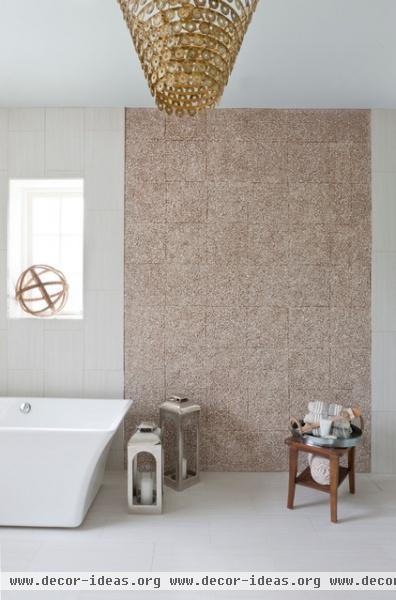 The inspiration for the master bathroom, by Cindy McClure of Grossmueller's Design, was the desire to escape the memories of last winter's brutal cold. "When looking for tiles to use, we ran across the seashells, which were so unique and different," she says. "I remembered the Currey & Company George V coin chandelier, which reminded me of a pirated treasure."
But she also wanted to keep things from becoming beachy kitsch, so she opted for simplicity with elements like the open walk-in shower and a freestanding tub with clean lines. "Each of these items lends itself to the simplicity of the space," says McClure.
Paint by C2: ceiling: Fog; walls: Sand Castle; trim: Cotton; tub: Signature Hardware, Draque; tiles from Mosaic Tile Company: floor and wall tile: Sunrock, Travertino White Porcelain; mosaic tile: SomerTile, Beach Shell Floral, Natural Shell Mosaic.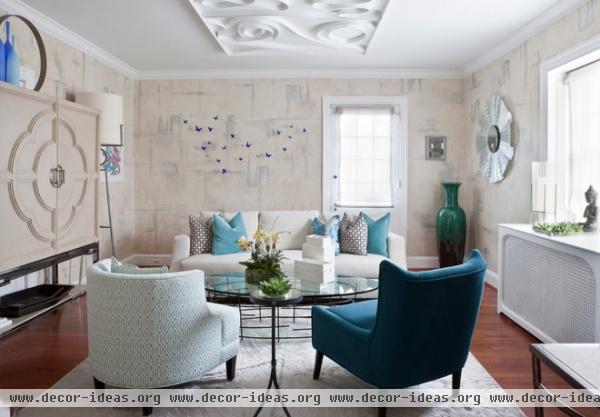 If you're looking for a serene, elegant space in which to relax and reflect on life, you may find just the spot in this family sitting room, designed by Diane Taitt and Dennese Guadeloupe-Rojas of Interiors By Design. "Water was our abstract inspiration," says Taitt. "The ebb and flow, the reflective nature and the myriad blues of the sea."
A custom ceiling relief panel with a water-inspired motif crowns the room. Custom-painted walls and cool, crisp fabric colors also give a nod to the natural world.
Armchairs, mirror: Urban Essentials; bar/entertainment cabinet, floor vase, lamps: Century Furniture; glass coffee table, occasional table: J. Lambeth; paint by C2: walls: Rice Paper 350W; trim: Architectural White 016W; ceiling: Whistler White 272W; Roman shades: Rita Diaz; sofa: Michael Cleary; wall art: "Memos," by Paul Villinski (the butterfly installation) and "Abandon of Neglect," by Lisa Keller, both from Project 4 Gallery; "Blue Color Poems," by Rhona L.K. Schonwald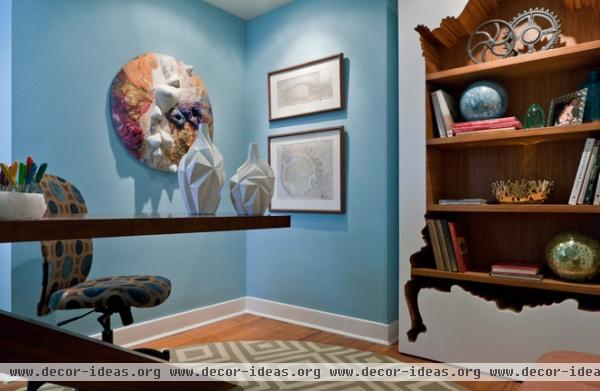 Chad Alan took on the smallest room of the show house, or what he likes to call "The Office Where Structure Meets Sculpture." "The biggest challenge was the bad-ass dormer from hell," he says. "The room was small to begin with, but the dormer carved out a nasty angle and removed a third of the space."
Alan took advantage of the dormer, using its steep angle to counterbalance a strong line with a desk from Century Furniture. "Besides the killer desk, I found a stunning Inside Out bookcase, and the Edward Cella Art + Architecture Gallery in Los Angeles graciously loaned two original Frank Lloyd Wright drawings," he says.
"For a kick in the pants of whimsy, I threw in a hat I made several years ago for a bonnet competition titled Easter Sunday in the Park with George," he adds. "Talk about structure meets sculpture."
Paint by C2: walls: A Cappella C2-233; ceiling: Halo C2-144; trim: Cotton C2-320; bookcase: Inside Out, Chad Alan Designs; desk chair fabric: Haute; rug, Loloi; vases: Jonathan Adler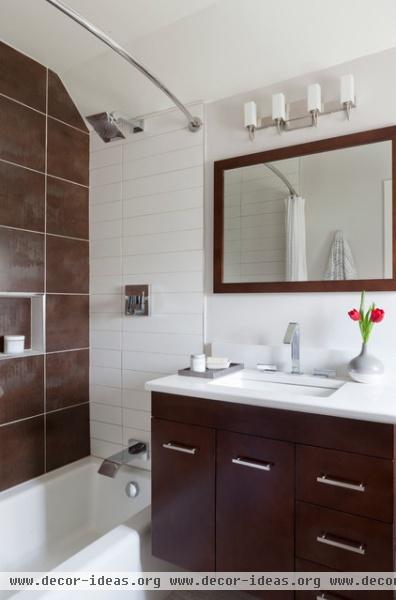 Bathrooms in older homes tend to be small, especially secondary baths. TJ Monahan of Case Design/Remodeling tried to brighten up this space and make it feel airier and bigger. A wall-hung vanity allows the eye to see more floor tile, and paint helped to make the space feel larger.
Monahan related to the fundraising aspect of this show house on a personal level. "My daughter was born with a hole in her heart," he says. "This isn't uncommon, but as a new dad, it was terrifying. The hole has since shrunk to a point where we aren't hooking her up to machines every couple of months, so the scary part is over. On a very small scale, I got a look into the emotional, stressful world that the families being helped by Children's National Health System live in. That desire to help Children's National help those families motivates me more than anything else to make this space at the Design House beautiful and successful."
Marble floor, wall tile: Mosaic Tile Company; countertop: Norwood Stone Corporation; plumbing supplies: Ferguson Enterprises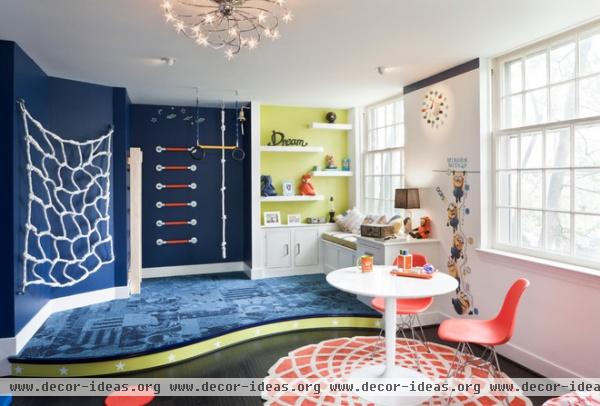 "The playroom is a place to be active and creative, a place to dream big dreams, a place to let the imagination fly," says Katherine Vernot-Jonas. Her design concept was inspired by the notion of fostering a healthy and active indoor lifestyle.
"My hope is that everyone who visits the playroom will make a small change in their homes that will promote physical fitness and help us to minimize childhood obesity, leading to a better quality of life," says Vernot-Jonas.
Her design includes a custom rock-climbing wall with an outer space–themed mural designed by Magic Murals, a platform that can be used as a stage, a tree-shaped bookshelf by Korean designer Shawn Soh, a George Nelson clock and two orange Eames chairs.
Table lamp with natural rocks: Crystal Luxe Lighting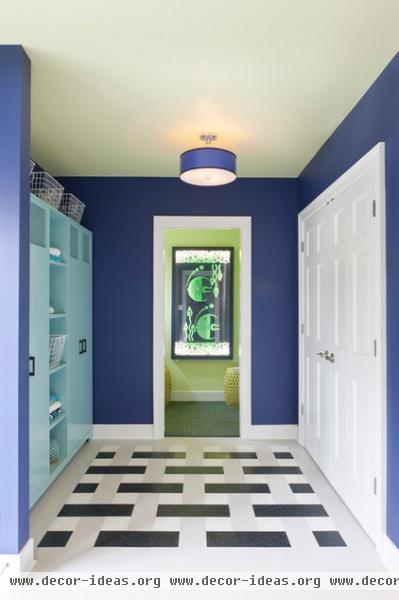 Miami and its art deco style inspired the pool bath and dressing room. Designers Chris Cahill and KerryAnn Rodriguez of Cahill Design Build used bright, beach-like colors paired with bold black and white patterns to create a retro feel reminiscent of 1930s South Beach.
"Etched glass panels reclaimed from the home were repurposed as illuminated artwork in the dressing area," says Rodriguez. Custom lockers allow users to store their belongings, towels and pool items.
Paint: C2 and Potomac Paint; garden stools: Safavieh; tile: donated by Italo Ceramica; cabinetry: custom, Cahill Design Build; carpet: Georgetown Carpets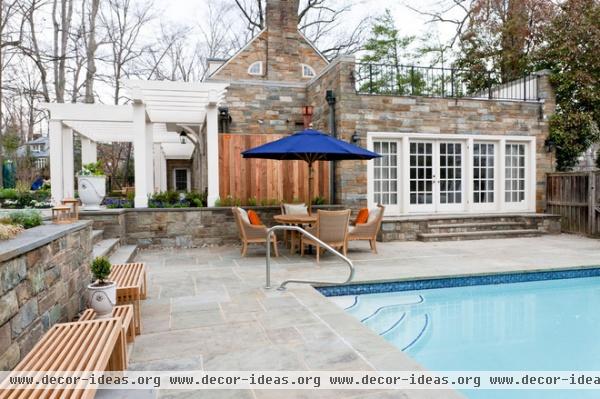 Naseera Moore-Lawrence and Nicolette Powell of Country Casual designed the pool area to be an outdoor extension of the family room. "Teak pieces with water-resistant fabrics and quick-dry cushions were the perfect solution," says Powell.
The Havana Lounge Collection was designed by Moore-Lawrence and Powell. The wicker color, a warm gray with hints of brown, was custom made for the line.
All furniture, accessories, pillows: Country Casual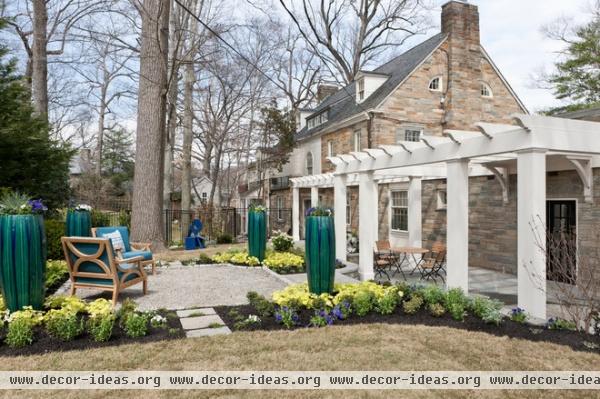 For the loggia and pool room garden, Stephen Wlodarczyk of Botanical Decorators took inspiration from four glazed urns made by Campania International. "The striking Isleta urn, from their Art Pottery collection, was the perfect piece to add the desired level of whimsical character necessary to pull off a show garden," says Wlodarczyk. His vision also involved dividing the long stretch of the unique backyard into three connected design vignettes.
"The key features include the custom-built loggia and portico, the hand-chiseled wall stone to form the curve back into the steps, and a fountain garden that introduces the tranquil sound of water," he says.
Fountain: Austin, Campania International; English boxwood and woody plant material: Stadler Nursery; flagstone: Pennsylvania, Ernest Maier Stone Supply; teak furniture: Country Casual
URL:
Designers Get Creative in a D.C. Show House
http://decor-ideas.org/cases-view-id-23228.html