shingle style: capturing the view(13)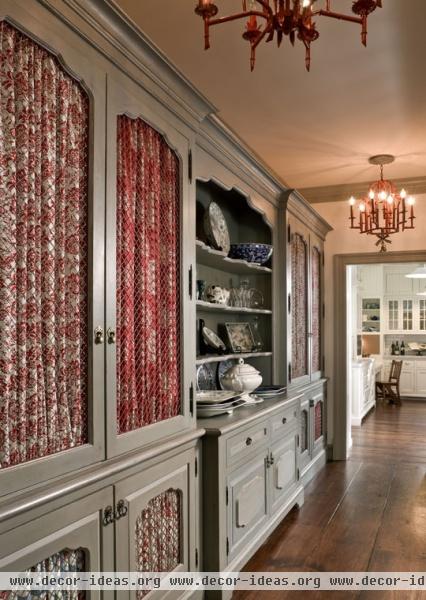 shingle style: capturing the view
As in the master bedroom, nearly every cabinet front in the butler's pantry features a different shirred fabric insert, and even the hardware is mismatched. On a trip home from England, Eliza loaded her luggage with an assortment of antique bronze and brass cabinet latches and handles. "I bought as many as I could fit in a suitcase," she says.
Sources:
Cabinetry (custom); finish ("Dune Blue''): Custom Cool, 516/413-6313.
Cabinetry hardware; chandeliers: antique.
Fabric panel, top left ("Faveto''/Red, discontinued); fabric panel, top right ("La Declaration''): Pierre Deux, 888/743-7732, pierredeux.com.
Fabric panel, bottom left ("Hewlett Plaid''/Cream, Blue, Red #2002185-55 by Diamond & Baratta); fabric panel, bottom right ("Chinese Folly''/Red, Cream #J0510-470 by GP&J Baker): Lee Jofa, 800/453-3563, leejofa.com, trade only.
Light fixtures (antique): owner's collection.
Light-fixture finish ("Chinese Red''): Custom Cool, 516/413-6313.
Paint: custom mix of Farrow & Ball, 888/511-1121, and Benjamin Moore, 888/236-6667.
shingle style: capturing the view(13)
http://decor-ideas.org/cases-view-id-1287_13.html