Houzz Tour: Classic and Contemporary Styles Harmonize in Nashville Home
In the music video for his song "Rain on the Roof," country music star Chad Warrix is seen strapping on a tool belt and going to work on a construction site. He then looks at building elevations for a house with a steeply pitched roof and many-paned windows. It's a case of art imitating life, as Warrix and his wife, Lori, built a similar-looking house on their land in Nashville.

The home contains elements of edgy modern (think a motorcycle hanging from the ceiling) and quiet classicism (picture a tall fieldstone fireplace). "He's a rock 'n' roll guy, and she's more conservative," says Blaine Bonadies, their architect.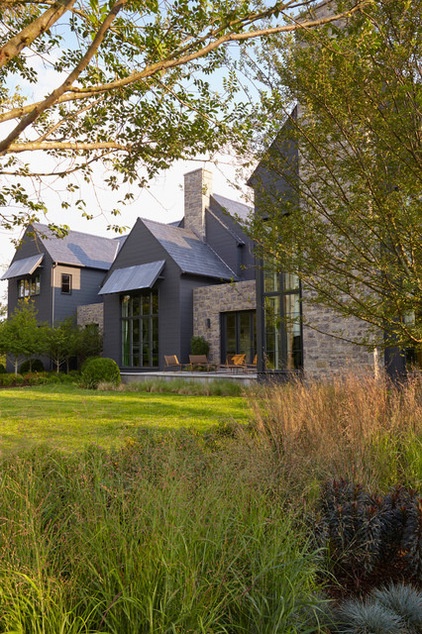 Houzz at a GlanceWho lives here:
Chad and Lori Warrix and their 2 children
Location:
Nashville
We will start this story with an only-in-Nashville tale: The house is located on the site of a bygone Civil War battle, and before construction another country music star, Hank Williams, Jr. — Chad's friend and a Civil War buff — searched the land for relics. If any buttons, buckles or bullets were discovered, the architect doesn't know about them.
Bonadies was more concerned with architectural history anyway. "The first house we drew for them was more minimalist and contemporary," he says. But when Lori weighed in on the plans, the architect realized he needed to bring classical elements to the project. The result is a home with modern interpretations of a gabled roofline, mullioned windows and awnings. The shapes are classic, but the execution is contemporary. The dark color, a custom color meant to evoke comparisons to industrial steel, marries the familiar with the edgy, and is perhaps evidence that the Southern Gothic genre might be alive and well. Bonadies calls it "a modern interpretation of Gothic style."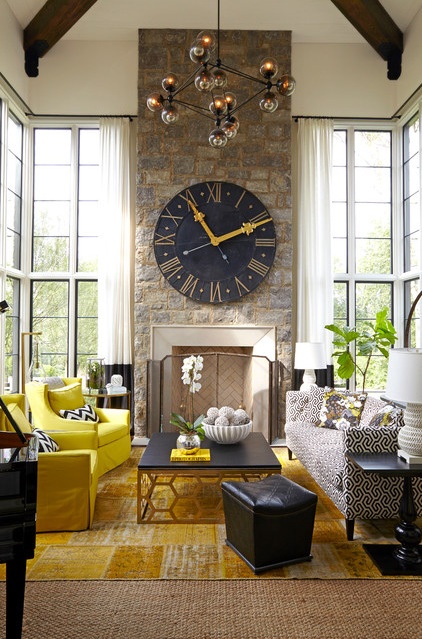 Inside, the drama keeps going with a living room that's roughly a 19- by 19-foot cube with 19-foot-high ceilings outfitted with bold black beams.
Elements like a fireplace with a ceiling-high chimney made of Tennessee limestone, tall windows and elegant furnishings give this room a stately tone. But just know there's a small speakeasy-style bar adjacent to it (not pictured). That fact explains a lot about this project. It may look serious and important, but there's always a mischievous, fun-loving feature just around (or in) the corner.
The idea for a speakeasy attached to the living room came from the way the couple entertains. "They found that when they got together with friends, the guys would hang out in one room and the women would hang out in the other," Bonadies says. "This way the hangout spots are connected."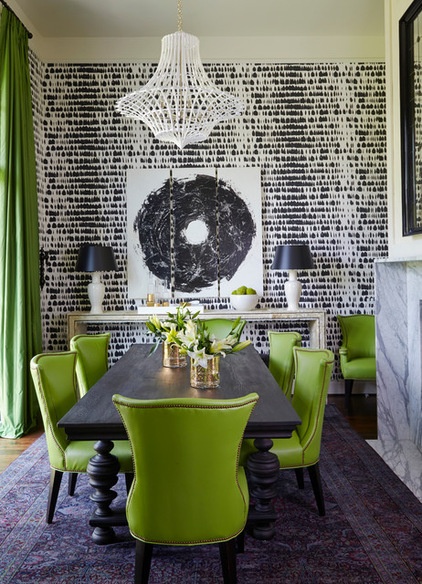 The architect made the dining room feel more intimate by stepping down the room. At 13 feet, the ceiling is lower, and a band of molding that sits 10 feet above the floor makes the room feel even more approachable.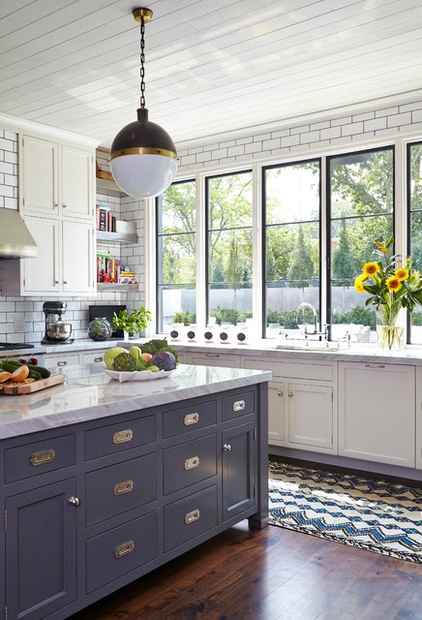 One of the owners' requirements was that they be able to stand at the sink and watch the kids play in the back. A row of sleek metal windows makes it possible. "We wanted the windows to have as little trim as possible," Bonadies says.
Windows: Marvin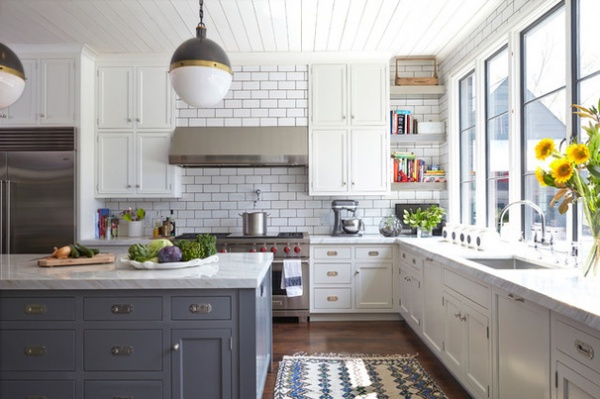 To make the space seem somewhat less sleek, the architect lined the ceiling with beadboard and chose gray grout. "It gives the space a nice vintage touch, and it's a good juxtaposition to all the slick stuff going on in here," he says.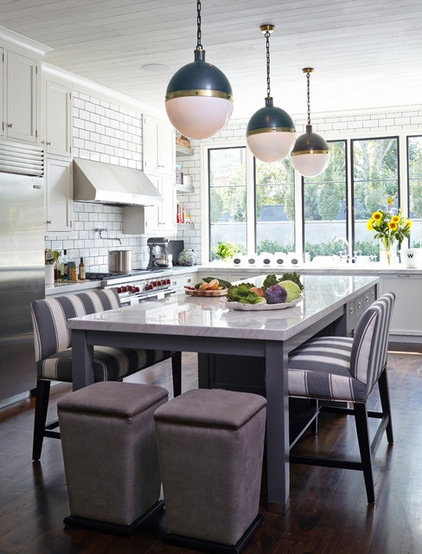 The couple had a banquette in their previous house and enjoyed bench seating for their family. While this room doesn't lend itself to a banquette, bench seats are used for the eat-at island.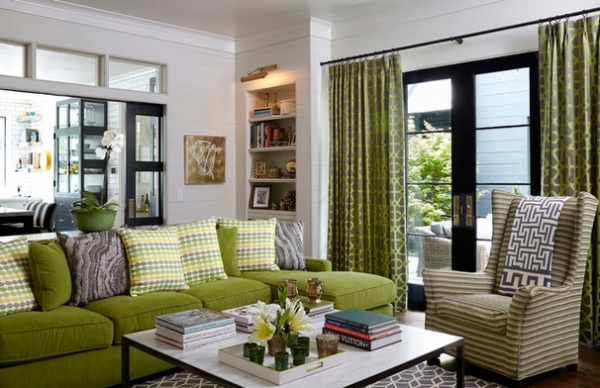 A family and media room is just off the kitchen. It can be closed off with pocket doors fitted with glass insets, but it can also be fully connected. "In this house you never feel secluded," Bonadies says. "We designed these spaces so it's easy to be together and be social."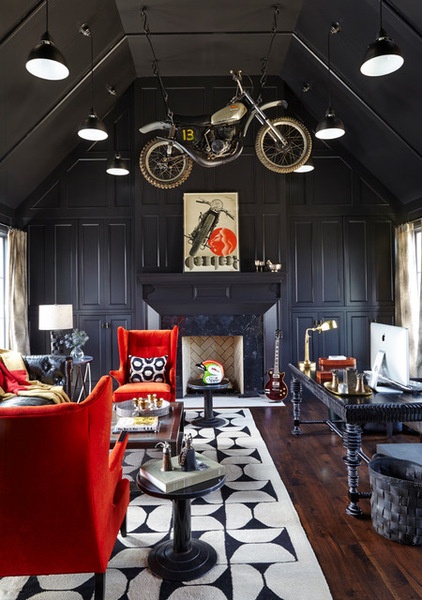 This is Chad's private office, and it's hard not to focus on the motorcycle dangling from the ceiling. "This feature was planned from the beginning," Bonadies says. "Chad is a motocross guy, and I think he'd be racing bikes if he wasn't a musician." The singer-songwriter collects motorcycles and requested that this one be hung in the room for sentimental reasons. It belonged to his uncle, a Vietnam War helicopter pilot who survived the conflict only to die in a stateside aircraft malfunction.
Fulfilling the request was quite a maneuver on the architect's part. "To secure it we had to have special metal plates made and a lot of guide wires," he says.
Other feats of engineering aren't so visible. "He has a studio that is separate from the house, about 150 yards down a hill," Bonadies says. "But the way things are wired, he can connect directly to the recording studio from here. So if he's sitting here and he creates a great guitar lick, he can immediately plug in and record it."
This is the only room in the house with dark-hued walls, but it makes perfect sense to the architect. "If you knew Chad, you'd know why the room is black. It seems to be his color," Bonadies says. "He has a black Harley, a black pickup truck and a black tour bus."
The master bedroom has a lighter tone. "We wanted to keep this room pretty simple," Bonadies says. In this case "simple" blends rustic and glam: A gold, many-armed, mod chandelier hangs above a bed with a cowhide-upholstered headboard.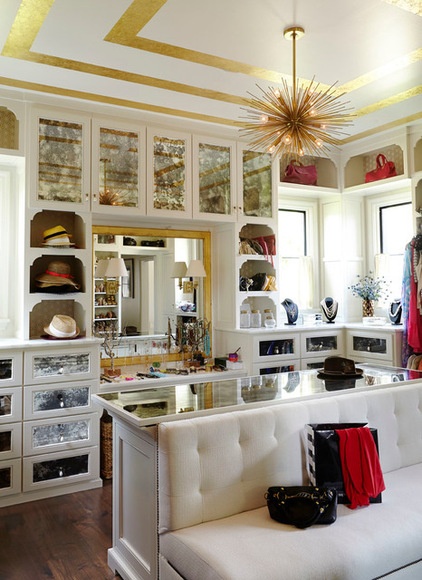 With an urchin light fixture, a gold-striped ceiling and mirrored drawers and cabinets, Lori's closet falls firmly in the glam zone on the style spectrum.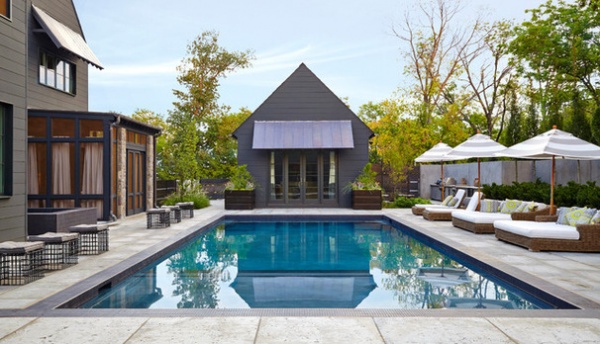 The home's outdoor areas also offer many gathering opportunities. Large chaises surround the swimming pool. An herb garden, located to the right of the pool house, means that a fresh garnish to add to drinks or food (the grill area is also at right) is just steps away.
Though the home could have appeared imposing, efforts were made to make it approachable. "These are the most unpretentious people you would ever want to meet," Bonadies says.
He says the Kentucky natives appreciate and love their new home. "I get texts from Lori that say living in the house feels like being on vacation, and that she has to pinch herself to believe that she gets to live here."
Architecture: Blaine Bonadies, Bonadies Architect
Interior design: Paige Sumblin Schnell, Tracery Interiors
Browse more homes by style:
Small Homes | Colorful Homes | Eclectic Homes | Modern Homes | Contemporary Homes | Midcentury Homes | Ranch Homes | Traditional Homes | Barn Homes | Townhouses | Apartments | Lofts | Vacation Homes
URL:
Houzz Tour: Classic and Contemporary Styles Harmonize in Nashville Home
http://decor-ideas.org/cases-view-id-25638.html