A Stylist's Secrets for Giving Your Kitchen the Wow Factor
With more of us choosing open-plan living, the kitchen has increasingly become central to the look and feel of our homes. No longer a space to shut the door and forget about, the kitchen is a showpiece as well as a practical space in which to prepare meals and dine. So how can you play to your kitchen's strengths and boost its designer appeal? Borrow these styling tips to create a practical and beautiful space.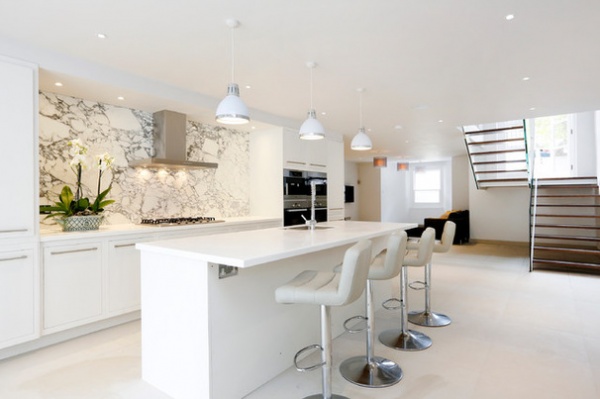 Add a feature wall.
This mostly white, open-plan space has become something really special with the addition of the striking marble feature wall behind the cooktop. Marble is very much in fashion, and this high-contrast look is practical, contemporary and luxurious.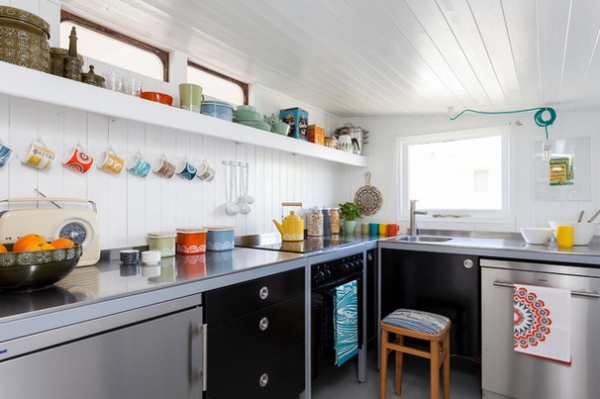 Accessorize with bright accents.
With a monochromatic scheme, such as in this converted railcar, the color and interest come from the accessories. The result is a very cool bohemian vibe. Stick to a palette of three or four accent colors of similar intensity.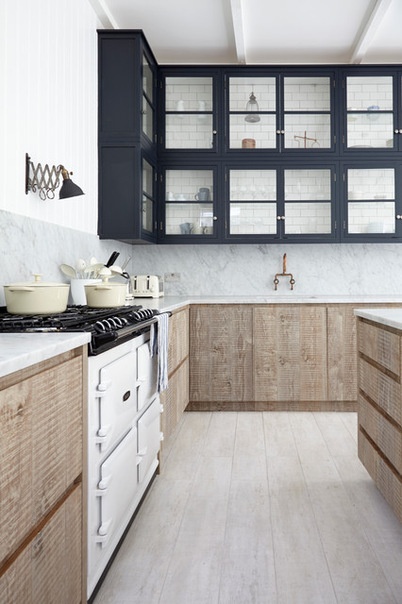 Mix up materials.
You don't have to have the same finish or style for your upper and lower cabinets. In this kitchen, the rough-hewn wood of the lower cabinets ties in beautifully with the classic and dramatic units above. The softness and warmth of the wood are the perfect foil to the high contrast of the dark gray and white.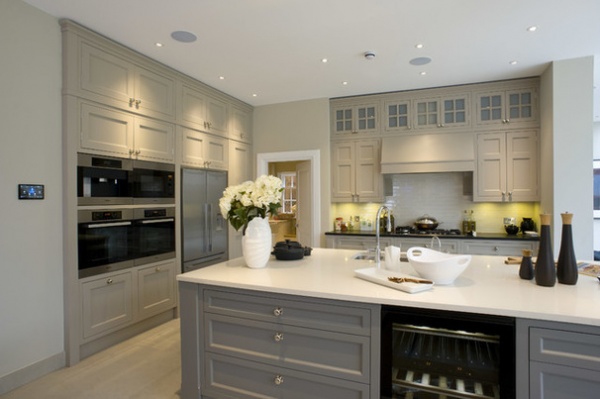 Take it to the top.
For a sleek and modern look, optimize your storage and display areas by taking the cabinets right up to the ceiling. Full-height cabinets create a more streamlined look and offer a place for those less-frequently used items to live. Add interest with glazed doors, as the owners of this Shaker-style kitchen have done.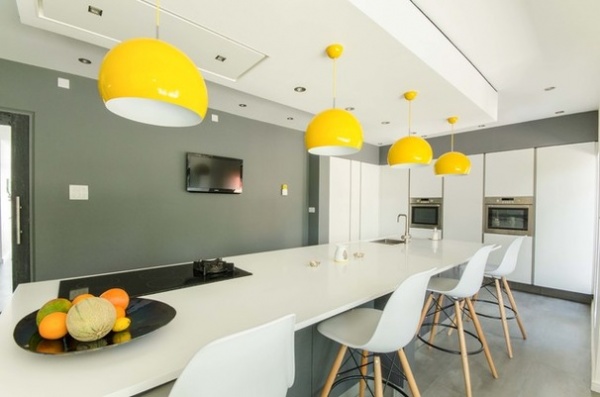 Light the way.
Make a focal point of your task lighting. These pendants combine practicality with visual impact by adding zesty primary color to this streamlined monochrome scheme. Simplicity is the ultimate sophistication!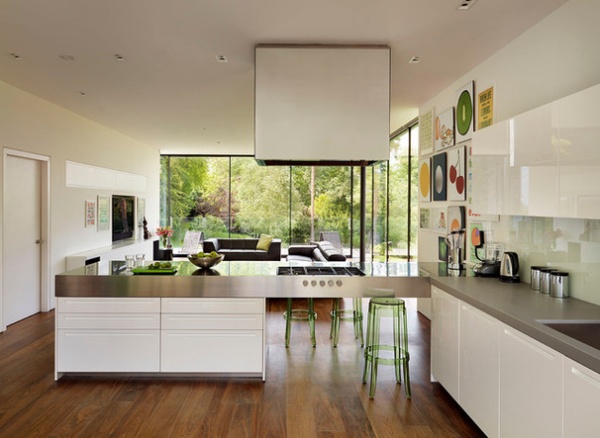 Create a gallery.
With plenty of white, reflective surfaces and masses of natural light, a kitchen can be the perfect place to display art. Showcase your taste and personality, whether that's quirky and kitsch or classic and refined. Consider creating a gallery wall, being careful not to position it too close to the sink or stove.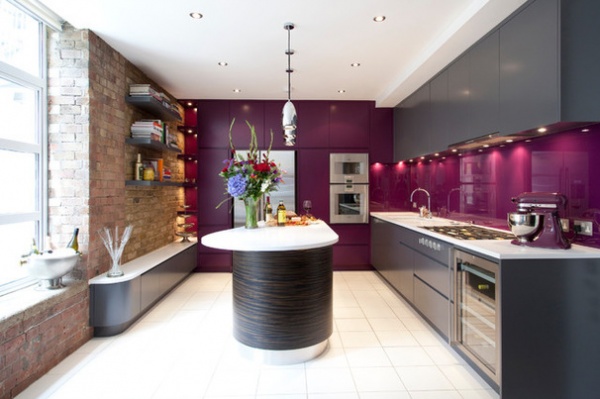 Be extra bold.
Go for high impact with a strong, unexpected color. This deep purple is rich and striking against the exposed brick and dark gray cabinetry. Glass and acrylic backsplashes come in infinite colors and designs to create a unique color scheme.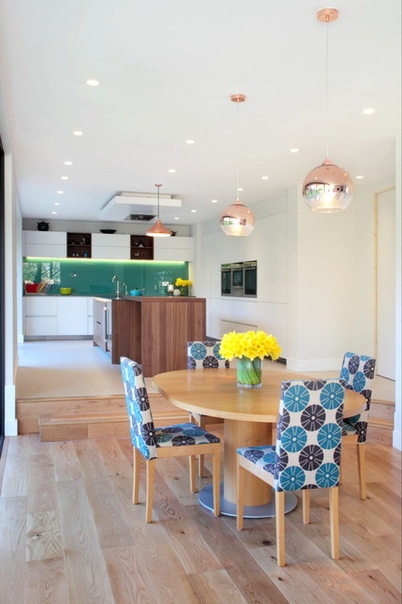 Clear the clutter.
Think of your worktop and dining table as a space for display rather than for storage or as a dumping ground for bills, keys, and laptops and chargers. Remove anything not needed every day, such as a mixer or slow-cooker, from the counters, add your favorite fresh flowers or a healthy green plant, and channel a minimalist vibe.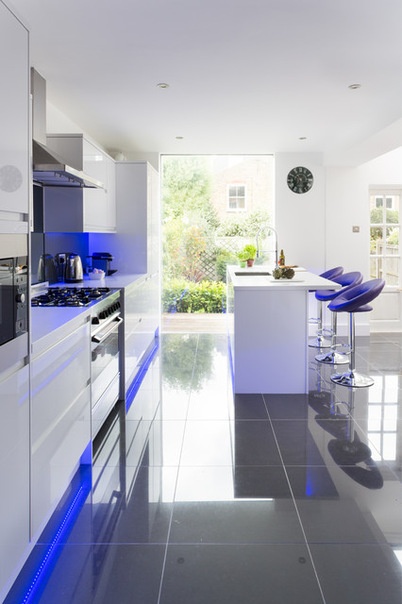 Switch on style.
Against this minimalist white cabinetry, colored LED lighting along the floor and under the upper units adds ambience, interest and depth. The best bit? You can change the hue of your multicolored system to suit the mood or occasion. Programmable LED lighting lets you restyle your kitchen at the touch of a button.
Employ the rule of three.
For accessories such as vases or canisters, display them in odd numbers, in particular three, for maximum style and impact. This simple design trick can elevate your kitchen from ho-hum to hello.
The owner of this kitchen used a trio of large silver canisters above the range for a clean look. Or you could create a mini collection of harmonizing accessories, such as three blue vases in different shapes or heights. Simpler still, steal another trick from this kitchen by buying attractively packaged beverage bottles in threes and putting them on display.
Tell us:
What styling tricks do you use in your kitchen? Share your ideas in the Comments.
More
10 Pair-Ups for Black in the Kitchen
12 Great Kitchen Styles — Which One's for You?
URL:
A Stylist's Secrets for Giving Your Kitchen the Wow Factor
http://decor-ideas.org/cases-view-id-27112.html