LOFTY VISIONS(3)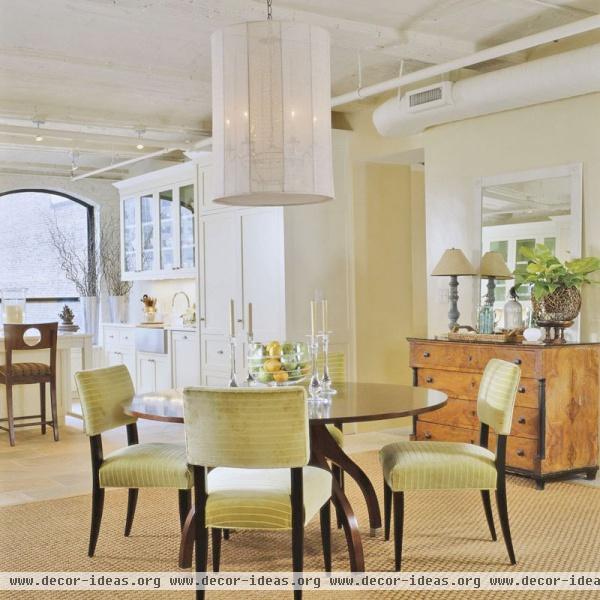 LOFTY VISIONS
Now that the interior walls have been removed, the main floor of the loft apartment is basically one long rectangular space, divided by function, not arbitrary partitions. At one end of the rectangle is the main living area, which adjoins the dining area that opens to the new kitchen. Unlike the original light-starved kitchen (once located in the spot of the current dining area), the new cooking quarters are flooded with light from big, old industrial windows that overlook the city. Centered on an island topped by creamy Vermont marble, the room features simple glass-paned cabinets, the interiors of which are painted chartreuse "to keep the space from looking like a big white industrial box," says Gary. On either side of the cooktop are drop-down window seats where guests and Winston, Gary's Welsh terrier, can perch and watch while Gary cooks.
The roof terrace above the apartment that sold Gary on the loft can only be reached via the spiral staircase in the main living area. Anyone who minds the winding climb is soon all smiles when settled outdoors. Originally just eight feet deep, the size of the loft's rooftop retreat was tripled, and it now invites with Alberta spruce trees, weather-resistant furnishings, and sublime views of the Boston skyline.
"All of this peace, privacy, and being right in the city, too. It's ideal," says Gary, who doesn't seem to miss his historic house and its bucolic setting a bit.
LOFTY VISIONS(3)
http://decor-ideas.org/cases-view-id-1234_3.html