Houzz Tour: Historic Victorian Grows to Fit Its Family
After having two kids, Sherri Bryan and Tim Dewar found themselves cramped in their historic two-bedroom, one-bathroom Victorian in Santa Barbara, California, and the lure of the suburbs came calling. But spending a few weekends house hunting made them realize the suburbs didn't speak to them, and instead they envisioned a family life on foot in which they could walk to parks, restaurants, landmarks and the public library. Their tiny home, smack in the center of downtown, already offered that. All they needed was more space.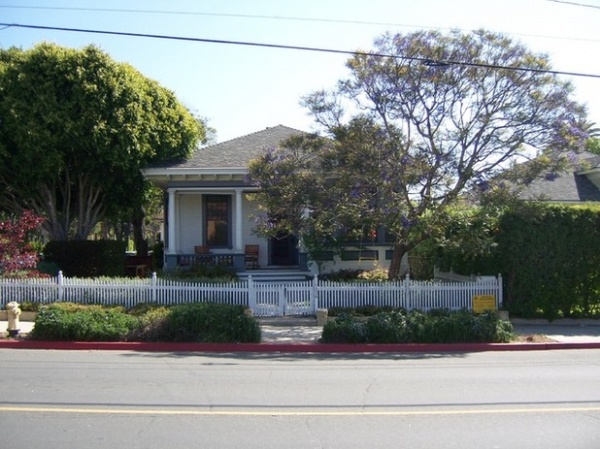 Houzz at a GlanceWho lives here:
Sherri Bryan and Tim Dewar and their daughters, Malaika and Armani
Location:
Santa Barbara, California
Size:
1,450 square feet (135 square meters); three bedrooms, two bathrooms
BEFORE:
Sherri Bryan and Tim Dewar purchased this home when they were newlyweds, falling in love with its character and location. After their two daughters were born, they needed much more space but couldn't find anything on the market to rival their vintage gem.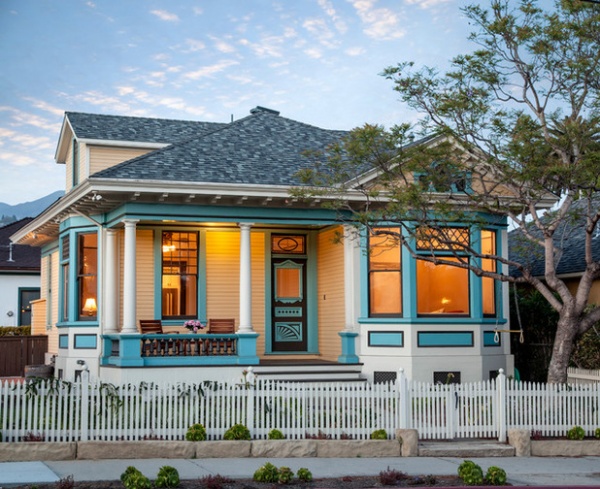 AFTER:
Ditching their real estate agent, Bryan and Dewar turned to architect Dennis Thompson, who maxed out the home's potential by using the attic space to create a two-story, three bedroom, two-bath plan with all the modern amenities and arguably more charm than before. They lost one bedroom adjacent to the master bedroom on the first floor and gained two on the attic level.
Architectural historians had to approve all changes to the exterior, as did the Historic Landmarks Commission. "Fortunately, the owners had the patience and the budget to be able to survive this process and create a family home that will last for many years," Thompson says.
Window paint:
Meteorite, General Paint; casing paint: Direct Appeal, General Paint; siding paint: Hard Wired, General Paint; column paint: Cottage White, Dunn Edwards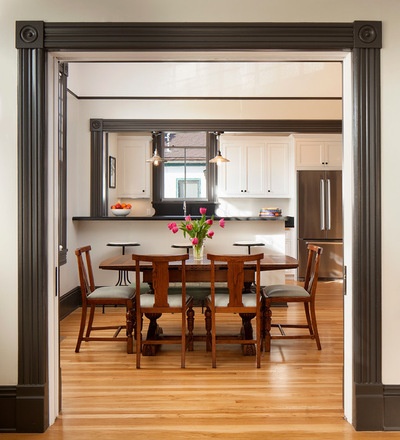 In reimagining the home, Thompson immediately opened the parlor and dining room to the kitchen.
Wall and kitchen cabinet paint: Cool December, Dunn Edwards; trim paint: Urbane Bronze, Sherwin-Williams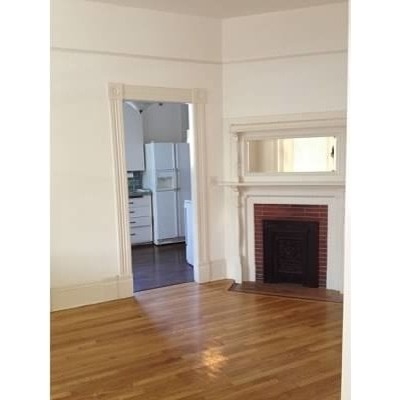 BEFORE:
Previously, the galley kitchen was cut off from everything else by a large wall, making the then-1,100-square-foot home feel even smaller, especially when the couple wanted to entertain.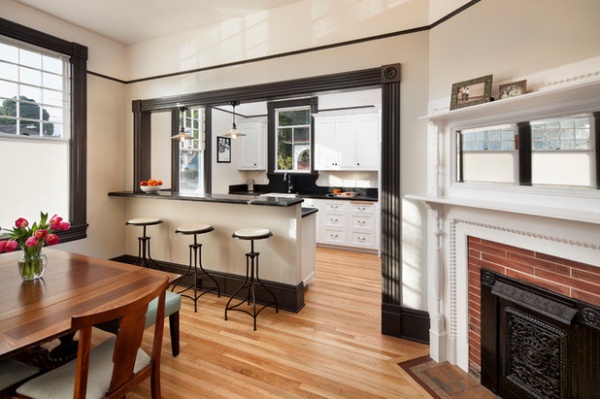 AFTER:
Now the living spaces flow together, giving Bryan a kitchen she calls luxurious. "The openness of it is just amazing," she says. "I can cook and simultaneously interact with my children doing their homework at the table or at the counter. I can participate in dinner conversations with friends while still working in the kitchen."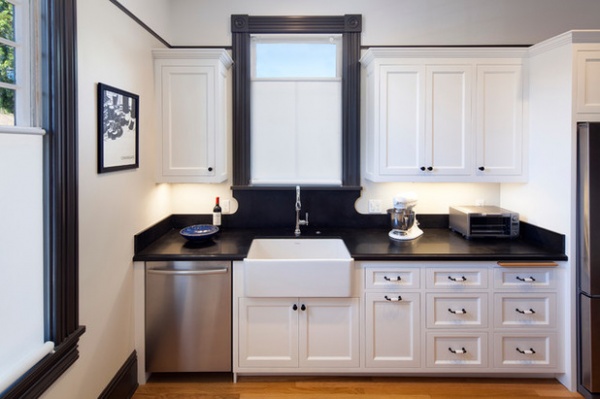 Swapping out old tile for granite modernized the look and efficiency of the kitchen, while period hardware and a farm sink nodded to its vintage roots. "We love the easy-to-clean granite, which is so different than trying to keep tile and grout clean," Bryan says. "And we also love all our new appliances. It doesn't seem like a big thing, but a dishwasher that's quiet and efficient, a stove with four working burners and a rust-free refrigerator all feel like a luxury."
Farmhouse sink:
Vintage Tub & Bath; ebony knobs: Historic House Parts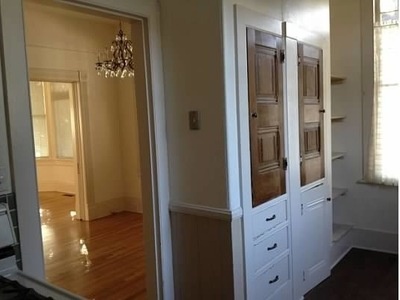 BEFORE:
A bank of cabinets separated the kitchen and dining room, cutting off conversation between them.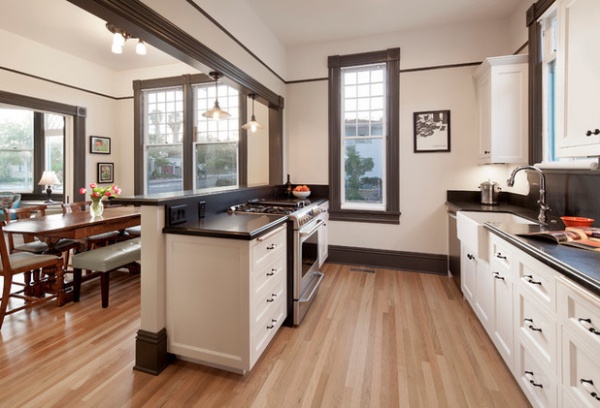 The cabinets were removed to open things up, and a peninsula with storage and a built-in range took their place.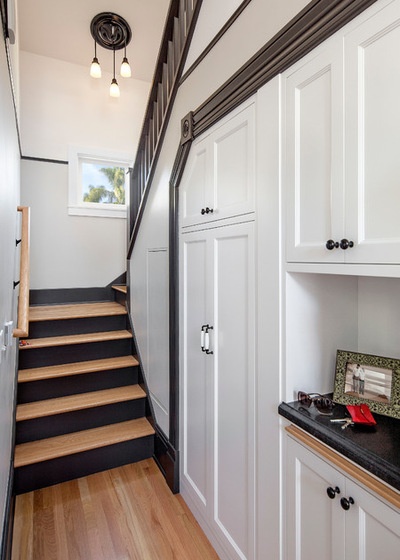 New construction includes pantry storage and a workstation off the kitchen. The millwork and stairwell in this area, which is adjacent to a new garage, was made to look like it had been there for 100 years.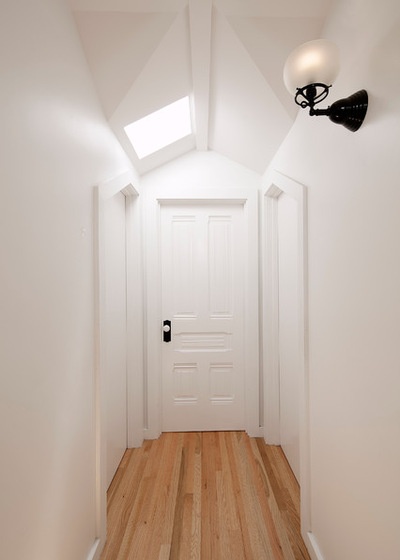 White paint and a skylight brighten the new attic hallway, which connects to a bathroom at the end and two new bedrooms for the girls.
Light fixture: McLoughlin gas-style wall sconce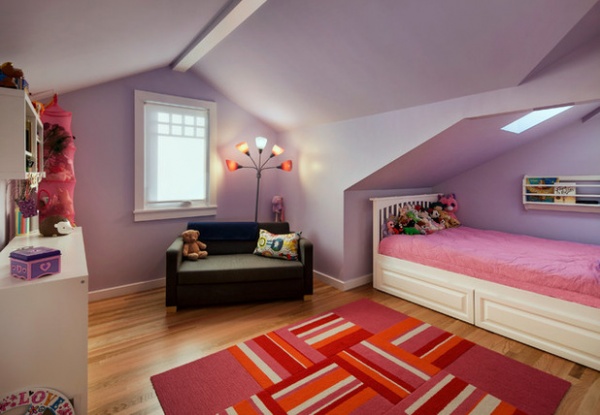 The girls' rooms were designed to meet the minimum dimensions of the residential building code because space was so tight. Alcoves from the roofline add charm and architectural interest.
Floor tiles: Flor; light: Target; sofa: Ikea; split bunk bed: Atlantic Furniture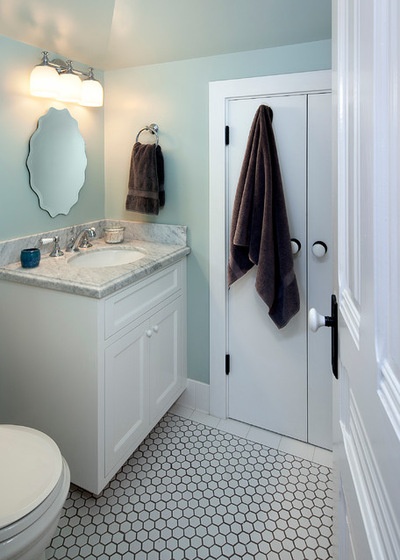 The girls' bathroom is done in era-appropriate materials, including hexagon tile, polished chrome and enamel knobs. "We went with classic Victorian elements," says interior designer Jessica Risko Smith. "The budget was not huge for tile and fixtures, so we worked with classic period elements and focused on simple and crisp."
Walls and ceiling paint: Woodlawn Blue, Benjamin Moore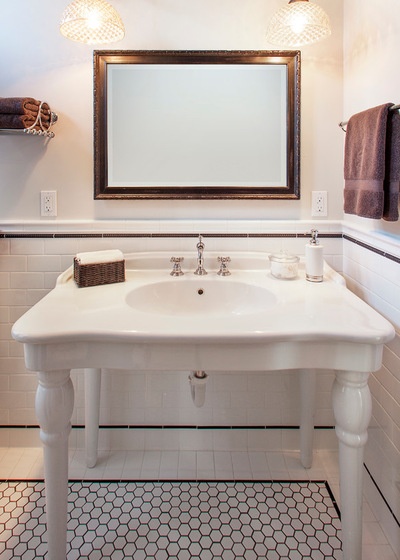 Vintage-style materials are also found in the master bathroom downstairs. A pedestal sink pairs with white subway tile and dark trim for contrast, a design element that repeats on woodwork throughout the home.
Pedestal sink: Porcher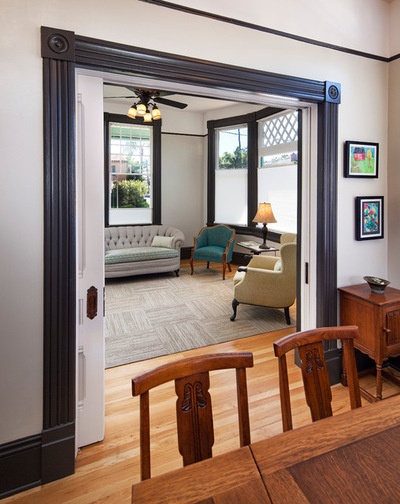 "The dark trim was something I wanted to try to enhance the interior casework and to play with the unexpected," Smith says. "There is so much natural light in the house that the dark trim just grounded everything without feeling oppressive or dark."
Trim Paint: Urbane Bronze, Sherwin-Williams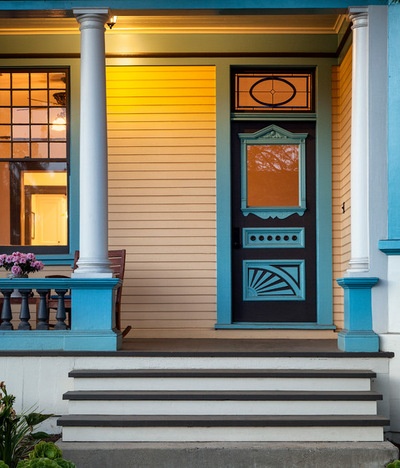 Smith studied playful color combinations that would lift the home's curb appeal while being historically appropriate. "The existing landscape has a lovely jacaranda tree that blooms vibrant purple in the spring and summer. This is one of their favorite elements of the house. I think that vibrancy played a role in my desire to boost the exterior palette to something more energized," Smith says.
Bryan at first couldn't imagine living in a yellow house but now says it's all part of their happy new home. "We lived with pink tile and blue paisley wallpaper in the kitchen for a very long time, as well as a really bizarre bathroom redone with Italian marble tile, so this is all so amazing to us," she says. "Mostly we love that our sweet, charming old house is now a new house with all the sweetness and charm of before — maybe more."
Architect: Thompson Naylor Architects
Construction: Allen Construction
Interior design: Jessica Risko Smith Interior Design
Browse more homes by style:
Small Homes | Apartments | Barn Homes | Colorful Homes | Contemporary Homes | Eclectic Homes | Farmhouses | Floating Homes | Guesthouses | Lofts | Midcentury Homes | Modern Homes | Ranch Homes | Townhouses | Traditional Homes | Transitional Homes | Vacation Homes
URL:
Houzz Tour: Historic Victorian Grows to Fit Its Family
http://decor-ideas.org/cases-view-id-27099.html