My Houzz: Fresh Start for an Art Collector in Tel Aviv
After she divorced and her kids moved out, Adina Even-Zohar followed a lifelong dream and enrolled in acting and singing classes in Tel Aviv, Israel, a two-hour drive from her family home in the Galilee. Because she was spending so much time in Tel Aviv, she bought a pied-à-terre there. And in 2011, she hired architect Tzur Barak to gut the space and rebuild it into a home tailored to her lifestyle. The design they chose prioritized light, air circulation and space, and integrated a large kitchen, a soundproof recording studio, a home theater, a small garden and an elevator, rebuilding the home in the style of Tel Aviv's traditional Bauhaus architecture. Even-Zohar also discovered a love of art collecting and began buying pieces on her travels and in galleries, and having pieces custom-made for her new space.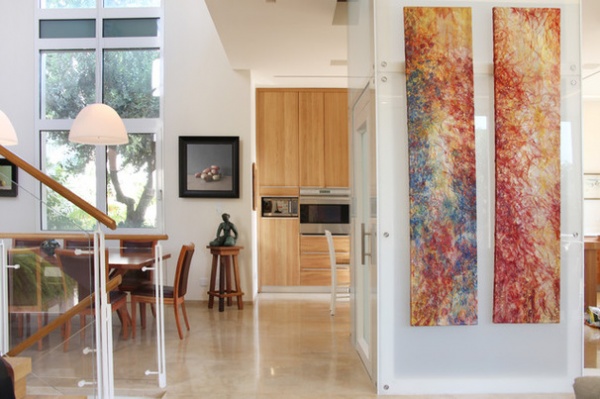 Houzz at a GlanceWho lives here:
Adina Even-Zohar
Location:
North Tel Aviv, Israel
Size:
2,000 square feet (185 square meters); four bedrooms, three bathrooms plus a basement
Architect:
Tzur Barak Architecture and Design
The kitchen connects to the dining room, which has a cathedral ceiling and large windows that bring additional light into the room.
The table and chairs hold a lot of memories for Even-Zohar. "These are the chairs my kids grew up on," she says. "It gives my new home a sense of continuity and familiarity."
The first still lifes in Even-Zohar's art collection hang on the dining room wall.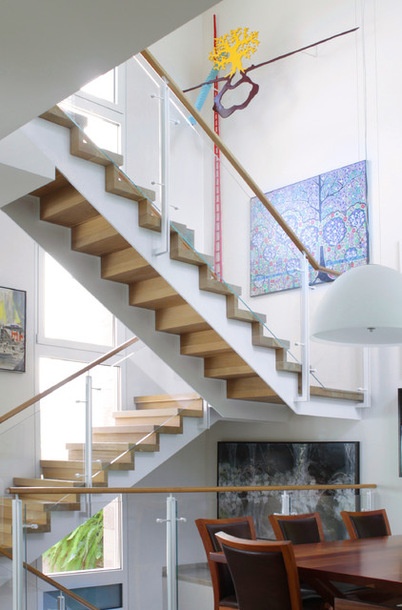 The homeowner commissioned artist Nadav Weissman to create this striking art piece that she likes to call "Stairway to Heaven."
The piece is authentic to the artist's style while defining the dominant wall of the open-ceiling stairwell and connecting it to the dining room wall to create a transition and framework.
The stairs lead upstairs to a master suite, two bathrooms and a guest bedroom.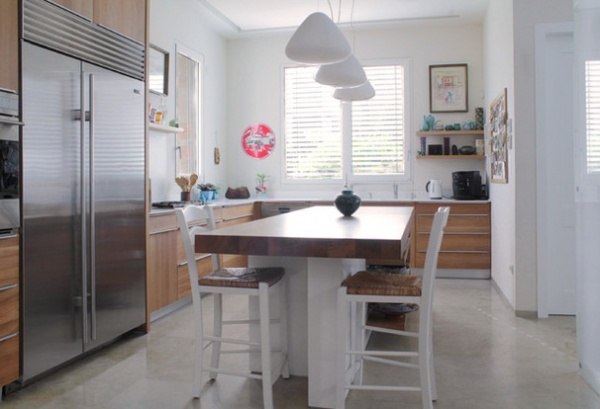 "I love my kitchen," Even-Zohar says. "I wanted it to be a warm, modern kitchen, but not too white." Architect Tzur Barak and Even-Zohar settled on oak cabinets and white Corian countertops. The full-height cabinetry eliminates extra cleaning, and Even-Zohar uses the not-as-accessible top space as storage.
Two pieces of street art from Tel Aviv artist Dede hanging on the wall across from a collage of family photos reflect the homeowner's eclectic style.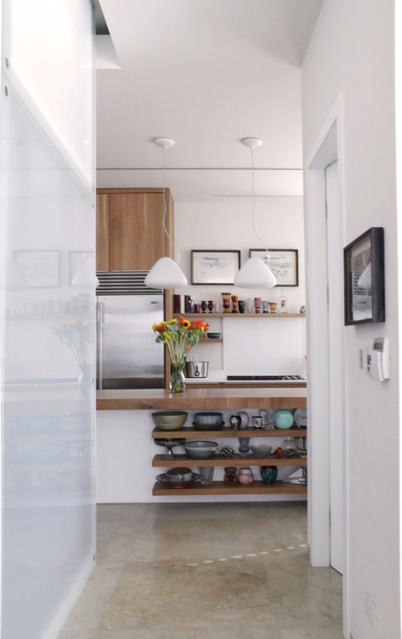 The kitchen is located directly behind the elevator. To the right is a guest bathroom. Two paintings given to her by her mom hang on the wall above the stove.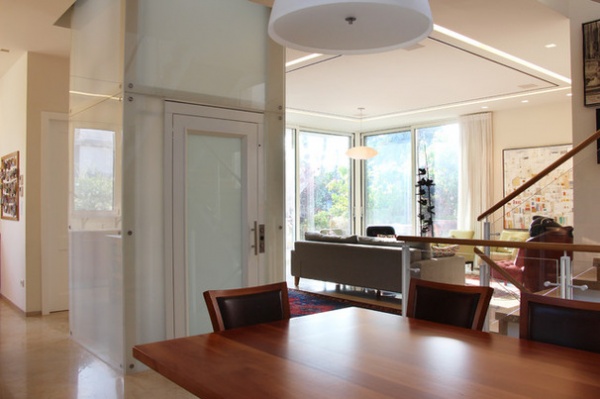 Even-Zohar plans to live in her home for many years to come, and included an elevator in the center of her home to help with accessibility. The frosted glass panels Barak used in the design help circulate light in the space, providing it with a soft ethereal glow. The elevator also helps divide the open space into the living room, dining area and kitchen.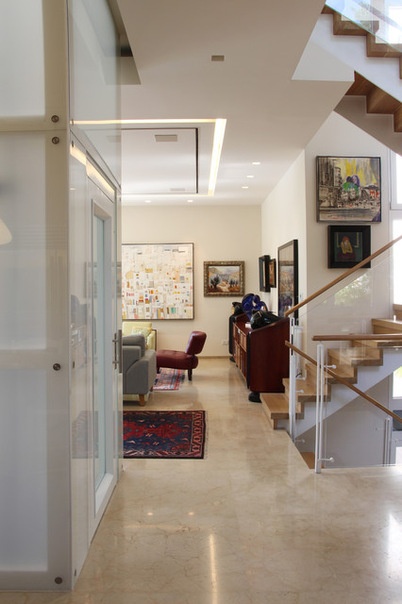 "I had been too scared to buy good art in my previous home," Even-Zohar says. "I thought it was reserved for certain types of people."
The picture at the far end on the left is Even-Zohar's first big painting purchase. She contacted the artist, Johanan Herson, after she moved in, and he helped her choose some of her other pieces until she was comfortable curating solo.
"It means something to me when I know the artist," she says. "It's great to have a dialogue or have a part in the development of the concept and follow the work's progress."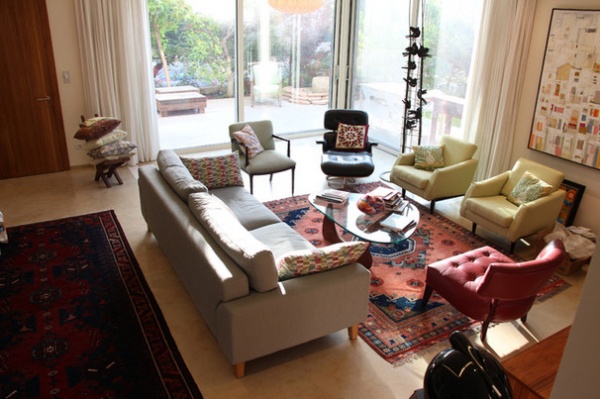 Several outdoor seating areas are included in the design of the home, including a large wraparound terrace just off the front entrance. Large floor-to-ceiling windows connect the interior and exterior spaces.
The two green chairs, which Even-Zohar had reupholstered, are from the original owners.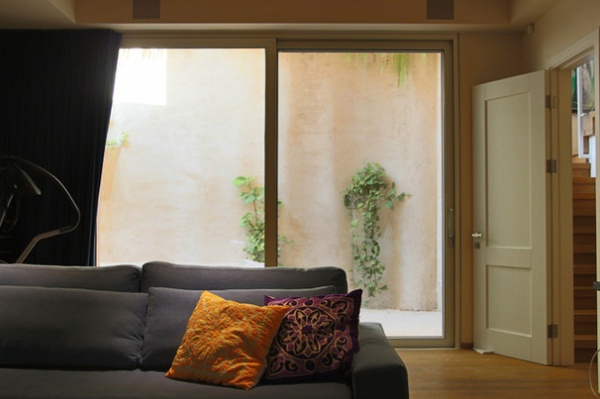 Barak had the basement, which was not part of the original house, dug out. Even-Zohar added extra garden space to the basement level to bring in more natural light. She loves the additional light and air that come into this room. She also had pockets on the concrete wall planted with green vines.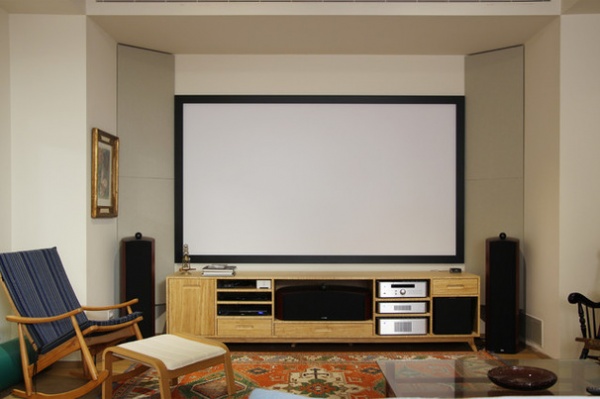 The large basement is one of the most used spaces in the home. Even-Zohar regularly hosts events for friends. A memorable event recently took place here: 90-year-old David Rubinger, photographer for Time magazine, presented his life's work to a group of 50 people. He later gave Even-Zohar an autographed photograph, which she plans to hang in this room.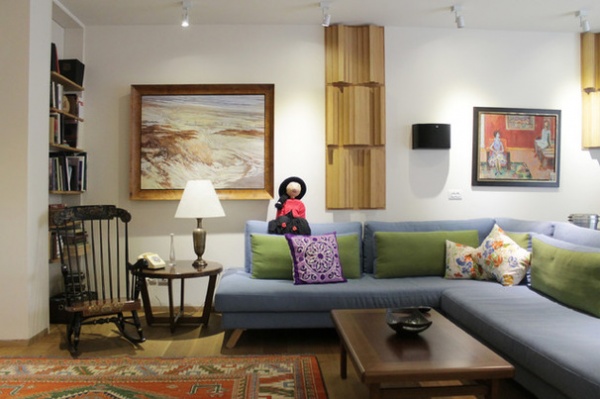 The homeowner had extra-wide custom couches made so people can sleep on them. Some of the furnishings in this room were from Even-Zohar's childhood home in New York. "I have pictures of myself as a kid on this rocking chair," she says.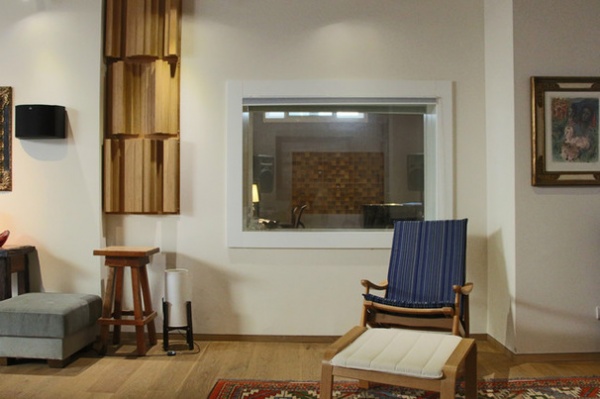 A window looks into Even-Zohar's recording studio, where she recorded her most recent album, For the First Time. "By the time I built this house, I was already singing professionally," she says. It was only natural for her to have the architect incorporate a studio into the home's design.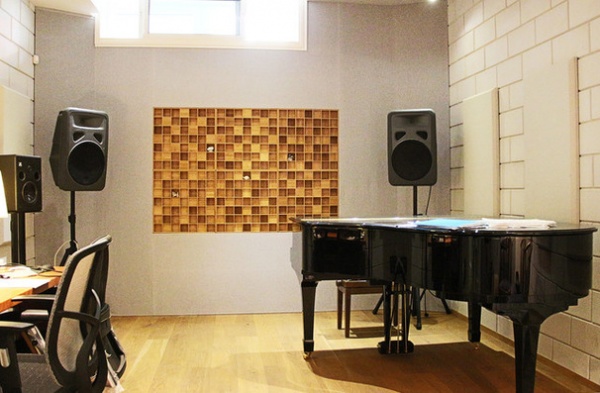 Even-Zohar, who performs at music clubs and festivals, hired an acoustics expert to get this room just right.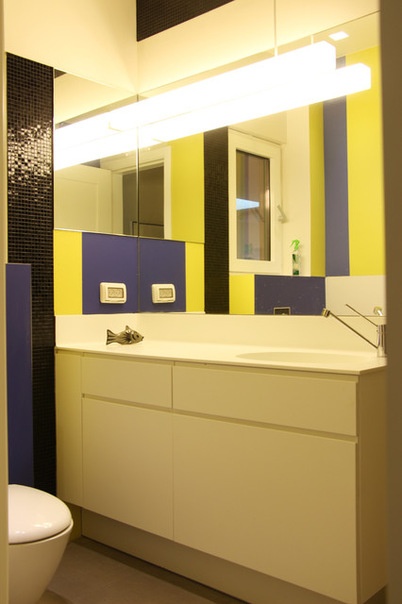 The bathroom in the basement has a bright color palette. The basement also has a storage room, guest room, bathroom and laundry area.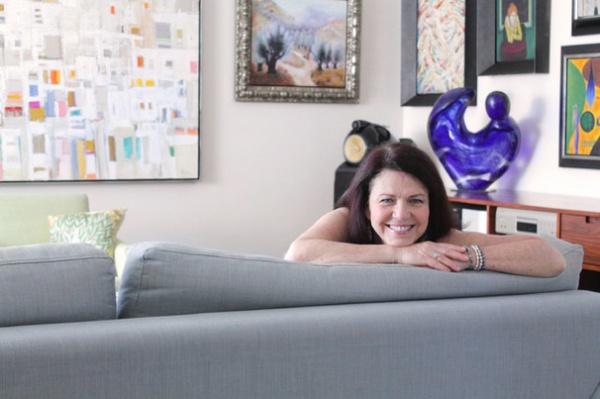 "This is the first house that is me in every respect. I wanted this house to have a lived-in feel," Even-Zohar says. She's pictured here pausing for a break in her light-filled living room surrounded by some of her art collection, including a Martin Blank glass art piece on a buffet behind her. This was the first piece of art she bought on instinct during a visit to Blank's studio in Seattle in 2002.
"I finally felt that I can break away from other people's opinions and styles and find my own," she says. "This home gave me the confidence to choose my own taste and make decisions that had previously been difficult to do."
Even-Zohar feels happy and serene in her home, and is about to release her second album produced in her basement recording studio.
My Houzz is a series in which we visit and photograph creative, personality-filled homes and the people who inhabit them. Share your home with us and see more projects.
Browse more homes by style:
Apartments | Barn Homes | Colorful Homes | Contemporary Homes | Eclectic Homes | Farmhouses | Floating Homes | Guesthouses | Lofts | Midcentury Homes | Modern Homes | Ranch Homes | Small Homes | Townhouses | Traditional Homes | Transitional Homes | Vacation Homes
URL:
My Houzz: Fresh Start for an Art Collector in Tel Aviv
http://decor-ideas.org/cases-view-id-27093.html