See 50 Personalized Bathrooms From Homeowners Around the World
My Houzz stories profile creative homeowners and renters around the globe to show how they have decorated and improved their homes. Here we explore how that creativity has extended to the hardworking bathroom — from a workbench-turned-vanity in Amsterdam to a Texas bathroom covered in mosaic.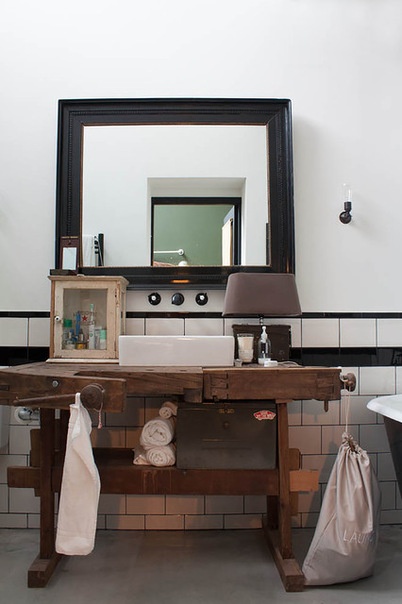 1. Rustic workbench vanity in Amsterdam.
Designer James van der Velden turned this wooden bench into a vanity in the bathroom of the converted auto repair shop where he lives. Clean, white tile, minimalist fixtures and a modern vessel sink contrast with the vanity's weathered, handmade appearance. Vintage cranks and vises now serve as hooks and hangers.
See more of this rugged garage in Amsterdam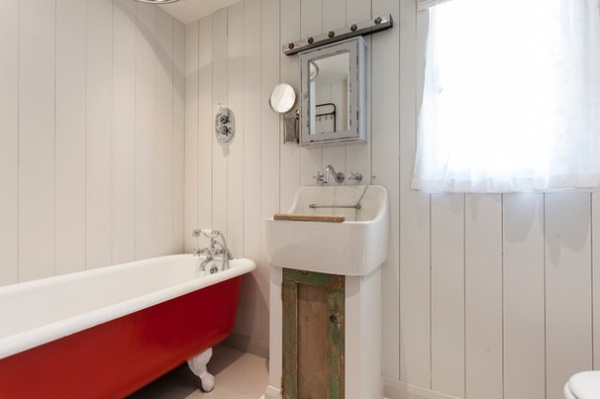 2. Salvaged treasures in an English cottage.
The bathroom of this cottage on a tiny island in Gloucestershire features a collection of salvaged and upcycled materials, which homeowner Mouse Martin says found her rather than the other way around.
She re-enameled the claw-foot tub she got at a salvage yard and painted floorboards she installed along with paneling. Martin's carpenter built a stand for the utility sink, also found at a salvage yard.
See more of this cottage in the Cotswolds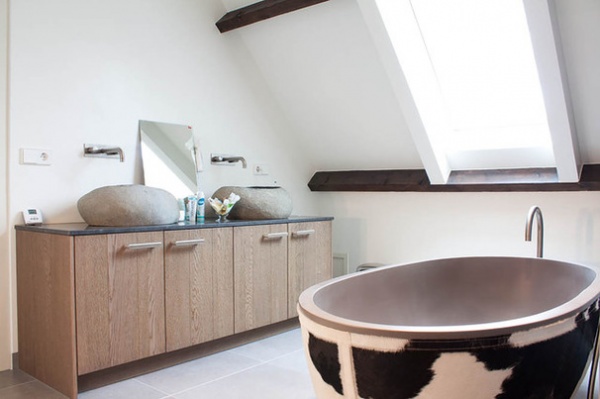 3. Natural finishes and a cowhide tub in the Netherlands.
Bathroom specialist Van Boven designed this guest bathroom for Jacco Fontein and Grieteke de Leeuw. In keeping with the natural aesthetic the couple love, the designer used a medium-tone wood and stone vessel sinks on the vanity.
See more of this converted barn in the Netherlands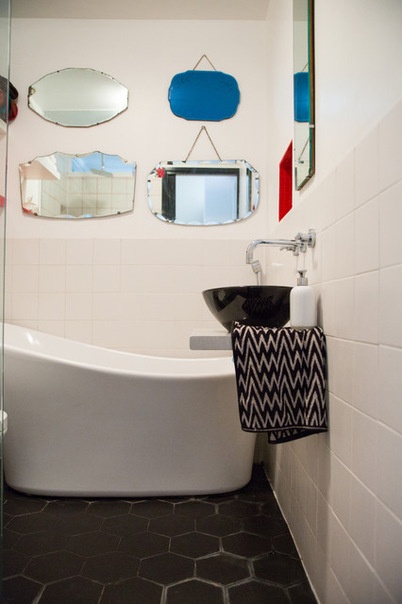 4. Soaking tub for a compact London bathroom.
Rebecca Hadley created a bathroom between two existing bedrooms when she reconfigured her North London flat, making sure she made it wide enough to accommodate a small tub. "It makes the flat feel complete," she says. "It's nice and relaxing in here, especially when I light candles." An array of mirrors decorates the wall and helps make the room appear larger.
Slipper tub: Victoria Plum; sink and faucet: local bathroom store
See more of this vintage-style flat in London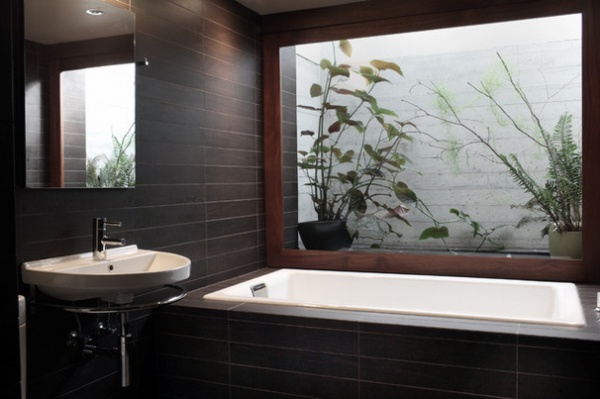 5. Garden view in a Portland basement.
Tom Cotter and Doug Beebe created the bathroom of their dreams in the basement of their 1952 midcentury modern home in Oregon. A large window in the all-black room lets in natural light and frames potted plants in an almost still-life manner.
Custom touches such as heated floors, a rain shower head and an extra-wide deck around the tub on which to set an evening cocktail make the space even more special. "There is nothing like relaxing in that spa-like setting," Beebe says.
Tub: Tea for Two, Kohler; tub fixture: Hansgrohe; control valves: Kohler; sink: Whitehaus; sink faucet: Grohe; tile: Rex Ceramiche Abisko in Ebano; medicine cabinets: Century Bathworks; toilet: Toto
See more of this 1950s Portland ranch house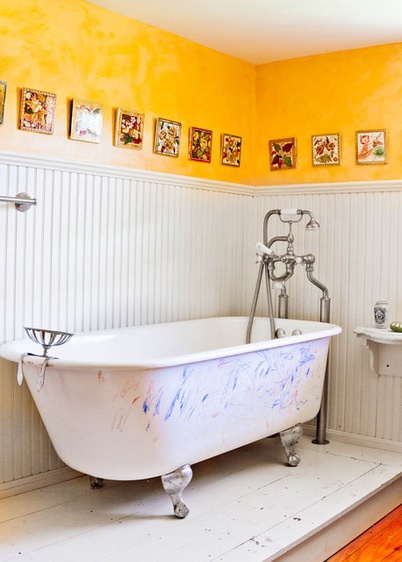 6. Bursting with color in a New England farmhouse.
Homeowners Kristin Nicholas and Mark Duprey didn't shy away from color in their 18th century farmhouse in Massachusetts, including in this upstairs bathroom. The claw-foot tub, splattered with paint, sits on a wood platform in a corner of the vibrant yellow room.
See more of this colorful New England farmhouse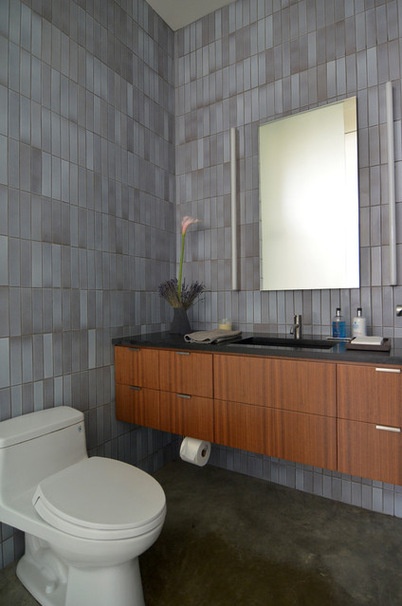 7. Neutral elegance in a modern Dallas home.
Handmade ceramic tiles by Heath run vertically up the walls of this modernist bathroom. Homeowners Chuck and Diane Cheatham used the same tile in all the home's bathrooms, in fact, and matched this floating walnut vanity to much of the wood used throughout the house.
See more of this modern Dallas home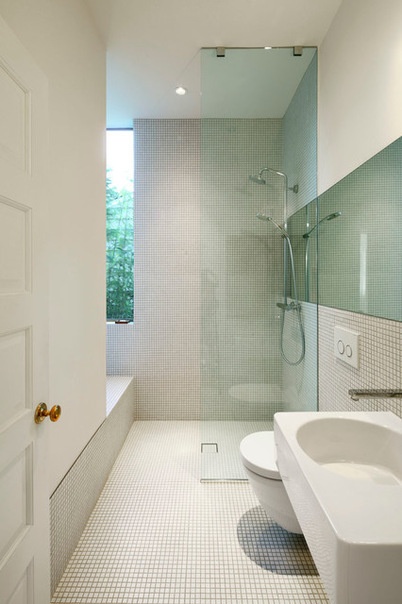 8. Minimalist mosaic in Seattle.
White ceramic mosaic tile covers every surface in this guest bathroom. Homeowners Ira Waxberg and Akiko Muratani worked with Shed Architecture and Design on the renovation of their 1914 Victorian home, maintaining the original five-panel door of the bathroom in the process.
Shower head: Hansgrohe; toilet: Duravit; Sigma 20 Flush Panel: Geberit; ceramic tile (similar): 1-by-1-inch Keystones mosaic tile in Arctic White, Daltile
See more of this vintage-modern remodel in Seattle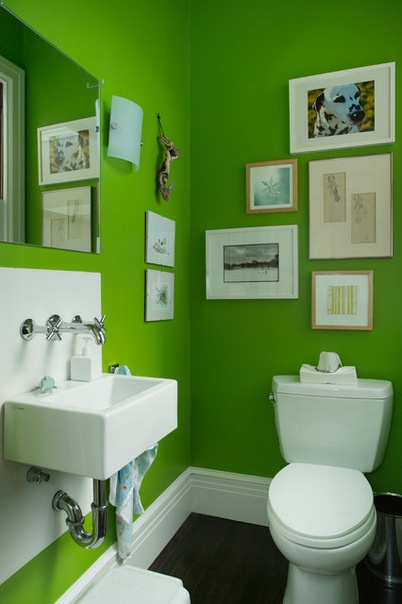 9. San Francisco family's lime green powder room.
This compact room comes to life with its vibrant walls. The family of five who lives here personalized the bathroom, often used by guests, with a mixture of family art and photography.
Wall paint: Tequila Lime, Benjamin Moore
See more of this home in San Francisco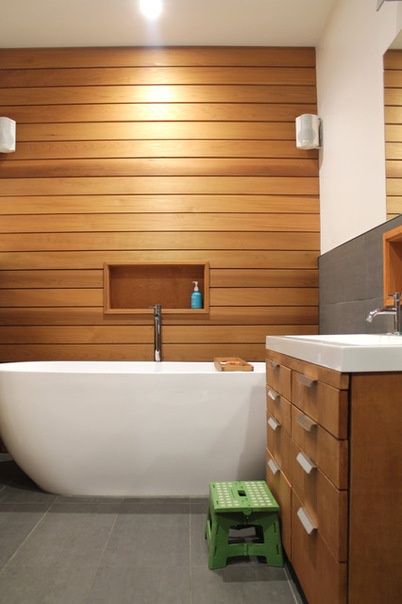 10. Cedar paneling in Montreal.
Allison Marchildon and Philippe Dunsky, along with Studio MMA architects, renovated a formerly neglected triplex for their family of four and Marchildon's mother. Wood details mix with colorful accents throughout the house, including in the bathroom, where the honey-hued wood vanity and cedar-paneled wall pop against the white tub and sink and bright green stepstool.
See more of this multigenerational home in Montreal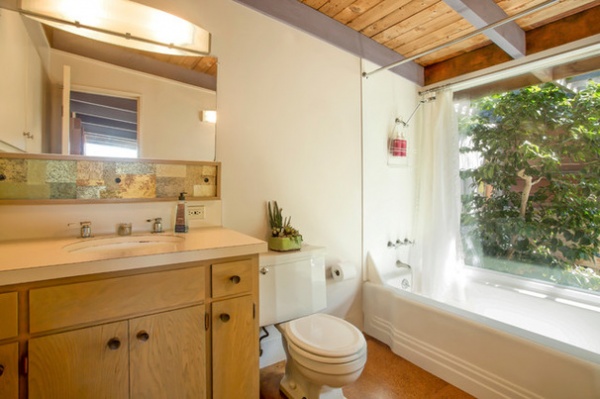 11. Preserved midcentury modern in the San Francisco Bay Area.
This 1956 house in the hills retains many of its original features, including the cork floors and cabinetry. The bathroom overlooks a Japanese-inspired tsubo garden, brining in natural light and also creating a relaxing view from the bath. Metallic wallpaper underneath the mirror adds a bit more reflected light to the space.
Gerard Garbutt fell in love with the house as soon as he saw it, and when he bought it he promised the home's original owner, Shirley Todd, that he would respect its integrity.
See more of this 630-square-foot midcentury home in the Bay Area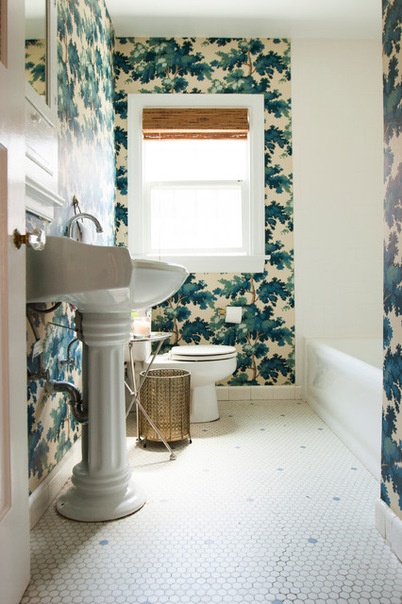 12. Bold wallpaper in Berkeley.
Interior designer Helen Howard transformed a once-lackluster bathroom in her California home into a colorful, dramatic space with the help of some patterned wallpaper and brass accents. Vintage fixtures tie in to the Craftsman home's 1928 roots.
Wallpaper: Raphaël Dark Blue, Sandberg; sconce: Rejuvenation
See more of this colorful Craftsman home in Berkeley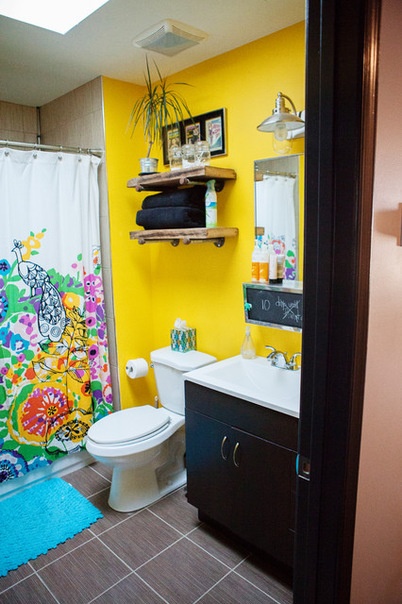 13. Bold and budget-friendly in Washington, D.C.
Vibrant yellow walls and a colorful shower curtain brightened this bathroom without adding too much to homeowners Andy and Bree Ryback's tight budget.
Andy installed the open shelving over the toilet, and the vanity light fixture adds to the overall industrial look.
Wall paint: Viking Yellow, Benjamin Moore; shower curtain: Urban Outfitters
See more of this colorful row house in Washington, D.C.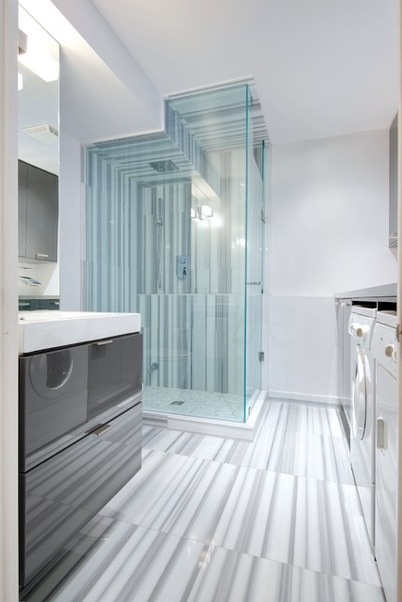 14. Custom look from off-the-shelf pieces in Toronto.
This bathroom-laundry room in Steve and Meg Gardner's basement features Ikea cabinetry and vanity, but it gets a custom kick from the graphic tile floor and wall in the shower. The recessed shower head is nestled into the soffit.
Vanity, cabinets: Ikea; laundry countertop: Perfect Stainless; floor, shower surround: Olympia Tile + Stone; shower head: Aquabrass; shower kit: Rubi; paint: American White, Benjamin Moore
See more of this contemporary home in Toronto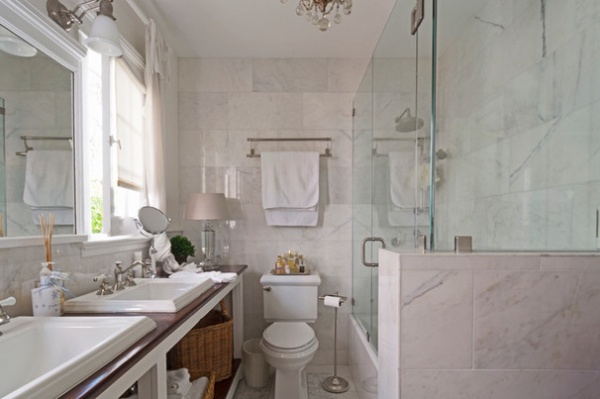 15. Compact elegance in Los Angeles.
This narrow bathroom in the home of Hilde and Reza Leiaghat, a Belgian couple now living in California, features a long vintage workbench used for the double vanity. White Carrara marble helps create a clean, classic aesthetic, while European antiques add history and elegance to the space.
See more of this European-inspired home in Los Angeles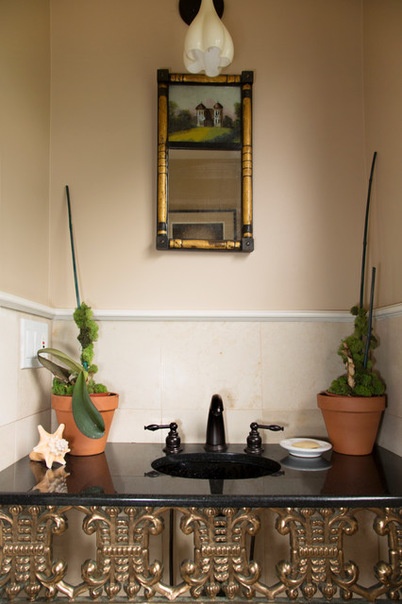 16. Metal accents in Northern California.
In this compact powder room in Marin County, homeowners Rudi Dundas and David Scott added a patterned metal apron in front of the sink for interest and detail while also concealing the plumbing. An antique mirror hangs above.
See more of this traveler's home in Northern California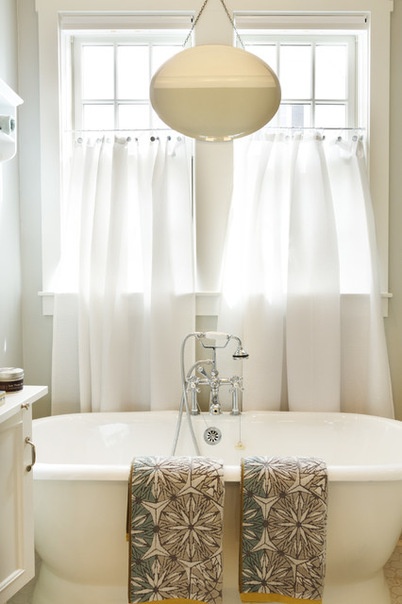 17. Bright and breezy in South Carolina.
Lightweight curtains and a hung mirror frame this free-standing bathtub in homeowners Bob Longmeyer and Carole Marsh's master en suite.
See more of this storybook cottage in South Carolina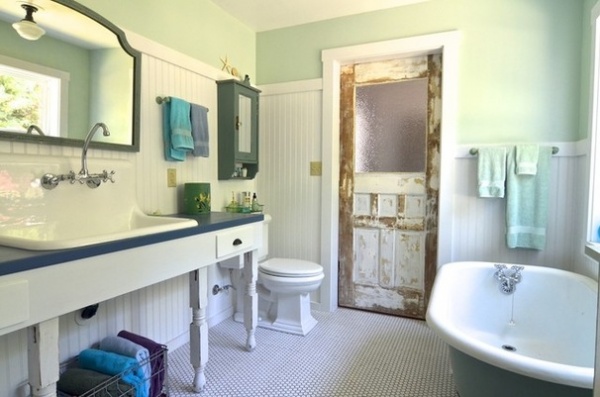 18. Converted canning porch in Oregon.
Eight years after moving into their farmhouse, Obbie and Connie Atkinson decided to turn the canning porch off the back of their house into a bathroom. They did most of the work themselves, incorporating features of their favorite bathroom inspirations.
Connie found the vintage farm sink along a highway; it's now held in a custom vanity complete with legs repurposed from a dining table. Both the tub and the sliding barn door came from salvage shops. "We chewed this project one bite at a time and saved a lot of money doing the work ourselves," Connie says.
See more of this bathroom transformation in Oregon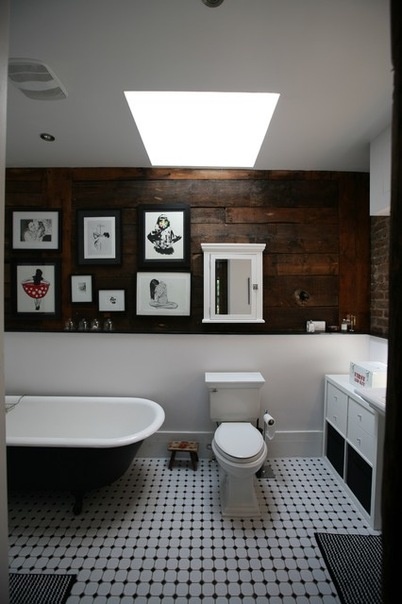 19. Exposed wood in a Montreal remodel.
Sarah Lowden and Scott Meleskie were renovating their top-floor row house to make room for their newborn son when they discovered large wood planks hidden behind the bathroom wall.
Incorporating this original material into the bathroom's new design, they balanced bright white features with natural raw materials. A gallery wall of art collected over the years breaks up the wood. "We tried to keep the costs of the materials in the bathroom down," Lowden says.
See more of this renovated Montreal home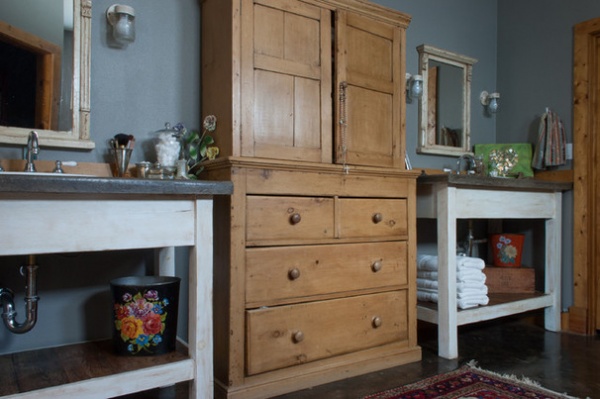 20. His and hers custom vanities in Dallas …
In their master bathroom, David and Adrienne Sams built their vanities to match their heights: Hers is 36 inches tall and his is slightly higher. A vintage linen press stores their towels and other necessities.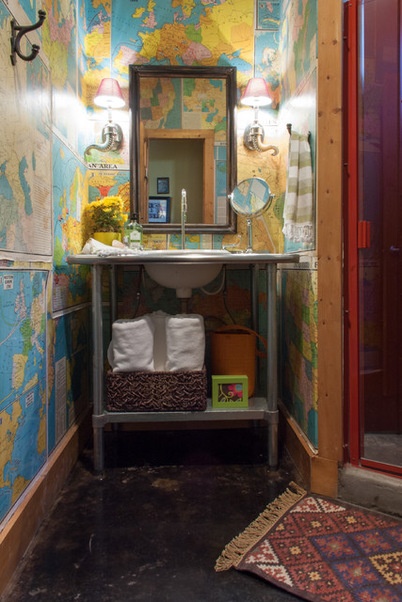 21. … and vintage maps and a repurposed worktable.
In another bathroom, Adrienne turned a stainless steel utility table into a vanity. Vintage maps from the 1940s to the 1970s cover the walls.
Worktable: Ace Mart Restaurant Supply
See more of this rustic farmhouse in Dallas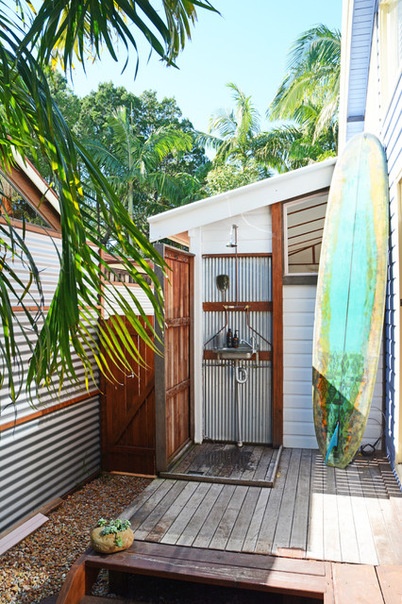 22. Outdoor shower for everyday use in Australia.
Celeste Twikler and Chris Cain enjoy living close to the beach in Byron Bay. When they installed this outdoor shower, the intention was that Celeste would use it to rinse off after a surf. Now the couple pretty much shower only outside. "Dad and I built the outdoor shower and the deck, and I think we did a pretty good job considering neither of us had any experience with building one before," Twikler says.
See more of this bohemian Australian beach house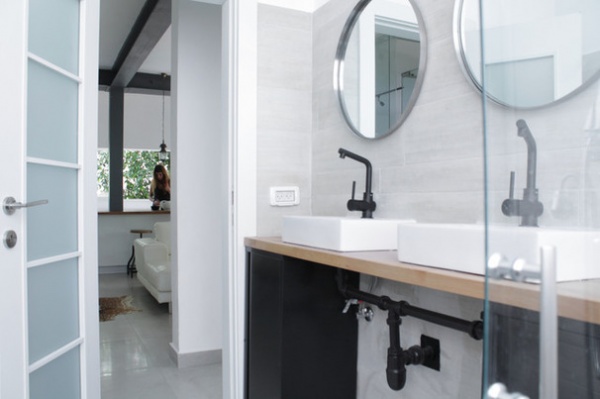 23. Industrial style in Tel Aviv.
It may be compact, but Jonathan and Nofar Dar's bathroom still manages to fit in side-by-side sinks. The exposed plumbing adds an industrial flair and also keeps the space feeling open.
See more of this airy apartment in Israel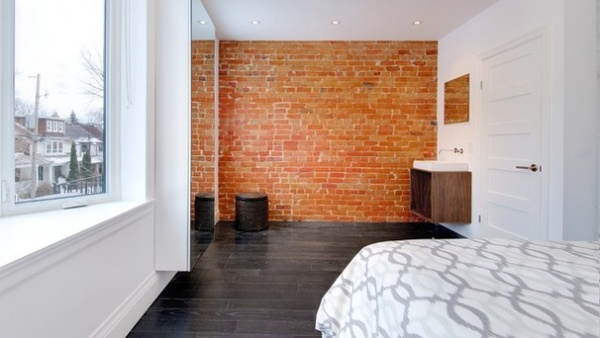 24. Extra sink in a Toronto bedroom.
Though not a full bathroom, this extra vanity in Steve and Meg Gardner's master bathroom has sure come in handy in a house full of kids. They decided on the sink after discovering that plumbing was already in the wall.
Vanity: designed by Palmerston, fabricated by Downtown Tile Centre
See more of this updated Victorian home in Toronto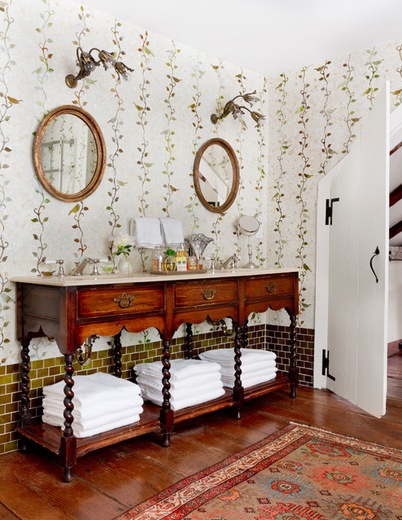 25. Spectacular tilework in a Connecticut farmhouse.
A mosaic of vines in tile from Ann Sacks covers the walls of this 1745 farmhouse bathroom. "The tilework looks like wallpaper, and everyone does a double take when they realize it isn't!" Ellen Allen says. The double sink vanity is a converted antique sideboard found in North Carolina.
See more of this 1745 farmhouse in Connecticut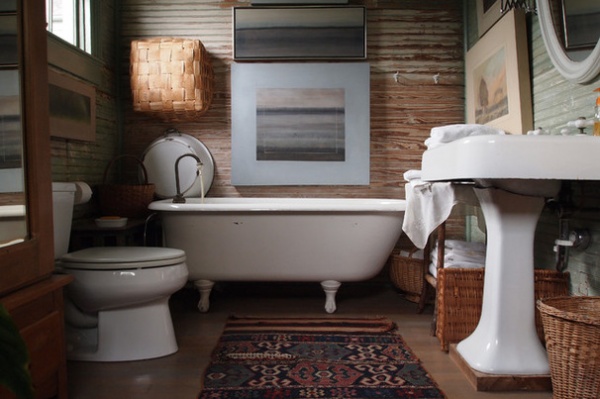 26. Natural finishes in New Orleans.
The bathroom in artist Wayne Amedee's studio features a claw-foot tub and pedestal sink, in keeping with the period of the 19th century shotgun house. Natural wood walls add a rustic element to a home that's full of history and life.
See more of this artful shotgun home in New Orleans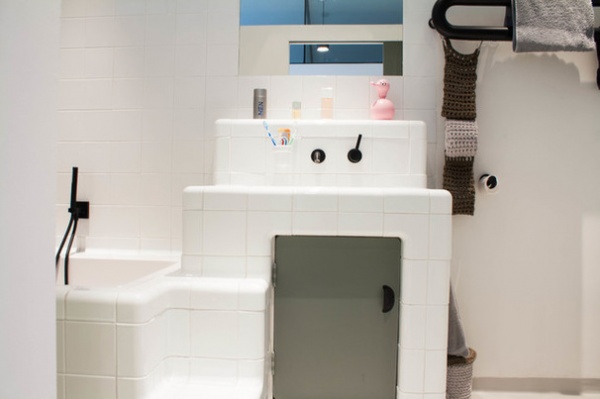 27. Lots of tile in Amsterdam.
In this house, a former storage room for boats and old doors, homeowners Peggy Betke and Bouke Tauw tiled the bathtub and sink to create an all-in-one unit. The tiling is staggered up to the tub like stairs, making it easier to get in.
Faucets: Zucchetti; tiles: Dtile
See more of this converted storeroom in Amsterdarm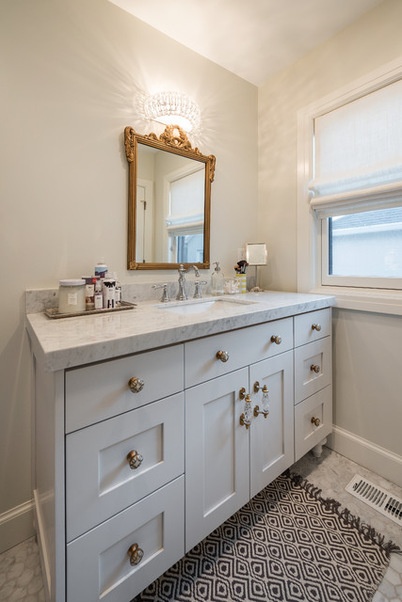 28. Personalized hardware in Salt Lake City.
This neutral but glamorous bathroom in Emily Foxley's Utah home got a personal touch with knobs and handles from Anthropologie.
See more of this 1920s bungalow in Salt Lake City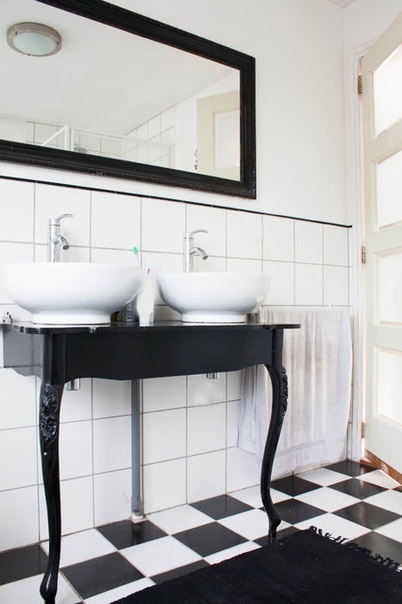 29
.
Side table-turned-vanity in the Netherlands
. Alet de Boer and Sil Boon's home mixes metal with antiques for an edgy vintage feel. In the bathroom, Boon converted a vintage side table into a vanity by removing two legs and attaching it to the wall.
See more of this black and white house in the Netherlands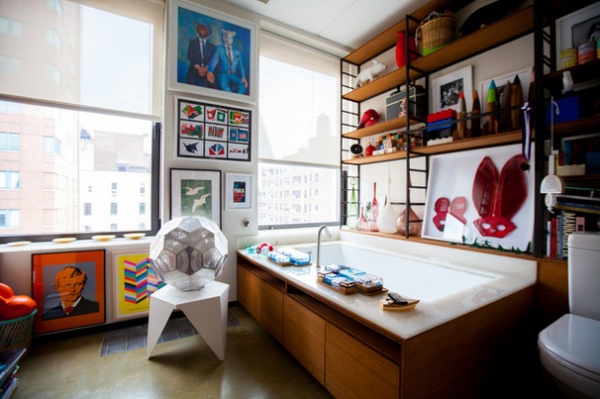 30. Artful soak in New York.
Bradford Shellhammer and Georgi Balinov's love of color is evident in their home, including in the bathroom. Colorful trinkets and Andy Warhol pieces from the Warhol Foundation make it feel more like a gallery than a place to bathe.
Prismatic table: Isamu Noguchi, Vitra
See more of this bold, colorful apartment in New York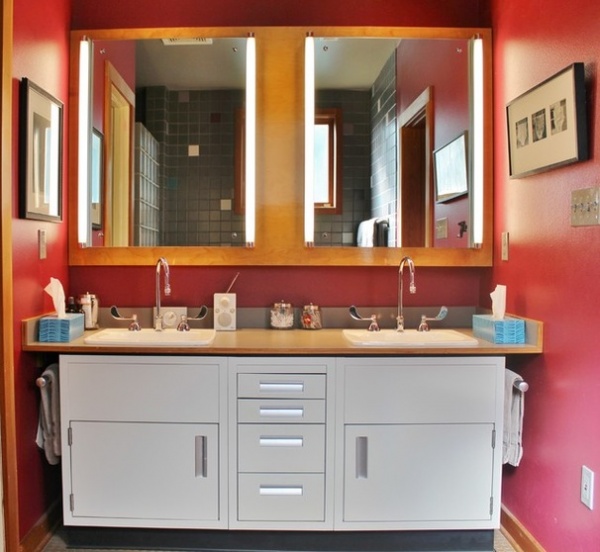 31.
Heavy-duty vanity in Seattle.
In
Amy Ockerlander and Alan Brookfield's live-work space, everything is hardworking, including this sink area. The vanity is made of steel with a white powder-coated finish, and pot fillers are used as faucets. Brookfield built the wood mirrors and pullout Speed-Rail towel racks.
Paint: Night Flower, Benjamin Moore
See more of this eclectic live-work space in Seattle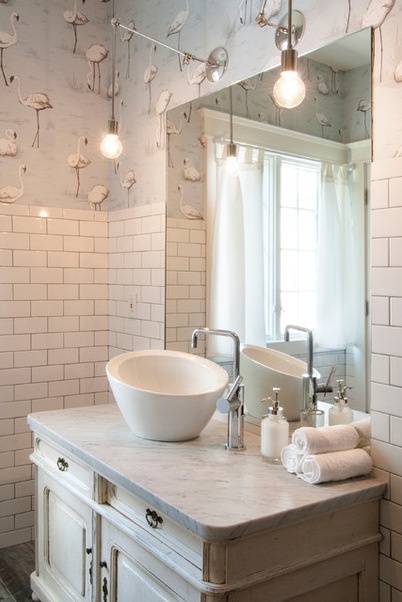 32. Dream bathroom for empty nesters in Ohio.
Raymond Ciacchi and Jennifer Harrison-Ciacchi raised their five children in the house they continue to live in. After the children moved away, they decided to renovate for the next chapter in their lives. In this first-floor guest bathroom, a cabinet that had been used as a display piece in a furniture store got a custom marble slab as a countertop, and a custom sconce Harrison-Ciacchi found on Instagram provides lighting. White subway tile keeps the space clean-looking, and flamingo wallpaper reminds guests of the homeowners' love of coastal style.
Lighting: Triple Seven; sink, taps: Kohler; vanity: Arhaus Furniture
See more of this coastal cottage-inspired home in Ohio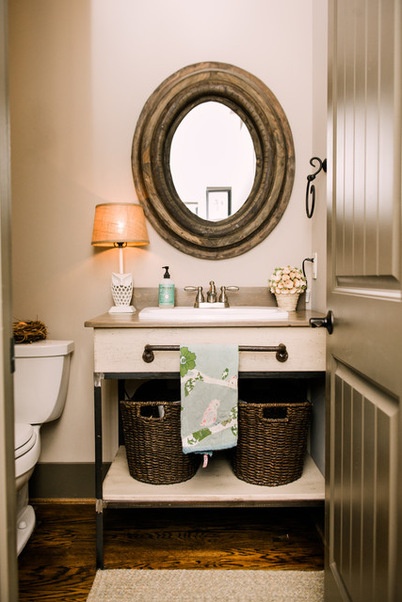 33. Rustic chic in Alabama.
The rustic-traditional style of Rachel and Layne Schranz's home is on display in this powder room. The custom console sink with wicker basket storage and a towel rack enhances the design while adding functionality to the small space.
Console sink: custom, Seibels; mirror: Seibels; lamp: Cost Plus World Market
See more of this home designed for entertaining in Alabama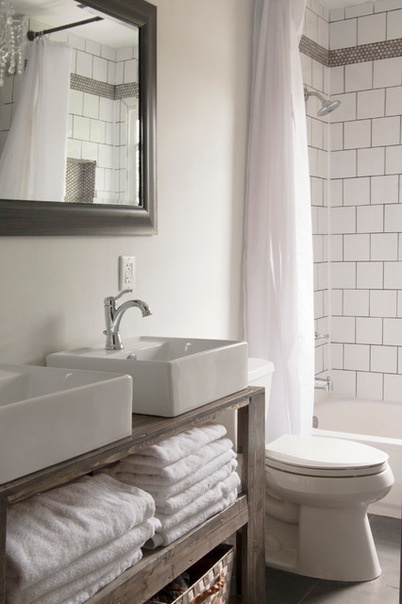 34. White and wood in Ohio.
Simplicity and a little bit of eclectic femininity blend in Bryan and Catherine Williamson's master bathroom. Bryan built the open vanity, whose wood balances out the otherwise all-white room. The open shelves provide easy access to towels and other daily necessities while keeping things feeling spacious.
See more of this 1900s duplex in Columbus, Ohio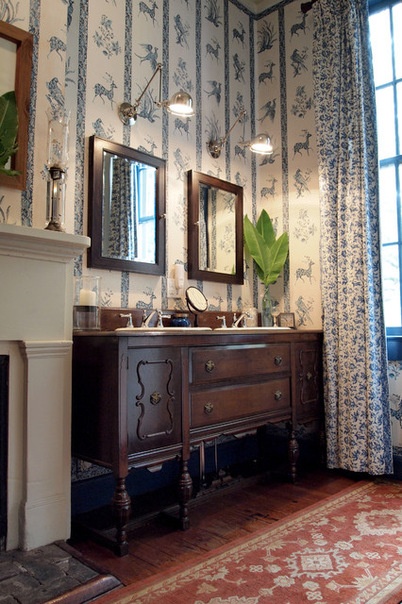 35. History with a modern touch in Louisiana.
The master bathroom in this historic Baton Rouge home was once a spare bedroom. Homeowners Lauren and Steele Buckholtz wanted to blend the home's history with modern sensibility, so they left the original deer-themed wallpaper but added contemporary light fixtures. A vintage furniture piece was converted into a double vanity.
Sconces: Atelier Swing-Arm Wall Sconces, Restoration Hardware
See more of this historic home in Baton Rouge, Louisiana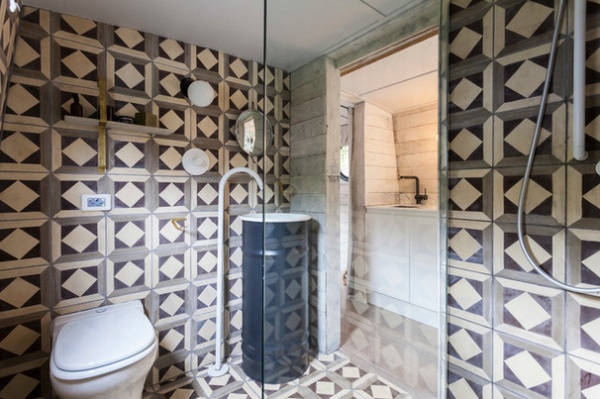 36. Tiled bathroom on a London barge.
Interior designer Lee Thornley lives part time on a floating barge that's conveniently tied up just outside his studio. This tile-covered room, which measures 5.9 feet (1.8 meters) by 8.2 feet (2.5 meters), features a walk-in shower and industrial sink fixture.
Sink, faucet, toilet: Agape;
tiles and paneling: Bert & May
See more of this floating barge in London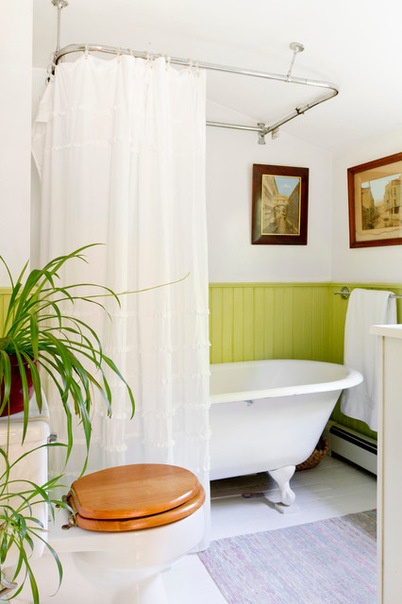 37. Colorful accents and vintage details in New Hampshire.
Painter and felting artist Lauren Decatur found her dream home in the Northeastern woods. The original beadboard paneling got a fresh coat of Benjamin Moore's Dill Pickle. Hand-tinted photographs of Venice, Italy, in the 1920s surround the original claw-foot tub, reminders to Decatur of simpler times.
See more of this artist's cottage in New Hampshire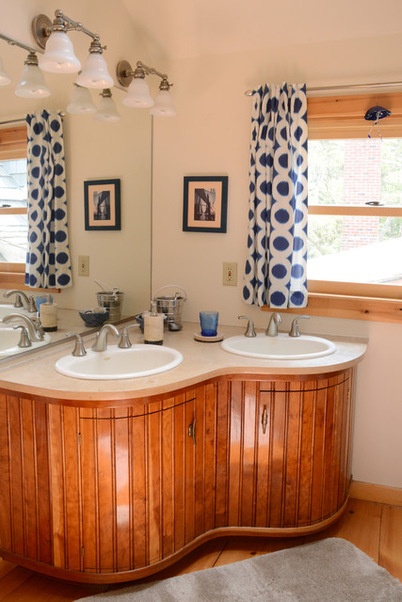 38. Built like a ship in Cape Cod.
In a nod to the region's nautical past, homeowner Claire Hannafin had this bathroom vanity custom made by a shipbuilder. Cleats and wood typically used on boats enhance the aesthetic.
See more of this timber-frame home on Cape Cod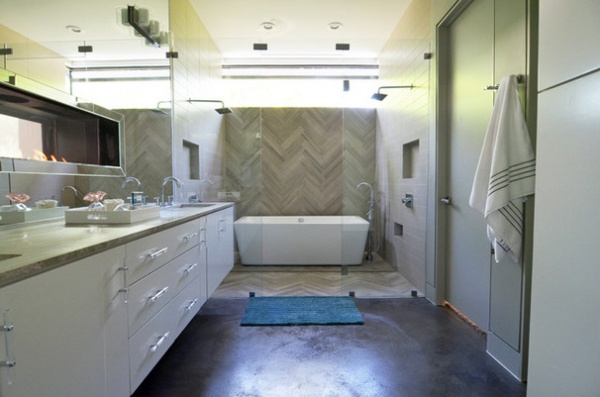 39. Upgrade for a growing family in Dallas.
To make room for their family of six, homeowners Scott and Melissa Powell built a larger house in the same neighborhood as their old home.
Scott, who runs his own construction company, blended function and dream-space details in the master bathroom by placing the free-standing tub in the shower to save room and add drama, and inserting a two-sided floating fireplace in the bathroom's main mirror. "When I'm dressing in the bathroom, I can see through the fireplace, out the windows and into the backyard where the kids are playing," Melissa says.
Floor: concrete; countertop: Chenille Limestone, Daltile; shower tile: Ann Sacks
See more of this durable dream house in Dallas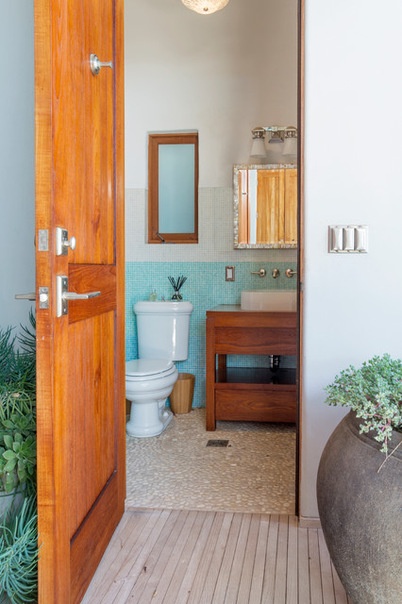 40. Coastal-themed bath in Malibu.
Aqua mosaic tiles and a stone floor in Andy and Carlo Gordon-Brandon's outdoor bathroom-changing room tie in with the California home's beachfront location.
See more of this Malibu beach house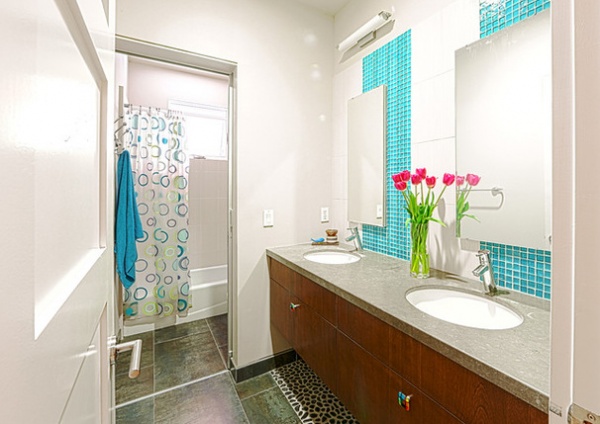 41. Energy-efficient in California.
Offset colorful mosaic tiles brighten this otherwise neutral San Francisco Bay Area bathroom. The family uses an energy-efficient heat-pump water heater. Water heated by the sun is stored in a 40-gallon tank.
Wall tiles: Bambu Blanco, Porcelanosa; wall accent tiles: Oceanside Glasstile; countertops: Lago Azul limestone
See more of this Earth-friendly home in California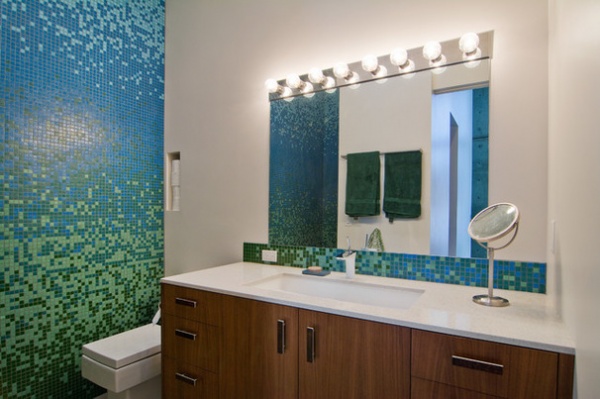 42. Mosaic color spectrum in Utah.
Christi and Trent Thorn love color, so when they worked with Imbue Design on their custom house, they incorporated plenty of it, including in the master bathroom. Bright mosaic tiles in greens and blues flow from the top of the wall in the shower down to the floor, while the rest of the bathroom stays clean and understated.
See more of this colorful home in Utah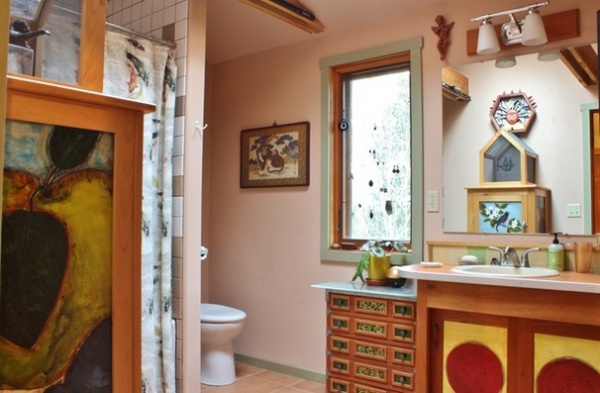 43. Artful finishes in Washington state.
Artists Buffy Cribbs and Bruce Morrow built their home from scratch, incorporating Craftsman and handmade details to make the place their own. In the master bathroom, mixed-media pieces that can handle moisture cover the walls and furniture.
See more of this customized Craftsman home in Washington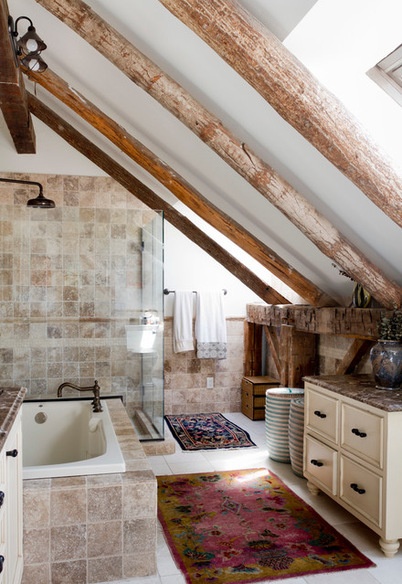 44. Zen-like retreat in the Hamptons.
In the second-story bathroom of this home in New York state, homeowners Ellie Sawits and David Gasner went with a muted, natural aesthetic to create a place of rest and relaxation. "Towels are simple, and ceramic pots keep the Zen effect," Sawits says. "I like to use Oriental rugs in the bath, as they are beautiful and wear better than the typical bath rug — a bit luxurious but fun."
See more of this renovated home in the Hamptons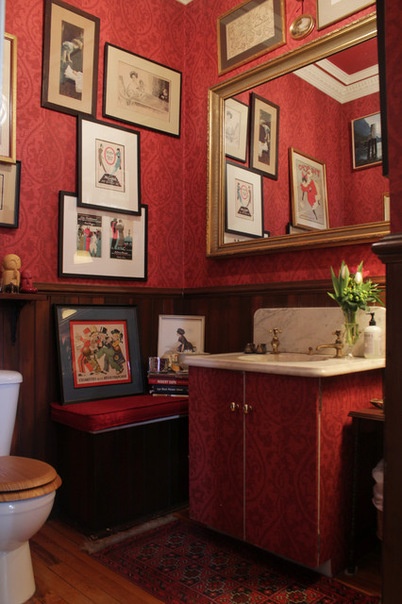 45. Converted closet in Montreal.
Karen Etingin turned a walk-in closet under her stairs into this compact powder room. It features dramatic crimson wallpaper, with the vanity covered to match.
See more of this collected home in Montreal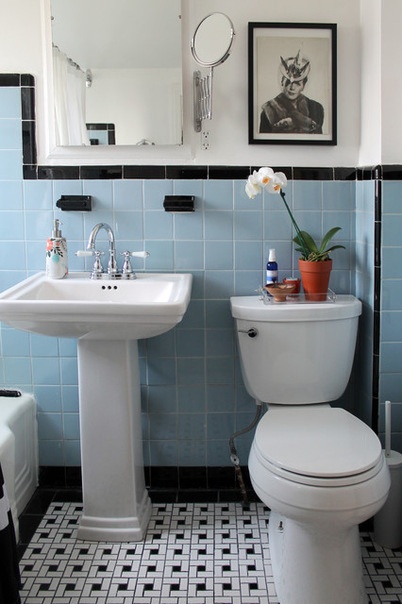 46. Blended eras in Montreal.
During a renovation of their 1950s cottage, homeowners Sarah Brown and Chad Zentner decided to keep the original blue and black wall tiles in the home's only bathroom, but they opted for new white fixtures and black and white floor tiles for a more classic yet contemporary look.
See more of this renovated cottage in Montreal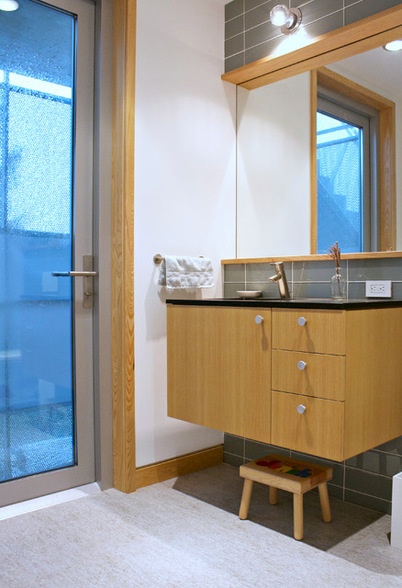 47. Convenient outdoor shower in Florida.
One of the bathrooms in Jody Beck and Ross-Alan Tisdale's weekend house features an outdoor shower. With the home's oceanfront location and Florida's year-round warm weather, it should be a regularly used feature.
Tile: Glass, Modwalls
See more of of this LEED-certified home in Florida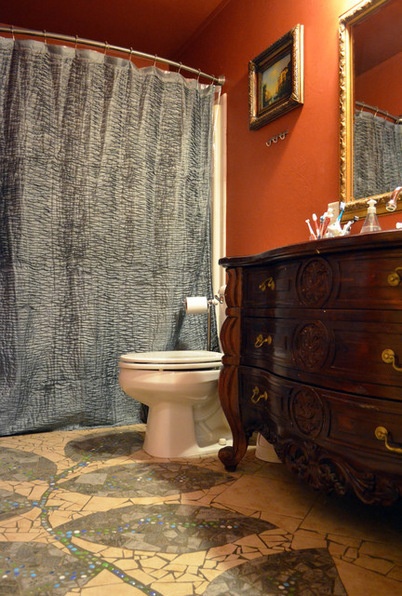 48. Botanical mosaic floor in Texas …
Artist, biologist and plant ecologist Mary Phillips and her husband, artist Eddie Philips, have taken it upon themselves to recycle, repurpose and reuse as much as they can when decorating their home in Texas.
In the guest bathroom, Mary tiled a mosaic leaf pattern on the floor. An antique dresser now serves as the vanity.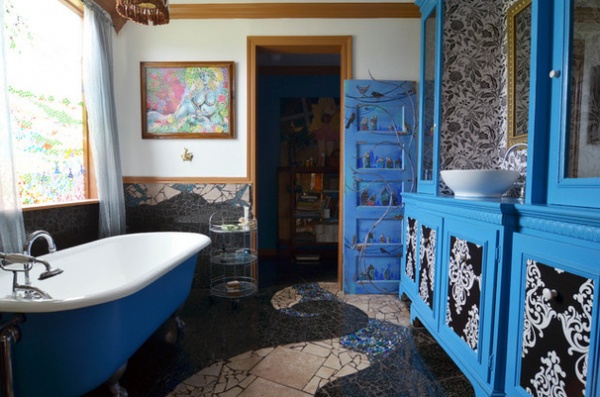 49. … and swirling tiles too.
Most of the master bathroom is covered in art as well. An old china hutch became the vanity, curvy mosaics cover the walls and floors, and a bright blue tub matches the painted furniture.
See more of this handcrafted homestead in Texas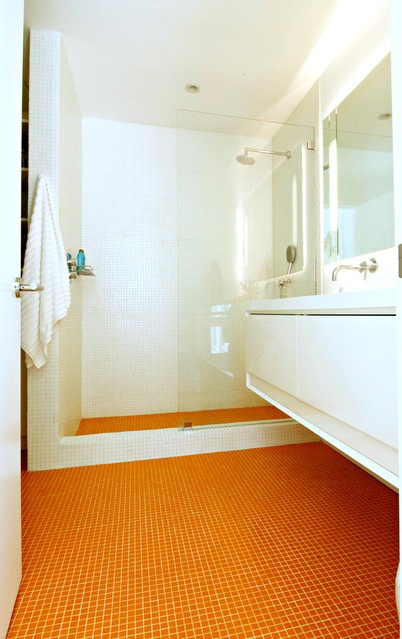 50. Colorful midcentury design in Florida.
Virginia Devlin and Kurt Baldassari created a midcentury escape at the beach, as reflected here in their daughter's bathroom. The floating Wetstyle vanity maintains the sleek lines of the house, while the orange mosaic floor plays up the playfulness of the location and the era. The home's other bathrooms feature equally colorful tile floors, all in different hues.
Wall paint: Snowfall, Benjamin Moore; vanity mirror: A-Christian Glass; vanity lights: Boyd Lighting; shower head, faucets: Lacava; tile flooring: Bisazza
See more of this midcentury home in Florida
My Houzz is a series in which we visit and photograph creative, personality-filled homes and the people who inhabit them. Share your home with us and see more projects.
Browse more homes by style:
Apartments | Barn Homes | Colorful Homes | Contemporary Homes | Eclectic Homes | Farmhouses | Floating Homes | Guesthouses | Lofts | Midcentury Homes | Modern Homes | Ranch Homes | Small Homes |Townhouses | Traditional Homes | Transitional Homes | Vacation Homes
URL:
See 50 Personalized Bathrooms From Homeowners Around the World
http://decor-ideas.org/cases-view-id-27092.html