Room of the Day: Clean and Simple Master Bath With Lots of Storage
Liz and Chris Sytsma experienced just about everything you'd expect with a crumbling 1912 bathroom that previous owners had hastily triaged with a "series of aesthetic and functional Band-Aids," Liz says. Concrete patches showed through where the tile had been torn up multiple times. The fluorescent lights flickered for a minute before "maybe deciding" to turn on. Then, one day, the 100-year-old shower pan finally gave way. "It was time for an update," Liz says.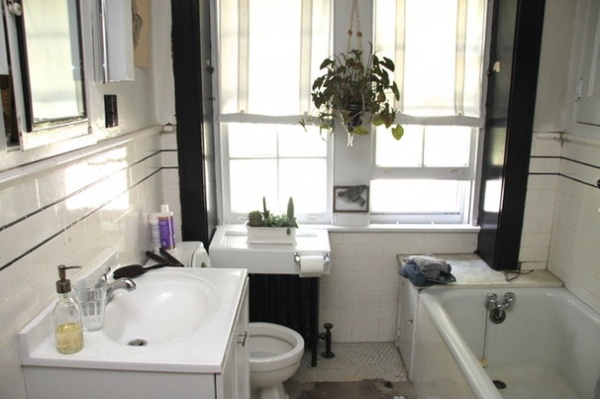 Bathroom at a GlanceLocation:
​Philadelphia
Size:
​About 55 square feet (5 square meters); 8½ by 6½ feet
​Year built:
​1918​
Who uses it:
Liz Sytsma, an associate director of local nonprofit CultureWorks Greater Philadelphia, and her husband, Chris, who works for Accenture and is a self-proclaimed Deadhead. They're expecting their first child this year.
Designers:
Brian Osborne of Osborne Construction and Niko Dyshniku of Kole Made
BEFORE:
Here you can see the torn-up tile, lack of accessible storage and cramped sink area of the previous bathroom.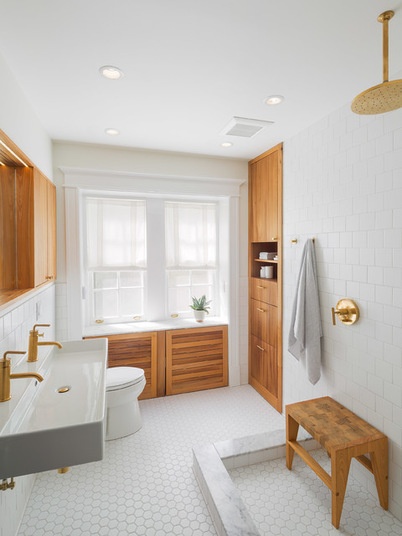 Homeowners' request:
Create a bright, warm, more comfortable and more usable space with lots of storage while keeping an open and clean feeling. "We like Scandinavian design and were interested in balancing that with warm wood, gold tones and plenty of room for plants," Liz says.
Game plan:
Switch from a combination shower-bathtub to just a larger shower. "We're lucky to have an original cast iron clawfoot tub in another bathroom, so saying goodbye to the tub wasn't hard," Liz says. Heated floors combat the old-house drafts during winter. The original molding and door and new white hex tile on the floors nod to the early-1900s era of the home. Sinker cypress cabinets connect to the Hinoki cypress trees that sit just outside the large windows. A fixed 4-feet-wide panel of glass that runs along the side of the shower next to the showerhead and extends up to the ceiling was added after these photos were taken.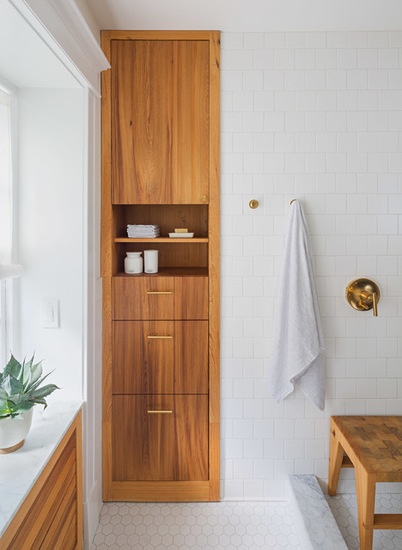 Why this room:
"We wanted it to be comfortable and relaxing, a nice place to decompress and feel renewed," Liz says. "Our cat is also a big fan of the heated floor."
Biggest challenge:
"As with any old home, nothing is plumb in the house," Liz says. "The walls and floors and windows have shifted, in some cases significantly, over time, making the process of leveling the surfaces difficult."
Favorite element:
The custom cabinets made by designer Niko Dyshniku. "The reclaimed sinker cypress has such a warm hue that helps soften the otherwise clean, white space," Liz says. "They are useful, beautiful and really use the available space well. We have plenty of storage now that is completely accessible."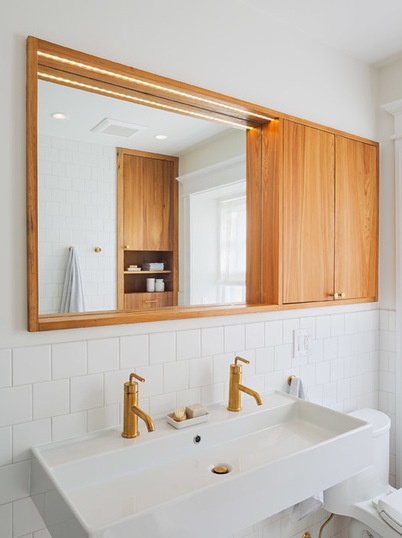 Splurges and savings:
The couple saved by painting the walls and molding themselves and reclaiming marble from the previous bathroom. They also chose basic tile for the floor and walls. They splurged on brass fixtures, the custom cabinets and the heated floor.
Breakdown:
Toilet: Adair, Kohler; paint: White Dove, Benjamin Moore; sink: Teorema; fixtures and knobs: Purist in brushed Moderne Gold, Kohler; cabinets: reclaimed sinker cypress, Kole Made
Photography:
Sam Oberter
See more Rooms of the Day
URL:
Room of the Day: Clean and Simple Master Bath With Lots of Storage
http://decor-ideas.org/cases-view-id-27077.html