My Houzz: Vintage Whimsy in a College Apartment in New Orleans
For many college students in New Orleans, moving off campus means moving into a century-old home. Ashleigh Sparks, a graphic design student at Loyola University, and her two roommates live in the historic Uptown neighborhood in an early-20th-century home that has, in her words, "old New Orleans charms." The three of them have added their own budget-friendly, whimsical touches to their first rental. "I love living with my roommates because it's like coming home to our own quirky little version of a family," Sparks says. "As young people, you're kind of in this limbo of independence, so it's nice to have each other. We all come home to hear each other's latest and greatest."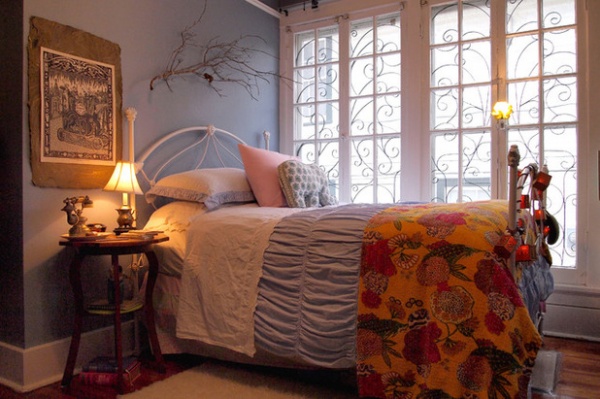 Houzz at a Glance
Who lives here:
Ashleigh Sparks; roommates Liz Gienger and Dani Leal; and their cat, Meeko
Location:
Uptown University Area of New Orleans
Size:
1,200 square feet (111 square meters); three bedrooms, one bathroom
Year built:
1920s
"When I arrived at the house, I came with my twin bed from my childhood home, which looked pretty juvenile and small for my large, airy bedroom," renter Ashleigh Sparks says. She upgraded to a queen cast iron bed she found at Copper Rooster Antiques in Covington, Louisiana, and it's now one of her favorite pieces of furniture. It was her biggest splurge, costing $500 including delivery, which she says was well worth the expense.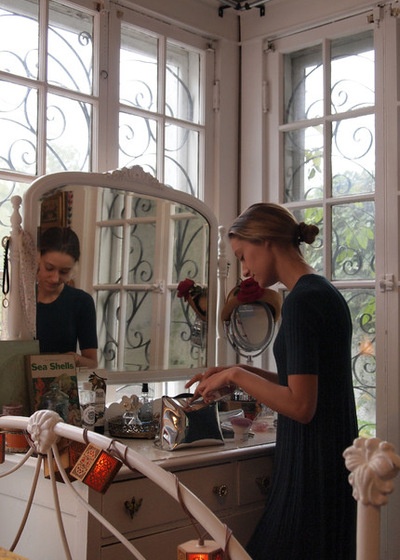 Sparks' bedroom is at the rear of the three-bedroom apartment and is flooded with natural light during the day thanks to the floor-to-ceiling windows. The Art Nouveau-inspired metalwork protecting the glass windows adds to the whimsical feel. Most of Sparks' furniture is from consignment stores. "I choose furnishings and materials that have a little history that I believe I can bring back to life," she says.
Sparks is an active member of the New Orleans art scene and often spends Saturdays gallery hopping with friends.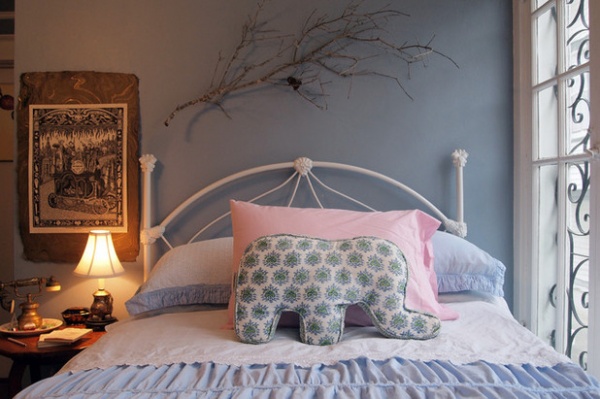 "When I moved here, I took everything from my childhood room," Sparks says. She found the branch in her parents' yard when she was younger and now displays it as organic art above her bed. The walls were already painted blue, so she chose bedding and accents to complement the color.
Duvet and shams: Anthropologie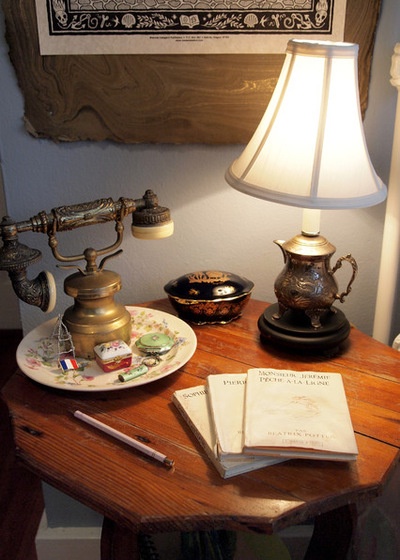 "My bedside table, as well as a lot of the objects in my room, came from my Cajun great-grandmother, Chere Chere," Sparks says. A set of vintage French books by Beatrix Potter is ready for bedtime reading.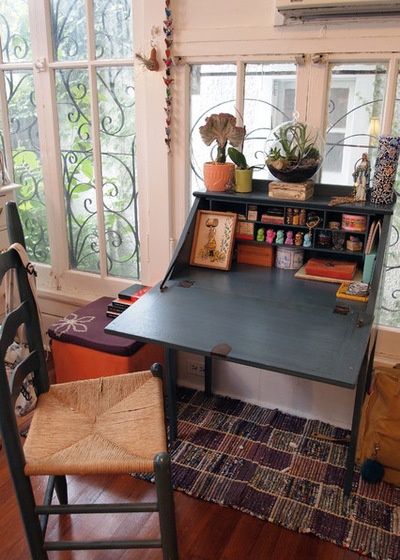 This vintage writing desk is also from Sparks' childhood room. She bought the piece in Mandeville, Louisiana, at what was once Wabi Sabi Interior Consignment and is now S&S Consignment when she was in high school. "I worked at a snowball stand at the time and bought it with some of my snowball money that I saved up," she says. She's found it useful for both studying and housing small knickknacks.
Her current bedroom was originally a sunroom, and her plants thrive in the abundant light. Sparks says the room reminds her of a greenhouse or terrarium because of the large windows and the greenery both inside and out.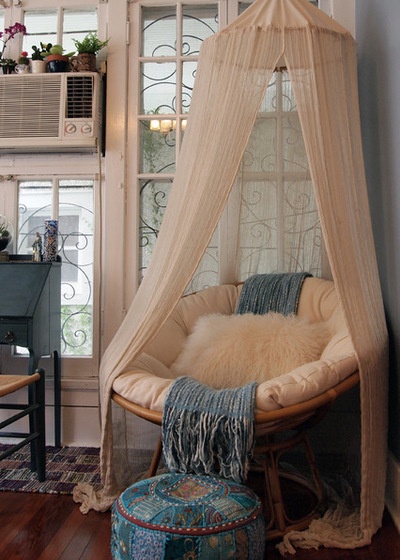 One of Sparks' favorite interior designers is Justina Blakeney. "Justina is the author of a book called The New Bohemians and she uses a lot of textiles, textures and live plants in her decor," Sparks says. She took inspiration from Blakeney's book and blog to create this bohemian-inspired reading area. Over the papasan chair is a sheer canopy that can be closed when Sparks is lost in a book. The area is accented with an Indian kantha quilt, an embroidered pouf and a Mongolian sheepskin pillow. On top of her air-conditioning unit is a collection of succulents and air plants.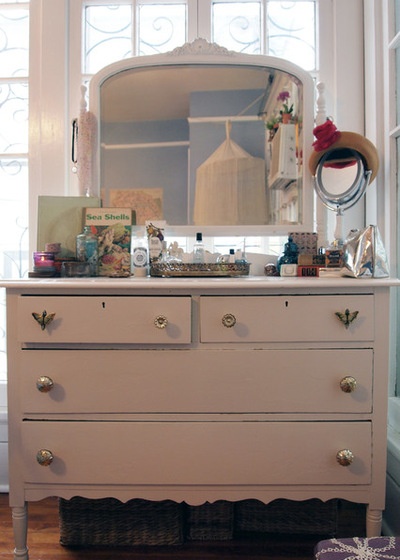 The vintage dresser is from Patina Interiors, a consignment store in Covington, Louisiana. There's a sticker on the back of the mirror that reads, "Mom antiqued the old bedroom furniture, June 1974." When Sparks bought the piece, the old antiquing was wearing off and it was in need of an update. She sanded the piece down and gave it a fresh coat of white paint and new knobs from Anthropologie. To add a splash of color, she painted the inside of the drawers green.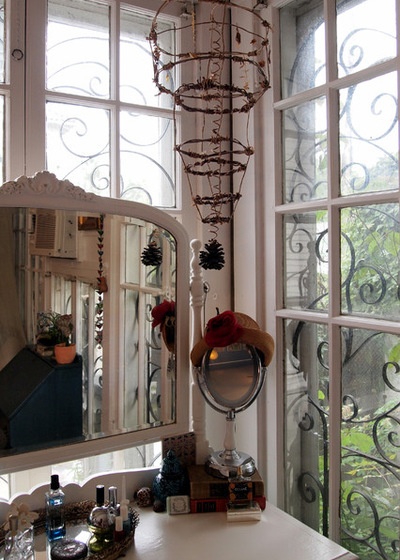 Sparks created this mobile out of vines, leaves, pinecones and pressed flowers when she was younger and still enjoys the look today.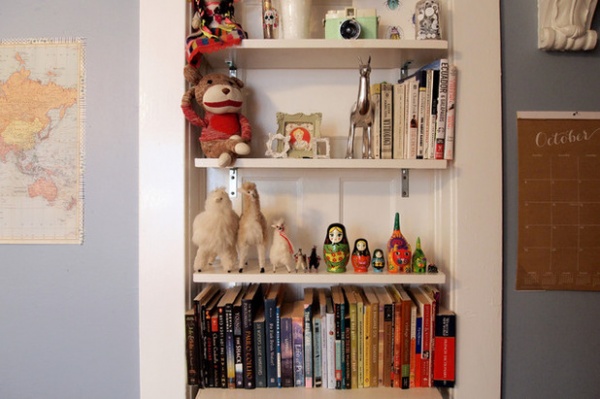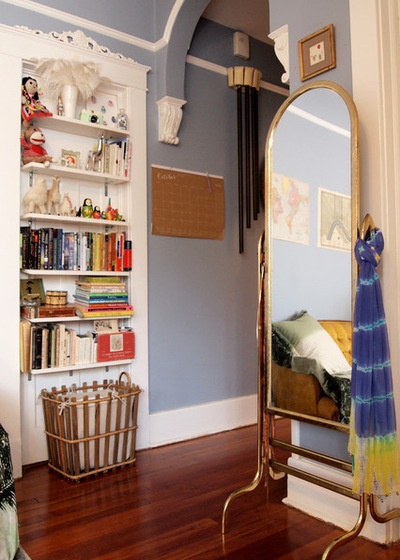 Books organized by color and collected toy animals sit on the built-in bookshelf in Sparks' room. Her previous two roommates, who moved out last year to study abroad, left behind a few other mementos, including the vintage brass standing mirror.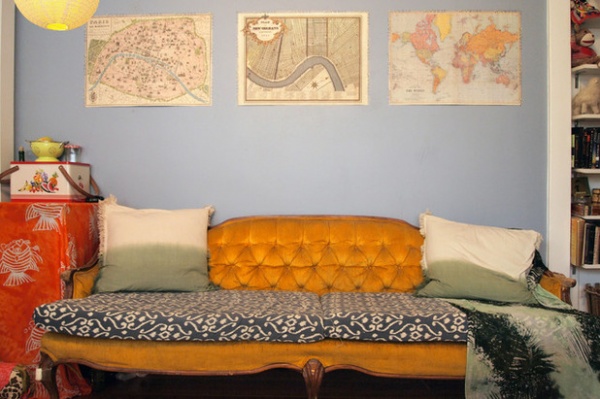 Sparks has a small sitting area in her room that's anchored by a vintage velvet sofa she found on Craigslist. "The person who owned it before me bought it with no sitting cushions and cut her own out of some foam she ordered and covered them," she says. "The biggest flaw of the sofa, which I try to hide with my 'artfully placed' palm shawl-tapestry, is that a dog gnawed off the wooden arm. I plan on replacing the arms with something wooden I make. I think it would be funny to whittle and attach wooden iguanas or snakes or something to the existing arm spaces."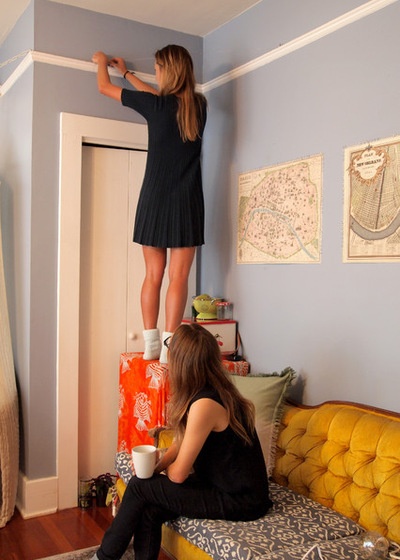 Sparks hangs a new paper lantern while roommate Liz Gienger looks on. "We share the space really well and have a comfortable way of interacting with each other," Sparks says. "We'll go in each other's rooms and chill and it won't be weird. It's not very territorial."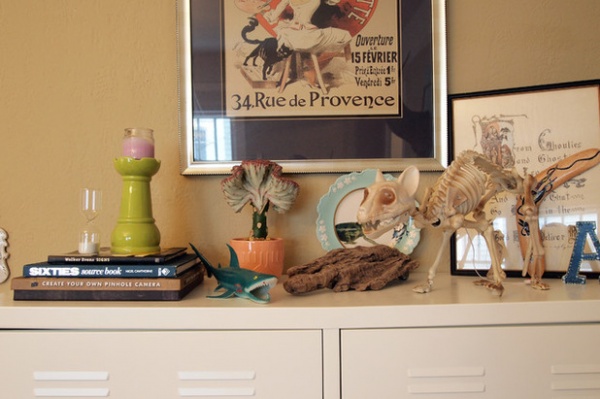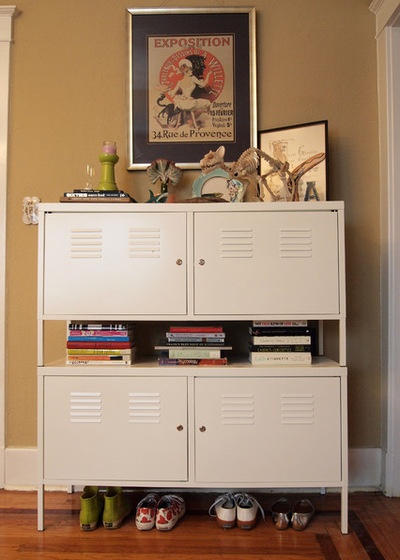 These cabinets provide storage in the living area. "I really like the minimalist and modern aesthetic with negative space, acrylic, black, gray, white and chrome," Sparks says. "Eventually, when I have a design studio space, I want it to look like this. Quite a bit different from the cozy spaces of my home."
White locker cabinets: Ikea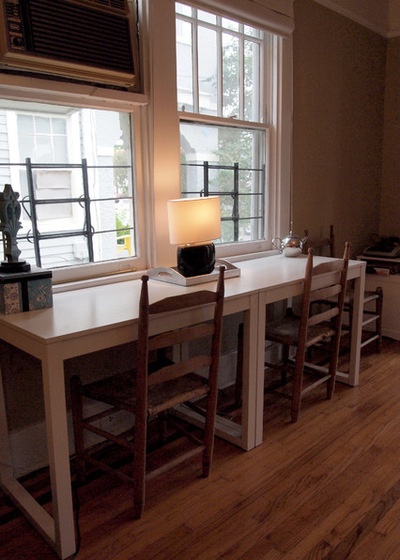 In the front of the home is a common study area. The tables are from Ikea and the chairs originally belonged to Sparks' great-great-grandmother, Chere Chere's mother. "My mom got these chairs out of the attic this summer and gave them to me," she says. "My great-great-grandmother, Grandma Petry, got upset with her husband when he had them made without consulting her. When the chairs arrived at their country rice farm home, she had all of the brown cow fur scraped off of them with a razor. That's why they're now just bare hide like a drum."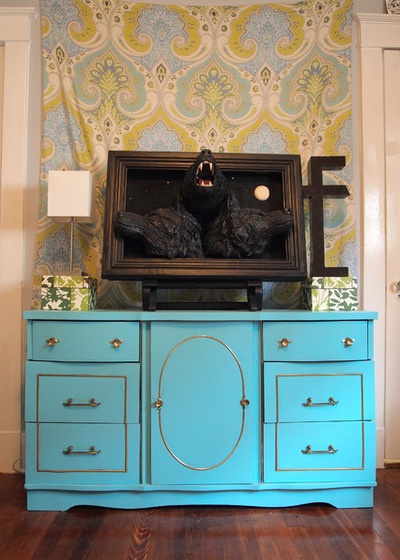 Twice a year, the Louisiana State Penitentiary hosts a rodeo and crafts fair called Angola Rodeo. Gienger attended last year and bought this sculpture from one of the inmates, who carved the wolf heads from solid wood.
Gienger's mom helped her update the vintage dresser in her bedroom by painting it blue and accenting it with gold detailing and hardware.
Gienger also hung a colorful tapestry to complement the dresser and soften the dark elements of the room.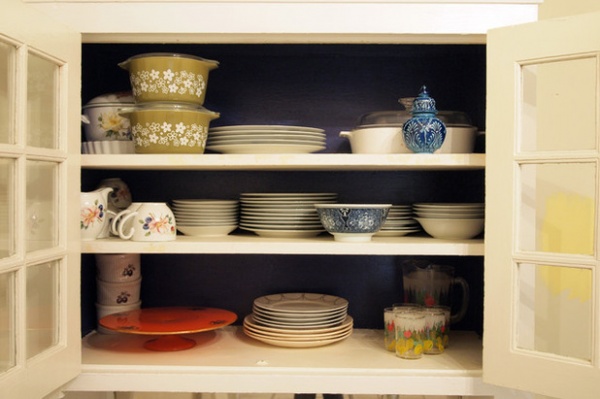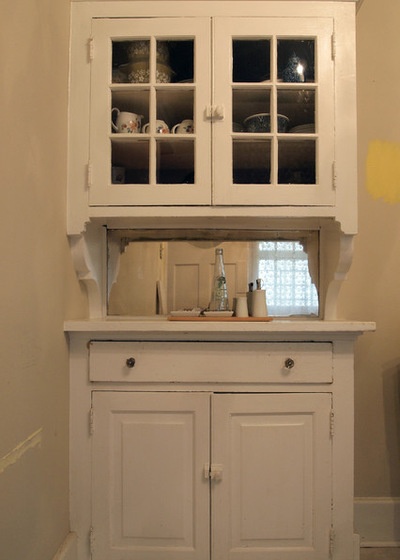 The home features built-in storage, which helps save on furniture costs. The eating area has this cupboard, perfect for storing vintage tableware. When Sparks moved into the apartment, she painted the back of the cupboard a rich purple to make her dishes stand out.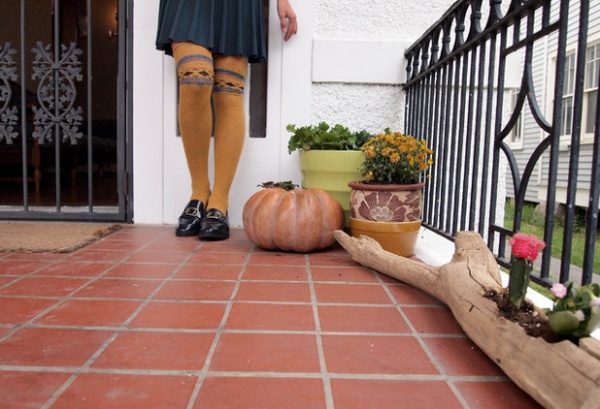 Sparks and her roommates love decorating for the holidays, especially in fall. The front porch is now outfitted with a seasonal potted vegetable, kale, yellow mums and a pumpkin. Friend Olivia Wells gave Sparks the handmade driftwood and cactus arrangement.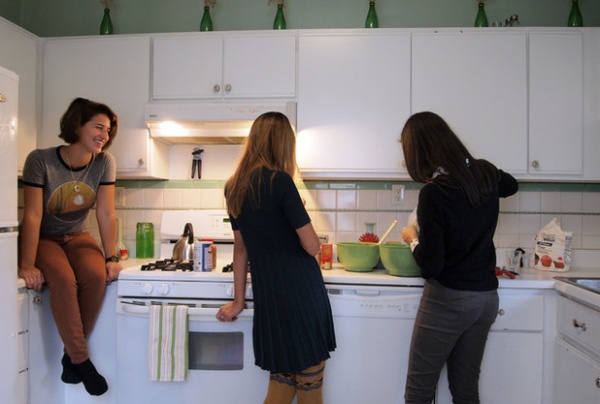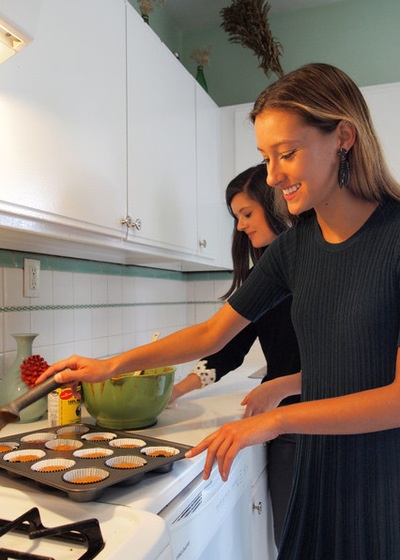 Sparks, center, and friend and fellow graphic design student Abbey Furlow bake some pumpkin bread and muffins before heading out on a gallery tour, while Wells watches.
See more of this home
Next:
Houzz Call: Show Us Your College Dorm Room
My Houzz is a series in which we visit and photograph creative, personality-filled homes and the people who inhabit them. Share your home with us and see more projects.
Browse more homes by style:
Apartments | Barn Homes | Colorful Homes | Contemporary Homes | Eclectic Homes | Farmhouses | Floating Homes | Guesthouses | Lofts | Midcentury Homes | Modern Homes | Ranch Homes | Small Homes | Townhouses | Traditional Homes | Transitional Homes | Vacation Homes
URL:
My Houzz: Vintage Whimsy in a College Apartment in New Orleans
http://decor-ideas.org/cases-view-id-27073.html