Vanity Hardware That Adds a Stylish Touch to the Bath
Just as a necklace enhances a little black dress, or smart cuff links punctuate a classic suit, cabinet hardware can infuse a bathroom with your personal style. If you're accessorizing a new bath, or craving a quick, inexpensive way to change things up in an existing bathroom, consider your vanity's knobs and pulls. Doing something special with this small detail can have a big impact on the look of the room.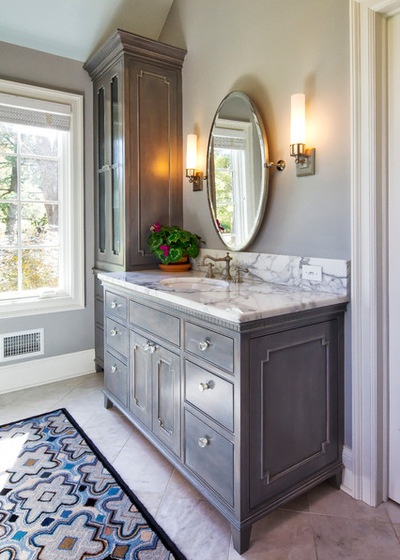 Glass knobs.
These sparkly classics provide just the right dose of fanciful flair. Although sometimes associated with the Victorian era, glass knobs didn't become popular until World War I, when metal was in short supply.
Pros:
They add shine and throwback glamour.
Cons:
They need more cleaning than other types of knobs.
They're good for you if:
You feel as though your bathroom is lacking pizazz.
Styles they work with:
Traditional, Arts and Crafts, colonial, glamorous, eclectic, Victorian-era, cottage, Italianate.
Knobs: Jay's Hardware, Hamilton, New Jersey
Ring drop pulls.
Today's clean-lined trend means we sometimes wind up with rectilinear overload. Large rings play nicely with round vessel sinks. And they add needed curves to rooms with lots of straight-edged tile, mirrors, counters and cabinets, as in the photo at left.
Pros:
They are an attention-getting detail that can dress up a vanity.
Cons:
They can be a little harder to open than other styles.
They're good for you if:
You have an affinity for door knockers.
Styles they work with:
Anything from classic to traditional to contemporary.
Pulls: Belwith Hardware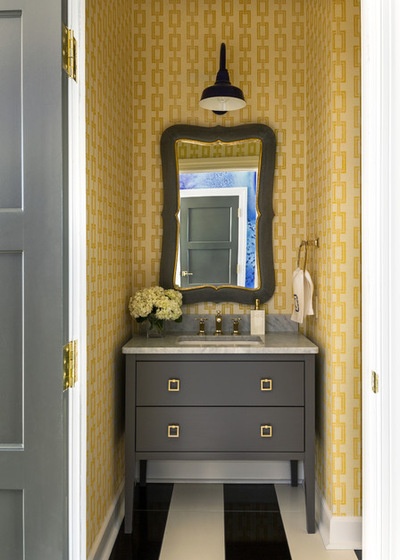 Square drop pulls.
Like ring pulls, they have an interesting shape and movement. Here, square drop pulls complement the rectangular chain-link wallpaper pattern — a good example of relating the hardware to other design elements in the bathroom.
Pros:
The clickety-clang knock of the pull hitting the cabinet face will alert you to any guest snooping through your vanity!
Cons:
The pull's knocking can eventually chip the finish on the cabinetry.
They're good for you if:
You want to add dimension and interest.
Styles they work with:
Traditional, Arts and Crafts, eclectic.
Handles (similar): The Knobbery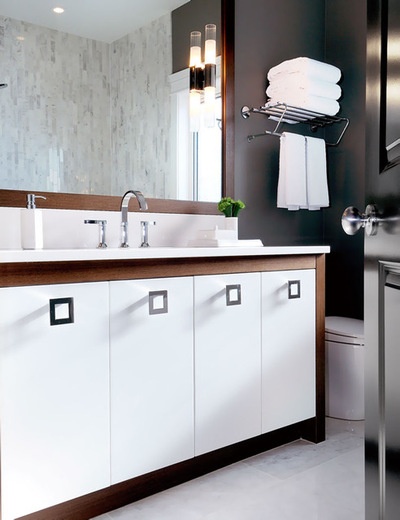 Square pulls.
These modern squares are surprising and artful.
Pros:
The way they jut out from the cabinet face creates a sculptural effect.
Cons:
They're too specific for widespread appeal during resale (though they can be switched out with ease). Fingerprints show on some polished finishes.
They're good for you if:
You like geometric shapes.
Styles they work with:
Modern, contemporary, transitional, glamorous, eclectic.
Pulls (similar): Italian-European Collection by Topex Hardware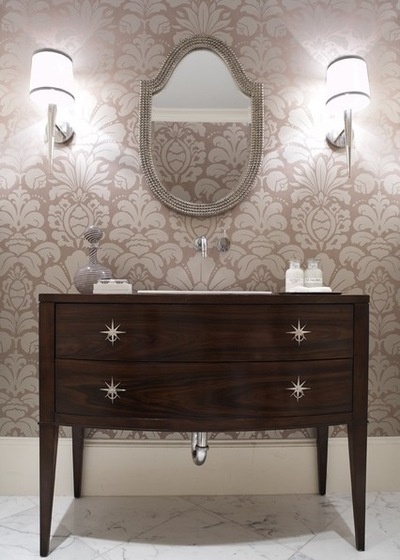 Novelty hardware.
Whimsical knobs and pulls, such as elephant heads (pull on the trunk) or these starbursts, left, are an easy way to make a statement and give personality to a room.
Pros:
They show off your style.
Cons
: They can lack widespread appeal and be harder to open than typical knobs.
They're good for you if:
Your bathroom bores you, but you can't afford big changes.
Styles they work with:
They're particularly good for a cottage look but will transform any style to one deemed eclectic.
Starburst pulls: Pulp Home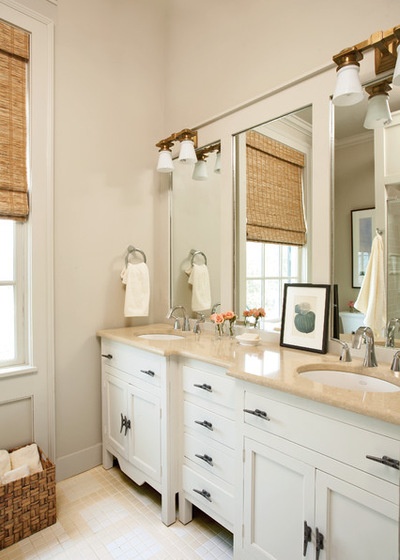 Cleats.
Ocean references are a natural for bathroom decor, especially if you live on the coast. Vanity pulls in the shape of boat cleats — T-shaped rods around which rope is wrapped — add to the casual beach feel of this bath.
Pros:
They bring in a functional nautical touch that doesn't push full theme ahead.
Cons:
They aren't as easy to pull as traditional handles.
They're good for you if:
You're within 10 miles of the water, or you're landlocked and want to pretend you're on the coast.
Styles they work with:
Cottage, nautical, coastal, transitional, traditional, eclectic.
Cleat knobs in Antique Pewter: Modern Objects; lighting: Circa Lighting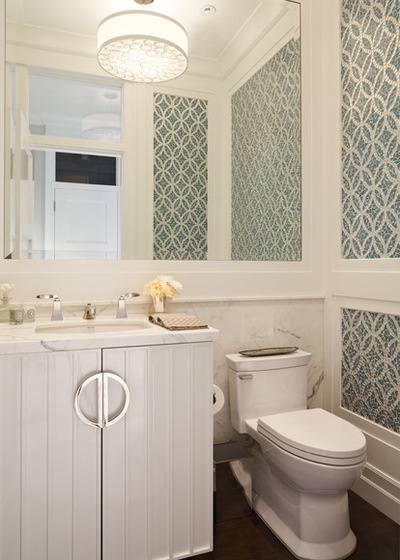 Custom.
With custom hardware, you're limited only by your imagination and budget. These curved handles were designed and fabricated for this bathroom.
Pros:
You'll get something perfect for your room while supporting a talented craftsperson.
Cons:
Expense.
They're good for you if:
You're tired of the usual designs.
Styles they work with:
Everything.
Hardware: Thomas Fetherston, San Francisco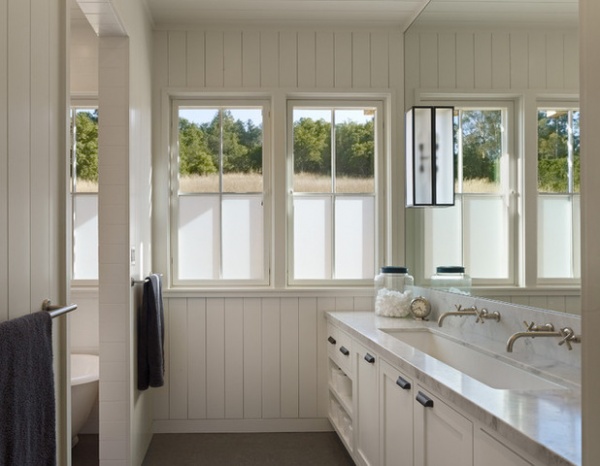 Bin pulls.
More often seen in kitchens and offices, these pulls bring farmhouse style to a bathroom.
Pros:
They're easy to use and a classic accent. They also can be very affordable.
Cons:
They stand out as a rustic detail and may not be right if you want a sleeker look.
They're good for you if:
You like down-home charm.
Styles they work with:
Shaker, farmhouse, country, traditional, cottage, eclectic.
Pulls (similar): Rejuvenation
More
Get a Grip on Kitchen Cabinets With the Right Knobs and Pulls
Browse cabinet drawer pulls in the Shop section
URL:
Vanity Hardware That Adds a Stylish Touch to the Bath
http://decor-ideas.org/cases-view-id-27069.html