Studio Tour: Architects' Office Just Steps From Their Home
Some people are lucky enough to have jobs in which they can exercise their creativity. Architects Heidi Seemann and Peter Rush are among those who do. The Sydney, Australia, couple are business partners who work full-time out of their backyard office designing homes. Their studio was featured recently in our story about architects around the world and their creative home offices. Here's a deeper dive into their studio space and more on how they work.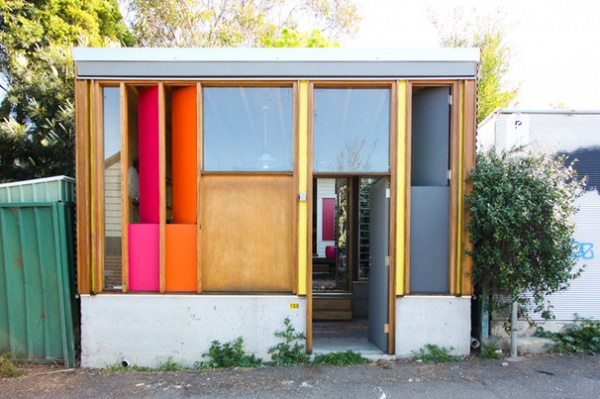 Studio at a GlanceName:
Heidi Seemann and Peter Rush of Seemann Rush Architects
Ages:
51 and 50
Occupation
: Residential architects
Location:
Marrickville, New South Wales, Australia
Seemann and Rush have been architects for more than two decades. They met in Germany while working at an architectural firm and have two boys, Julian, 14, and Oliver, 17.
When the lease on their Sydney warehouse workspace came to an end, the couple took on the challenge of building a shared studio in their backyard so they could work near their teenage boys. Studio construction commenced in 2013 and was completed in two months.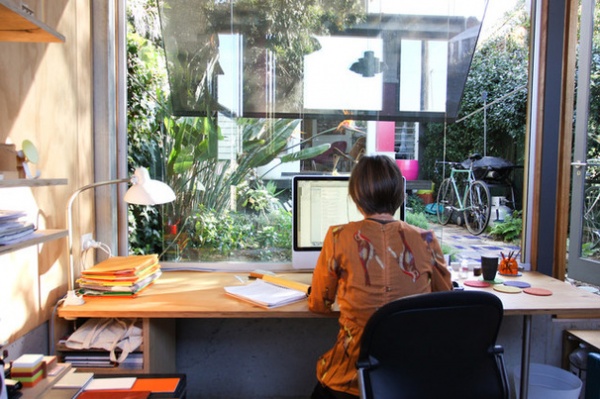 The office is about 160 square feet (about 15 square meters) and comfortably accommodates the two creatives. The structure is a reflection of their design style and body of work, and wood and color motifs abound. "[T]he space had to be hard-wearing and not precious — hence the concrete flooring and unpolished finishes," Seemann says. "We always play around with colors. We established the orange and pink color scheme 15 years ago in the main house, and we still love it! Yellow is our new addition."
Seemann's favorite piece of furniture is the white lamp on her desk that she restored when she was a teenager. It serves as a reminder of how styles are constantly recycled.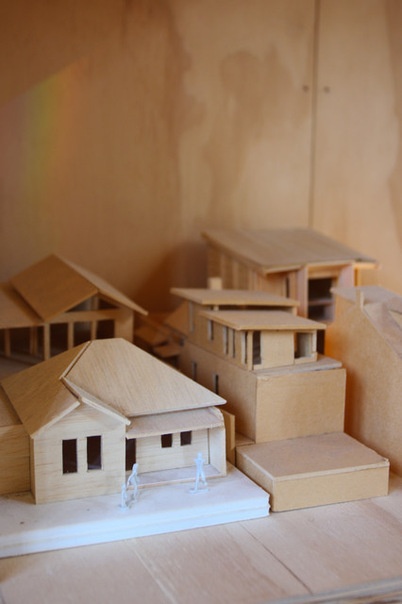 The couple design residential buildings in Sydney, and the backyard office is where their creativity comes to life. They spend their days drawing plans, building models and coordinating with clients. They start their workdays by 8 a.m. and walk to the kitchen in the main home for lunch before heading back to the office for the rest of the day. "I love the fact that I can wave to my son when he comes back from school in the afternoon without the need to interrupt my work," Seemann says.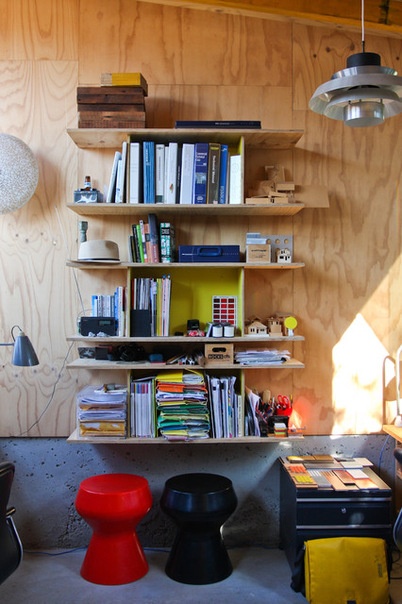 This built-in plywood shelving in the compact office houses the couple's collection of architecture books, models and designs.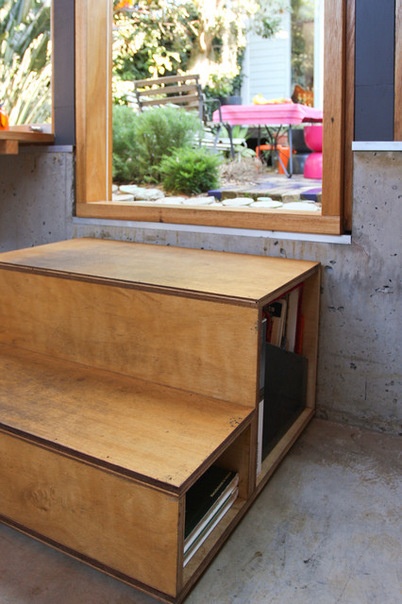 Rush built these hollow stairs to store more books and folders.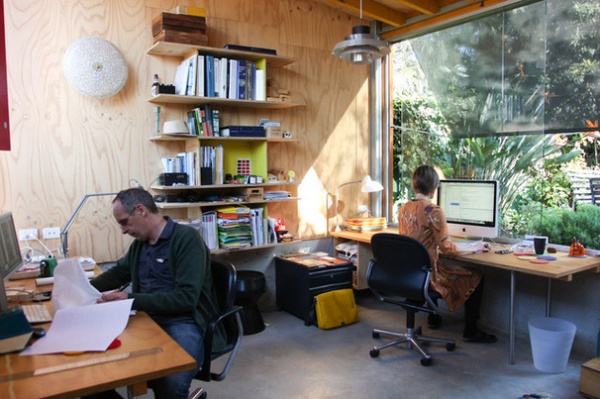 "We have two separate desks that allow us to work independently," Seemann says. "One of us gets the beautiful outlook into the garden." She says the garden view is her favorite feature in the space. "We frequently watch lorikeets [a type of parrot] from here feed on the banksia in the courtyard that separates the studio from the house."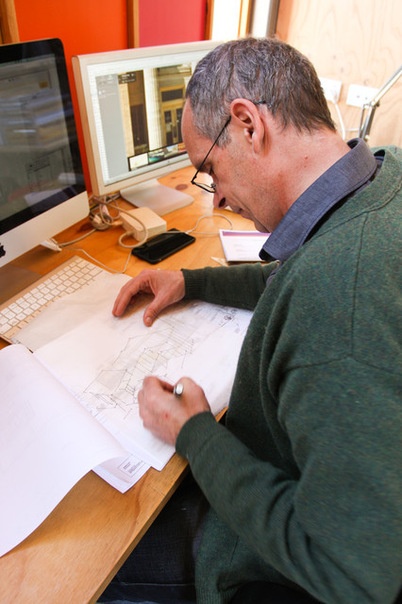 Seemann and Rush were determined to make the space environmentally friendly. "We have an exterior blind for thermal protection and also to help with light reflection," Seemann says. When the couple need fresh air, they open the solid wood panels.
It's not only in the office that the couple are aware of their environmental footprint; they also like to keep car use to a minimum by riding their bikes to meetings and site visits. "Not commuting to an office is a bonus for us and for the environment," Seemann says.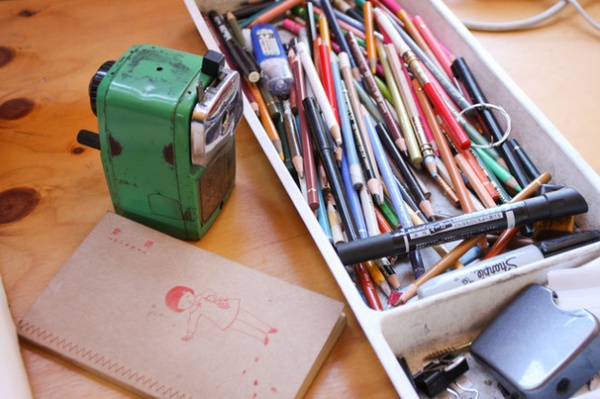 An architect needs a fully stocked drawer of pencils and other drawing tools. Rush has kept this pencil sharpener from his days as a university student.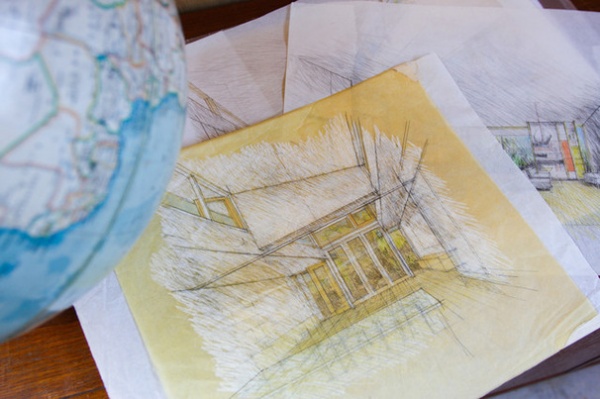 Much of Seemann's and Rush's work is inspired by their travels. "We always look at architecture, historic and modern, wherever we go," Seemann says. "Inspiration comes from urban and rural settings. It could be a hay barn in Austria, the sheep shearing shed in rural [New South Wales], as well as the historic buildings and streets in Italy or Melbourne."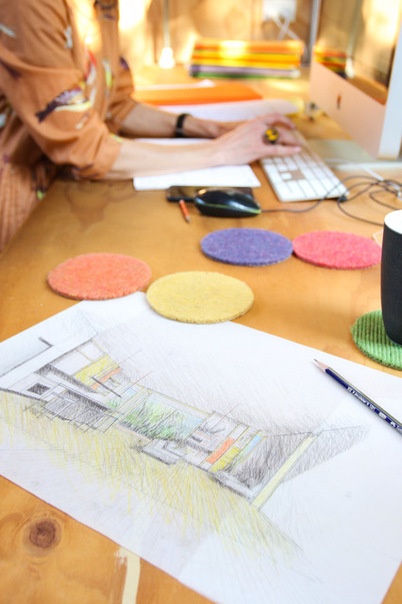 The couple often host meetings in the main home, but they also have client consultations in their backyard office. "We have extra stools for clients, and we just make it work space-wise. If the weather's good, we sometimes use the courtyard as well," she says.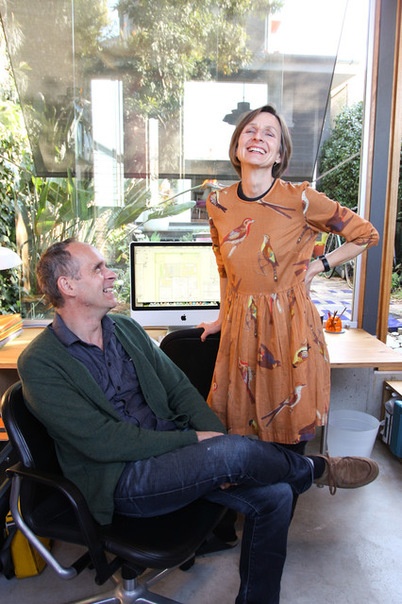 Being an architect often can mean long hours and weekend work. Though this can be tiring, Seemann and Rush can be flexible with their time, and take time off or work longer hours when needed.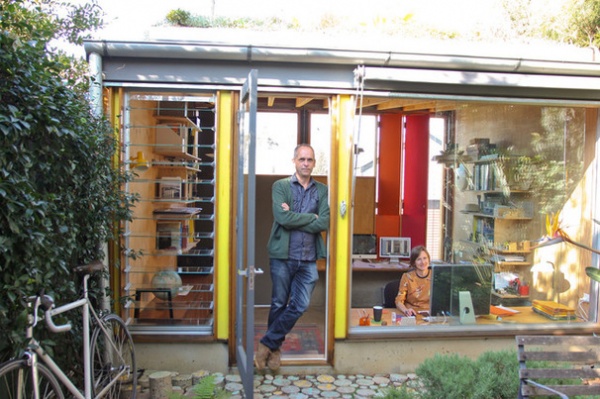 Being productive in a home environment can be a challenge. For Seemann and Rush, however, the biggest struggle is knowing when to put their pencils down. "It's about making sure you don't work when you really should sit down to talk to your kids … or even clean the house!" See says.
More
Studio Tour: Garage Keeps the Wheel of Creativity Turning
14 Home Studios That Nurture Creativity and Art
URL:
Studio Tour: Architects' Office Just Steps From Their Home
http://decor-ideas.org/cases-view-id-27068.html