Houzz Tour: English Country Home in the American South
The Duke and Duchess of Cambridge inspired the style of this home, located in an equestrian neighborhood outside Charlotte, North Carolina. "I wanted that English country home feel that was comfortable and livable but also sophisticated enough that the queen would be comfortable staying here," interior designer Mary Ludemann says. The home was built as a showplace for Charlotte HomeArama tours and is serving as a fundraising showhouse for Big Brothers Big Sisters of Greater Charlotte through November 1. Because the home needed to appeal to a wide range of potential owners, Ludemann incorporated classic traditional elements while adding fresh touches that keep it from feeling fusty.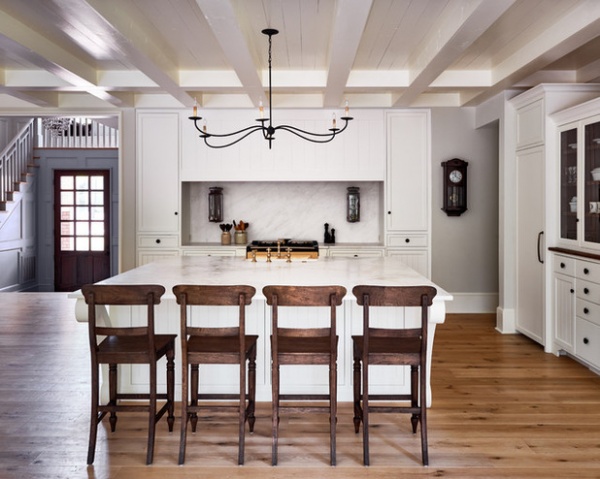 Photos by Dustin Peck Photography
Houzz at a GlanceWho lives here:
The home was built on spec as a showhouse, with family-friendliness in mind
Location:
Charlotte, North Carolina
Size:
4,879 square feet (453 square meters); five bedrooms, 5½ bathrooms
Though Britain's Will and Kate and their traditional-meets-young-family style served as inspiration for designer Mary Ludemann, she also tried to appeal to potential homeowners of any age.
Ludemann kept a sense of historical architecture in mind when decorating the new house. For example, the ceiling treatment that runs through the kitchen, family room and dining room emulates timber frame construction; the look of floor joists and cross beams creates a coffered effect overhead. It also helps bring the 10-foot-high ceilings down to a cozier scale.
"Scale is so important," Ludemann says. The island is 8 feet by 8 feet and the light fixture overhead is 5 feet in diameter. "The light fixture has Colonial style, but its size and openness give it that fresh touch," she explains.
The countertop on the island is leathered Bianco Avion Premium marble. Texture played a big role throughout the house. "You see all the way through the house from the front door, and everything outside is so green," Ludemann says. "We kept the interiors neutral to accentuate the views outside, but made it interesting with layers of texture."
Chandelier: Saxon, Currey & Co.; counters: AGM, fabricated by R&L Stone and Marble; sink: Whitehaven apron sink, Kohler; faucet: Newport Brass Fairfield in French Gold, Hughes Supply; stools: 19th C. English Schoolhouse Stools, Restoration Hardware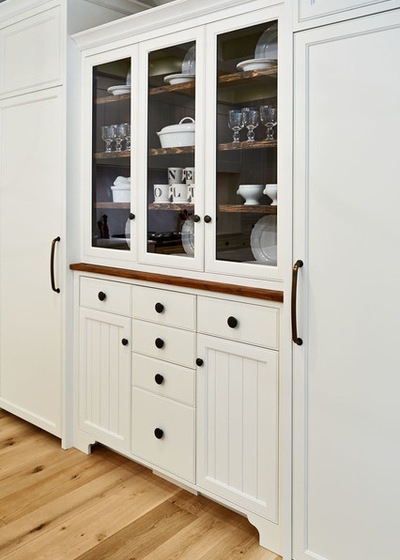 In between paneled Sub-Zero refrigerator and freezer units is a hutch with a furniture look. Ludemann looked to English country homes when choosing and placing the cabinet hardware. The 2-inch diameter of the wooden drawer pulls gives them an English look. She was also careful to place them so they created a pleasing composition and fit the scale of the cabinetry.
Cabinets: custom, Walker Woodworking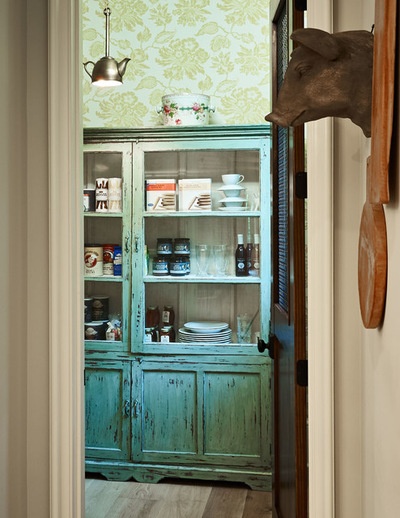 "You can have fun with a pantry — they don't have to be these dark, strictly utilitarian spaces," the designer says. A cow head and cutting boards lead the way to a unique door. Ludemann had the top panel in a standard door removed and added a grille by filling it with wire mesh. Williams-Sonoma styled the antique turquoise cabinet for the tours. The botanical wallpaper in bold hues was designed to appeal to different generations, while the teacup sconce adds an eclectic touch overhead.
Wallpaper: Helena, Thibaut; light: Earl Grey Pendant, Currey & Co.; cabinet: Dwellings (Asheville, North Carolina)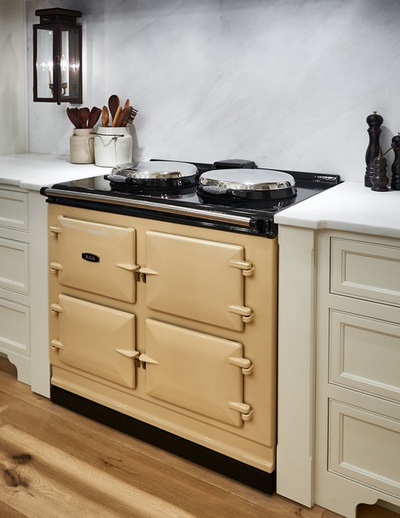 Because the kitchen is wide open to other rooms, Ludemann concealed the refrigerator, freezer and dishwashers with paneling that matches the cabinets and tucked a microwave drawer into the island. The quintessentially British Aga range is the only appliance that shows.
Ludemann used the same marble here as she did on the island, but in a honed finish on the counters and backsplash around the range because it's easier to clean cooking splatters or grease on a honed finish.
She embedded exterior lanterns into the marble backsplash on either side of the range to add some patina and an important layer of light. The built-in Wolf vent hood has halogen bulbs. "A soft, warm feel comes from true layering of light," Ludemann says. "You want different lighting options for when you're cooking, entertaining, watching TV in the next room or drinking wine."
Sconces: Lantern & Scroll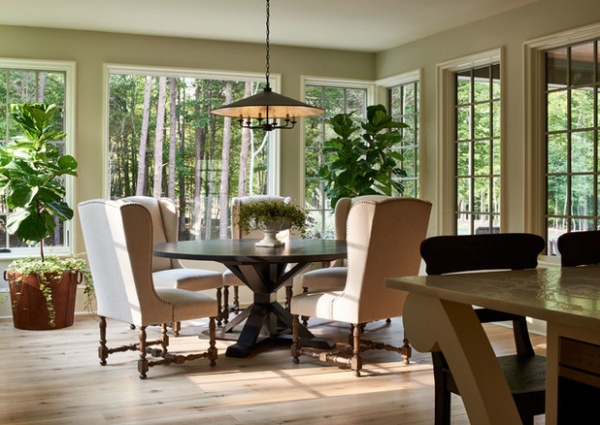 The dining room juts out into the yard off the pavilion, surrounded by windows on three sides. A large round table accommodates six wingback chairs, and could accommodate eight smaller chairs for a bigger party. "The round table keeps things comfortable and maintains the easy flow around it," Ludemann says. "I wanted to create something that got lots of use … casual enough for breakfast but could be dressed up for more formal dinners, rather than creating a formal dining room that would only be used a few times a year."
Fiddlehead fig trees complement the views outside and bring in nature. Their pots are concealed by antique leather chucker baskets that add another beautiful texture.
Chandelier: Brussels, Currey & Co.; antique leather baskets; The Paris Market (Savannah, Georgia)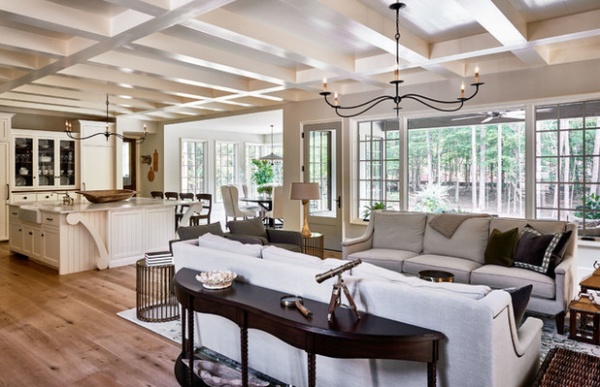 The family room, which is open to the kitchen, has a ceiling treatment and light fixture that tie the spaces together. "We need things to be light and airy in the South because it's hot, but I made these sofas indestructible by upholstering them in Sunbrella fabric," Ludemann says. "While we were going for a sophisticated look, it was most important to make it livable and not like a museum — there is nothing in here that's too precious to stand up to your dogs, cats, your kids, your babysitter or yourself and your friends."
She placed the furniture in an intimate arrangement, rather than pushing it into the corners of the room, which allows for a clear flow all around. The curved sofa table with twisted barley legs has an heirloom look and softens the lines of the room. A 7-foot-wide fireplace with a long hearth for sitting anchors the other side of the room, just out of view to the right in this photo.
Sofa and chairs: Gabby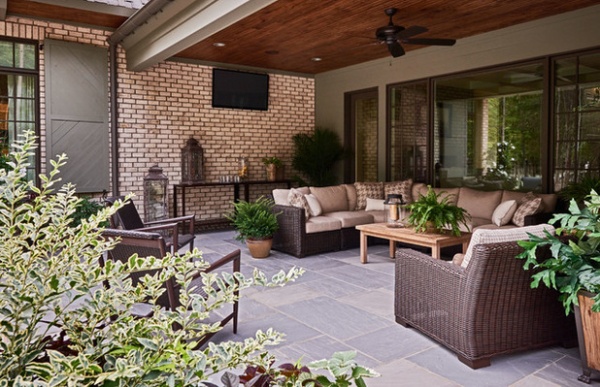 The home has more than 1,000 square feet of outdoor living space. This comfortable covered seating area has strong connections to the family room.
Again, Ludemann added subtle details and layers of texture, starting with the bluestone patio, continuing on the European-style diagonal boards on the shutters and in the dark wood on the ceiling and the bronze gutters. "I like details that make you look twice," the designer says. "I love it when clients tell me that they've lived in one of our houses for a year and are still discovering something new in the details."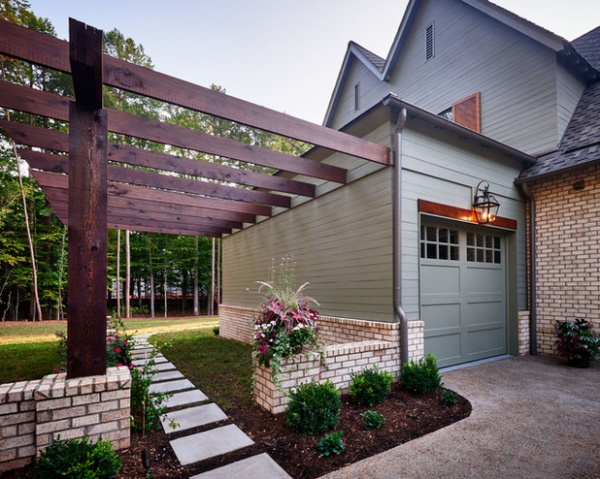 Just off the garage, a path leads under a pergola through what will be a glorious rose garden, creating a colorful transition between the driveway and the back of the house.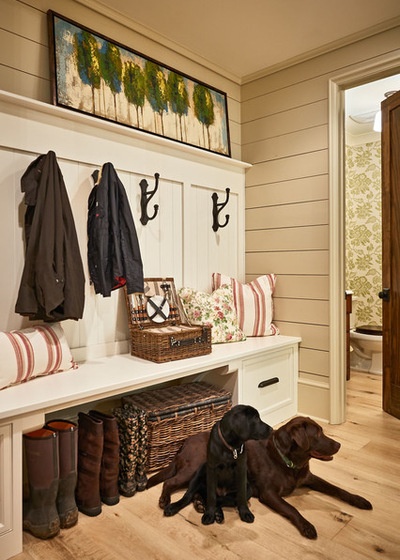 Off the garage is a mudroom and family command central. Oversized 14-inch hooks for coats and bags and planked walls give it a hint of a stable feel in the equestrian neighborhood. "I don't like to go for all one style or theme; I prefer to mix to give things a collected, evolved look," Ludemann says. From here you can get a peek into the first-floor powder room, which has the same botanical wallpaper we saw in the pantry but in a different color, and a vanity that Ludemann had made from an antique chest.
The designer's dogs, Briar (the chocolate Lab) and Bramble (the black Lab), made themselves at home on photo shoot day.
Hooks and bin pulls: Pottery Barn; cabinets: custom, Walker Woodworking; wallpaper: Helena, Thibaut; toilet: Kallista Bridgeton with wood seat, Hughes Supply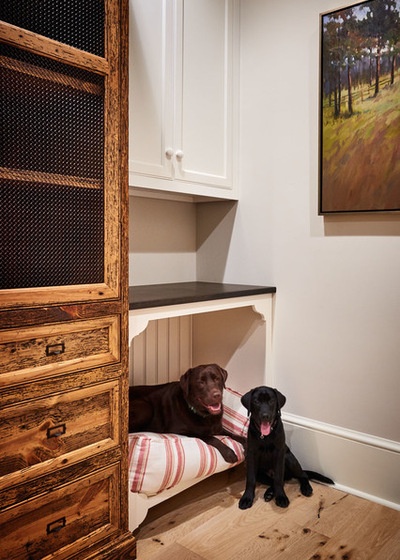 Briar and Bramble inspired some of Ludemann's design for the room. She placed dog beds within the built-ins. On the other side of the room she used pullout trash bins for dog food storage. "People have a hard time figuring out where to store the dog food," she says. "All you have to do is use lidded trash bins on a pullout cabinet and throw your scoop on top."
The designer had her cabinetmakers craft the large cabinet out of antique wood. It has filing cabinets and drawers for everything. The room also has a pull-down wrapping paper-craft rack on the wall, a built-in desk, a washer-dryer and a sink.
Cabinetry: custom, Walker Woodworking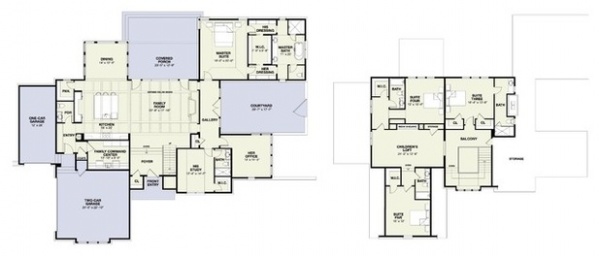 As we move out of the more public spaces, a glance at the plan will help with orientation. The first-floor master suite, seen at top right in the plan on the left, makes the home appealing to those looking to age in place. In addition to a bedroom and bath, it includes his-and-her offices (his has its own bathroom and could serve as a fifth bedroom if needed); his-and-hers dressing room-closets; and a private patio.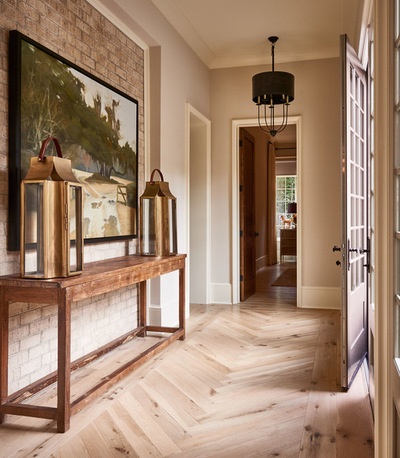 This gallery on the other side of the hearth in the family room leads to the owner's private quarters. The original plans called for the chimney to be drywalled over, but Ludemann saw beauty in the exposed brick and thought it could add patina and a sense of age to the home. Brass lanterns and an antique console also add to the effect.
This space shows off the French oak floors that run throughout the first level. They were bleached and fumed and cut European-style, which shows off the graining. They're also oil-finished, which gives them a matte look the designer finds looks more rustic and organic than shinier floors. A herringbone layout adds another of those subtle yet striking details Ludemann is so fond of.
Floors: French oak, Burchette & Burchette; light: Dover 5-Light Drum Chandelier, Napa Home & Garden; brass lanterns: Summer Classics; console table, Dwellings (Asheville, North Carolina)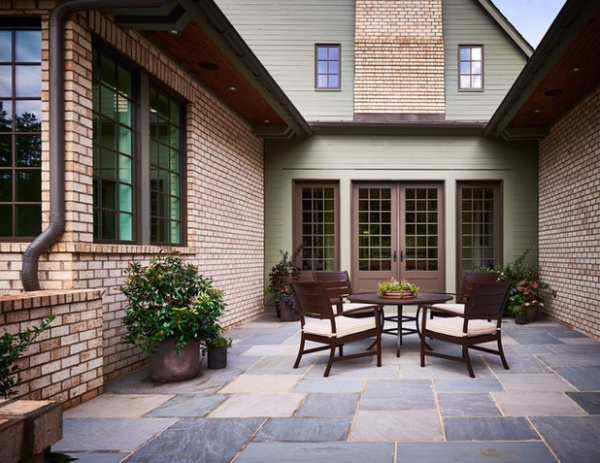 On the other side of the doors in the gallery is this private patio. "I imagine the homeowners enjoying their morning coffee and evening wine out here. It's a secret, private little space just for them," Ludemann says.
The windows and doors are clad in aluminum on the outside, which looks painted but is zero-maintenance, while the interiors are clad in wood.
Doors and windows: Pinnacle Series, Windsor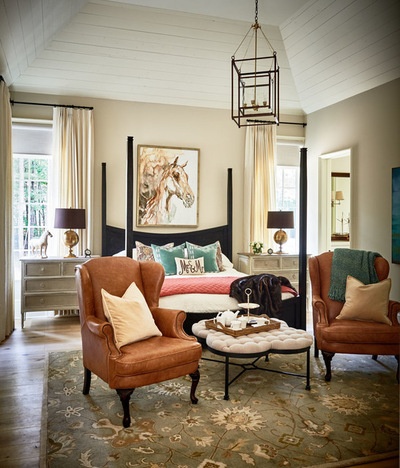 Rather than making the master one huge room, Ludemann created defined areas — for the bed and nightstands; for a comfortable seating area; and for dressers, just out of view on the right. Ludemann covered the high vaulted ceiling in spruce planks, adding a cozy texture overhead.
Brass, bronze and blackened finishes add more texture to the room, as does the aged-looking leather on the wingback chairs. The chairs, cloverleaf-tufted ottoman and spherical reading lamps add some soft curves. The shades are by Hunter Douglas and are battery-operated. They can even be pulled down and raised via smartphone.
Drapes: Restoration Hardware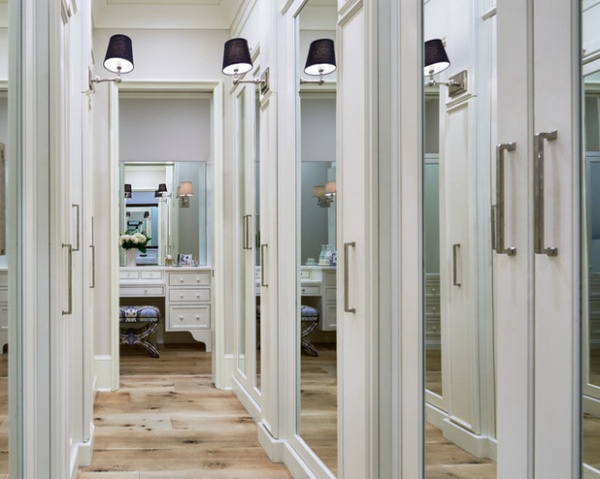 A glamorous closet has his-and-hers spaces. Mirrored doors conceal clothing racks, and customized pullouts hold jewelry and other accessories.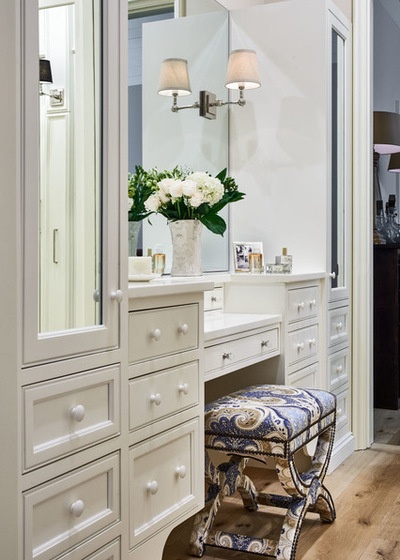 One end incorporates a pretty dressing table area.
The other has details such as leather drawer pulls.
Drawer pulls: Rejuvenation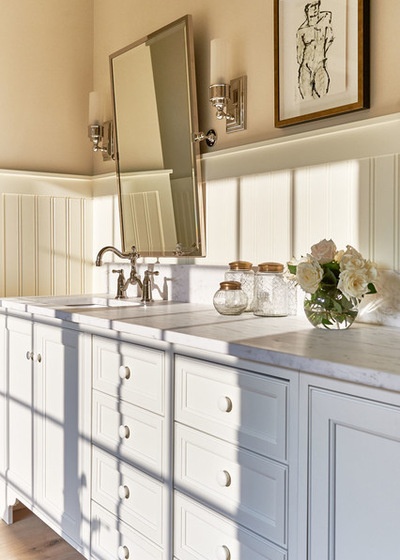 Paneling on the walls and the round wooden drawer pulls add English country house touches to the master bathroom.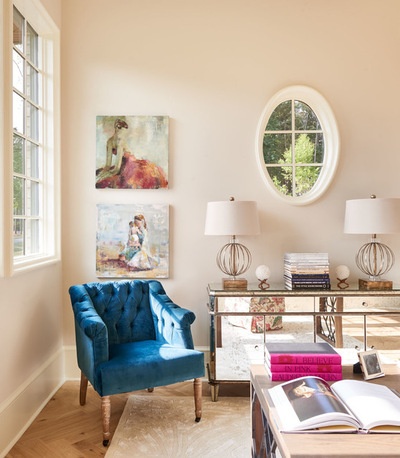 This light-filled office looks out on all the green outside. Glamorous textures such as mercury glass and velvet beg to be touched. One can imagine Princess Kate slipping off her LK Bennett heels, enjoying the soft rug and flipping through her Audrey Hepburn style book.
Lamps: Decorative Lighting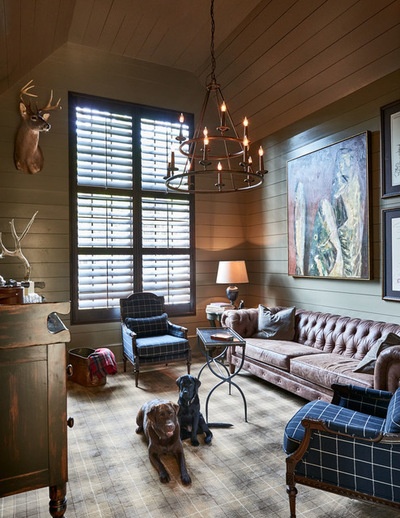 The other office has the feeling of a rustic den, with an aged-leather Chesterfield sofa and planked walls. Ludemann ordered long boards to avoid seams — this gives a more upscale look. Extending the boards to the top of the room gives the 14-foot-ceilings a cozier feel. The piece on the left is a buffet Ludemann styled as a bar, and there's wiring for a TV overhead. Layers of patterns and textures add a well-worn, comfortable look. The walls are covered in local artwork and framed maps.
"While this was designed as 'his' office, every woman who has walked through fell in love with it," Ludemann says. "You don't see dens around that much anymore, but this makes a great den." The flexibility of the space means it could also be used as the TV room, keeping the more open downstairs rooms free of the noise.
Rug: Stark; chandelier: Quoizel Voyager, Lee Lighting; shutters: Heritance, Hunter Douglas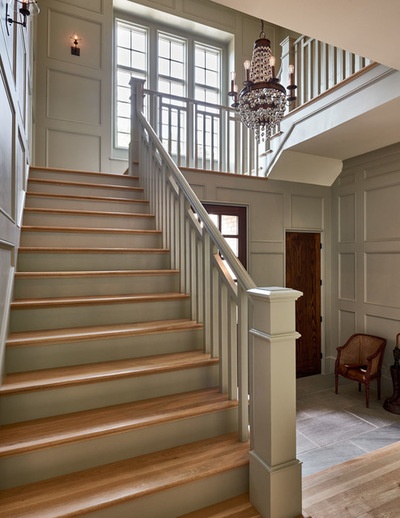 The entryway is dominated by a grand staircase. A grid of square panels creates continuity and breaks up the large wall. The paint is a warm, green-tinged gray that accentuates the view of the outdoors.
The style of the entryway and staircase hark back to English Tudor-style homes. "I wanted to make this house evoke a sense of nostalgia and give people that good feeling our grandparents' homes did," Ludemann says. At the same time, she infused the design with updated touches that feel more youthful.
Chandelier and sconces: Currey & Co.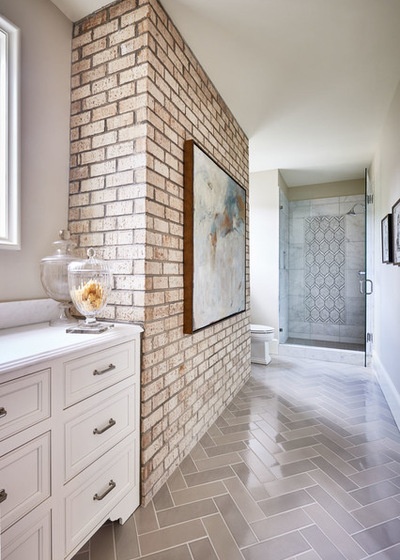 Ludemann also specified to keep the chimney exposed in the upstairs guest bath, directly over the gallery space we saw earlier. She used tile to carry the herringbone detail through up here. A patterned accent tile creates a focal point at the end of the long room in the shower stall.
Floor tile: 6th Avenue Fog Gloss/Matte Blend 4x12, shower tile: 18x18 Bianco Bello Marble; shower accent tile: Tangent Calacata Zephyr, all Walker Zanger; counters: Bianco Avion Premium, AGM, fabricated by R&L Stone and Marble; toilet: Tresham, Kohler; fixtures: Charlotte Series in polished chrome, Brizo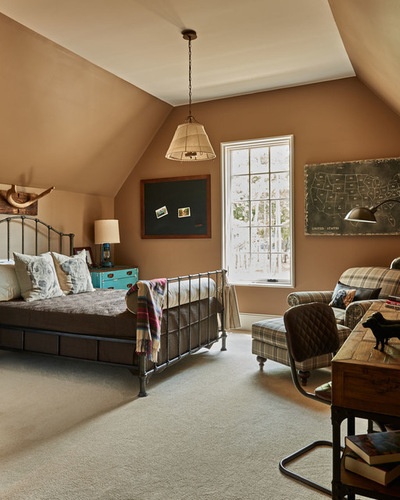 Ludemann's son was the inspiration for this carriage house-meets-summer-camp child's room. The iron dog statues and screen-printed woven linen pillows represent Briar and Bramble. She even borrowed her son's Harry Potter books for the staging. (He wasn't thrilled.)
Small Rustic Shade Pendant, Shades of Light; flooring: Shingle Creek I in Mushroom, Shaw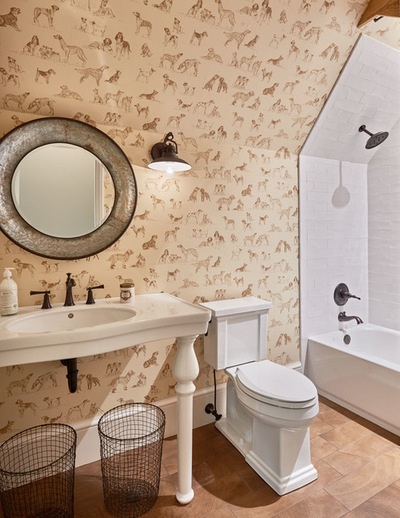 The child's bathroom features a darling dog wallpaper, enhanced with a balance of textures such as the wood-like floor tile, hand-molded glazed subway tile, rustic galvanized mirror, bronze fixtures and wire baskets.
Wallpaper: Best Friend, Thibault; sink: 42" Milano Console, Barclay; fixtures: Tresa Series in Venetian Bronze, Brizo; light fixture: Station Lantern, Shades of Light; floor tile: WoodAge Ring 6x24; tub tile: Café Milk 3x6, both Walker Zanger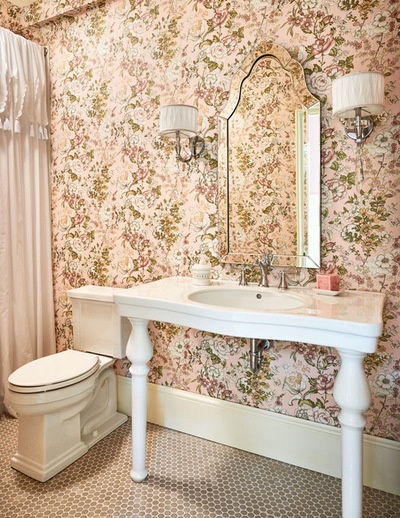 The other child's bathroom has an entirely different look thanks to an English cottage-inspired floral wallpaper and polished chrome fixtures. Penny rounds add texture on the floor.
Wallpaper: Ainsley Pink Boho Floral, Kismet, A-Street Prints; floor tile: 6th Avenue Fog Gloss Round Mosaics, Walker Zanger; fixtures: Tresa Series in polished chrome, Brizo
Builder:
New Old
Interior designer: Mary Ludemann
Architect: Jim Phelps of Jim Phelps Collection
Custom cabinetry: Walker Woodworking
Artwork: Anne Neilson Fine Art
Browse more homes by style:
Apartments | Barn Homes | Colorful Homes | Contemporary Homes | Eclectic Homes | Farmhouses | Floating Homes | Guesthouses | Lofts | Midcentury Homes | Modern Homes | Ranch Homes | Small Homes | Townhouses | Traditional Homes | Transitional Homes | Vacation Homes
URL:
Houzz Tour: English Country Home in the American South
http://decor-ideas.org/cases-view-id-27066.html