Kitchen of the Week: Rustic Space Opens to Herb and Vegetable Gardens
Marilyn Barrett and her longtime friend Catherine Vrdolyak bought a small, classic 1920s cottage in Pinehurst, North Carolina, knowing it would require serious updating. But they were excited to put their own stamp on the property, especially by updating the isolated kitchen. Removing the low ceiling to expose raw wood rafters and knocking down some walls opened up the room and brought in garden views.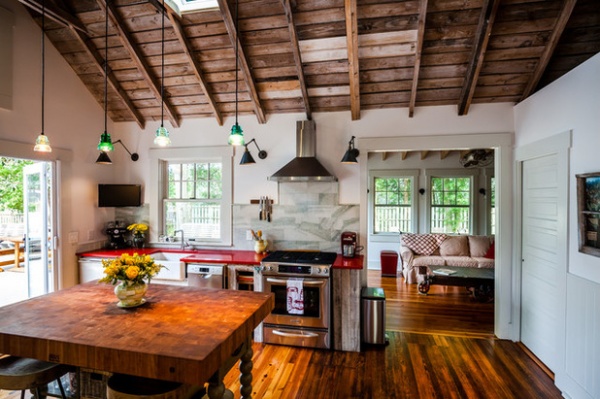 Photos by John Gessner

Kitchen at a GlanceWho lives here:
Marilyn Barrett, a retired marketing executive, and Catherine Vrdolyak, an attorney
Location:
Pinehurst, North Carolina
Size:
About 295 square feet (27.4 square meters) for kitchen and attached dining area
The homeowners worked with architect Christine Dandeneau to make structural changes that included borrowing space from the existing dining room, porch and utility room to create a larger and more open layout. "I was really proud we could show the bones of this old beauty," Dandeneau says. "It was a fine dance between showing some old features and making it feel new."
Beadboard wainscoting, a rustic pine floor and a center island with a base from a secondhand store add character. The homeowners chose to forgo a large, looming refrigerator and instead install refrigerator and freezer drawers. Because they enjoy cooking meals with fresh vegetables and herbs from their garden and local farmers market, the friends felt that the reduced cold storage wasn't an issue.
Another unusual feature: no cabinets. On the right side of this photo, a pocket door conceals a pantry closet with storage for dry goods and a stacked washer and dryer inside. Another pocket door around the corner (not shown) opens to reveal a narrow closet about 5 inches deep for spice storage.
Wall paint: Silver Feather, Manor Hall interior latex, Pittsburgh Paints; refrigerator and freezer drawers: Sub-Zero; 30-inch range: KitchenAid; hood: Broan NuTone; light fixtures on range wall: 20th C. Library single sconce in aged steel, Restoration Hardware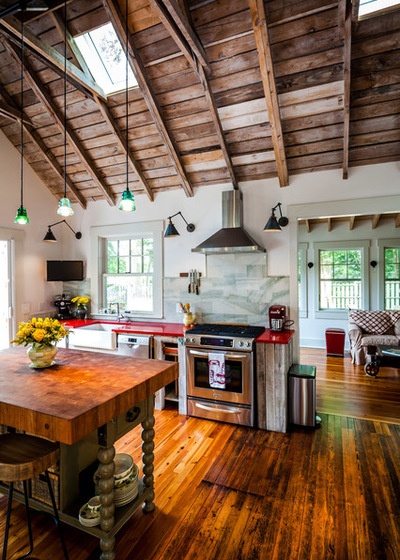 Repurposed wood from the demolition of the cottage now trims the range, sink, dishwasher, and refrigerator and freezer drawers. A whitewash finish gives it a rustic look.
The unstained wood floor, with a polyurethane finish, combines the home's original pine with reclaimed heart pine. "They like the patchwork look and unevenness of the floor and the fact it's not perfect," Dandeneau says. "They don't even use rugs because they love the floor that much."
Caesarstone Red Shimmer counters give the mostly neutral kitchen a burst of color. The Ming Green marble backsplash behind the range has a translucent quality, and provides another texture and a touch of glamour to the rustic space.
Seven inches of insulation foam are sandwiched between the home's asphalt roof and the kitchen rafters (hidden by trim on the exterior) to control heating and cooling costs.
Backsplash: Tile Outlet; counters: S & D Granite & Marble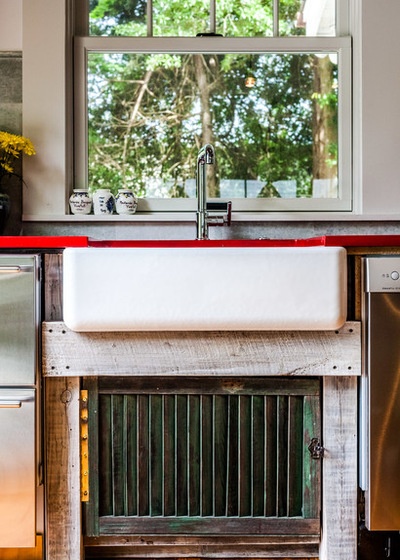 The door under the farmhouse sink, where dish soap and detergent are stored, is a repurposed shutter similar in color to the base of the island. Purchased at a local flea market, the shutter was cut to fit the space by the contractor. The homeowners came up with the idea after a visit to a Durham, North Carolina, coffee shop with a similar setup. "A stock cabinet door doesn't fit there, and we knew we didn't want a curtain," Vrdolyak says.
Farmhouse sink and polished chrome faucet: Kohler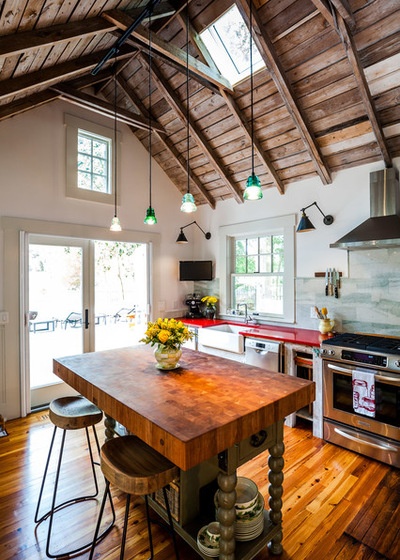 Vrdolyak and Barrett found the island base at a secondhand store and painted it a dark fern green to tie in with the shutter under the sink. The base includes a drawer that pulls out on each side, four baskets that hold kitchen utensils and dish towels, and open shelves for bowls, cups and dishes.
Fresh flowers in a ceramic pitcher and dish that were a housewarming gift add a bit of color to the island. The homeowners had the existing island top replaced with 4-inch-thick end-cut cherry. "Cherrywood is my favorite," Vrdolyak says. "It changes as it gets darker and deeper."
Island top: John Boos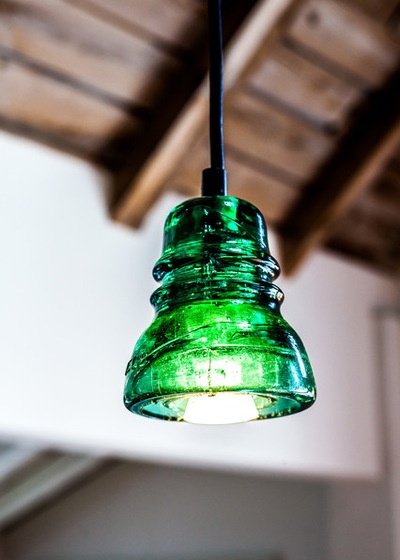 Glass railroad telegraph insulators repurposed as pendant lights illuminate the island.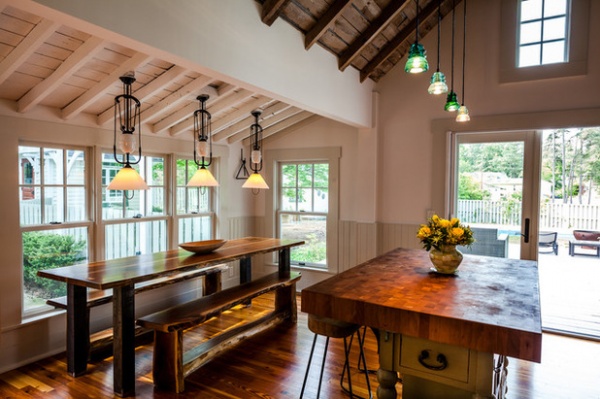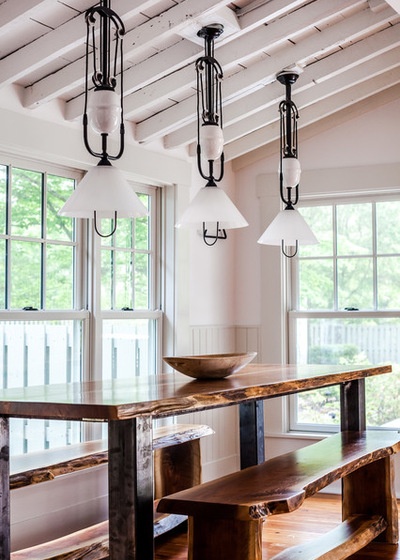 An existing porch now serves as a dining area, with a custom black walnut and steel table for relaxed, casual meals with friends.
Windows look out to the herb garden. "We worked with the landscape architect to make sure the views would be as expansive as possible, so the kitchen itself would feel light and airy," Dandeneau says.
Black walnut for dining table and benches: American Woodyards; table and benches: Alan Tingen Custom Woodworking; iron table base: Protech Metals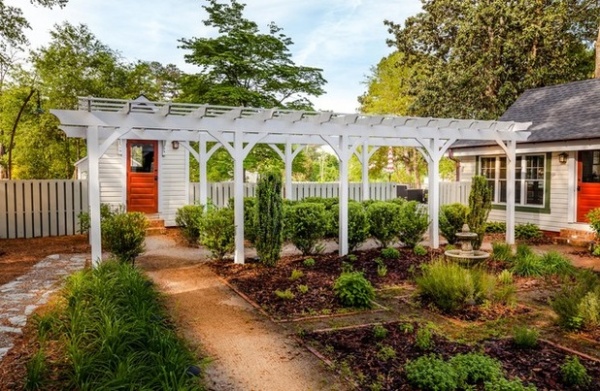 The herb garden, accessed from the kitchen through the red door on the right, includes basil, garlic chives, lavender, lemon verbena, oregano, parsley, rosemary, sage and thyme.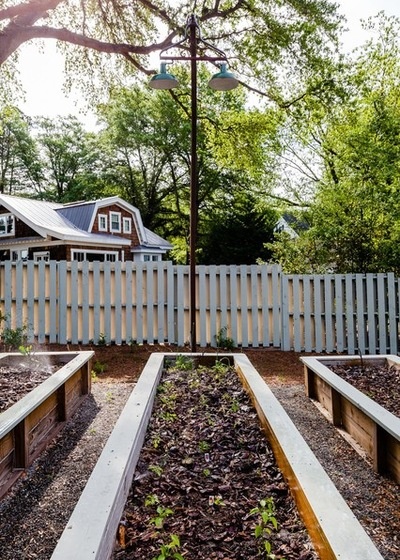 1940s-era light fixtures salvaged from a Chicago school hang from a 20-foot railroad spur the homeowners found during the excavation of the lot.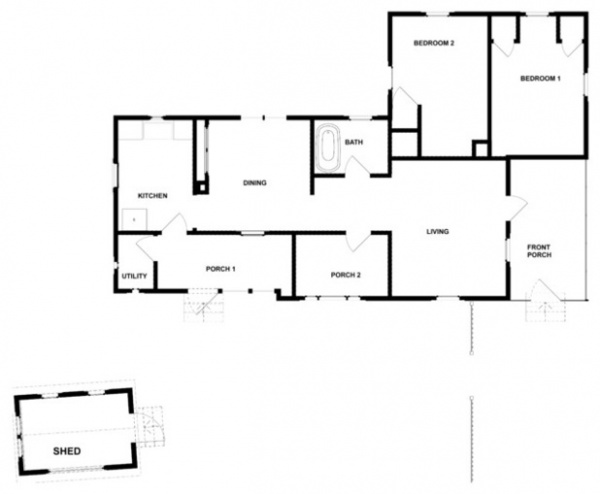 BEFORE:
The "before" floor plan shows how the cottage had been broken up into small spaces, and the kitchen cut off from surrounding rooms.
AFTER:
The updated floor plan shows how the kitchen enjoys a better connection and flow with the rest of the home and the yard. "It's so spacious, and it's a welcoming, open and friendly kitchen," Vrdolyak says. "People walk in and just feel at home."
Architect: Christine Dandeneau
General contractor: Ron Davidson, Davidson Construction, Pinehurst, North Carolina
Landscape architect: LKC
See more Kitchens of the Week
URL:
Kitchen of the Week: Rustic Space Opens to Herb and Vegetable Gardens
http://decor-ideas.org/cases-view-id-27063.html