My Houzz: Artful Home for a Creative Family
For many artists, home is not simply a shelter but a place of beauty where inspiration can flow and they can feel completely at ease. The home of Lisa Mak and her family near Auckland, New Zealand, is no exception. The sun-filled house has undergone minor renovations through the years and is now decked out with art and objects that display Mak's love of quirky beauty.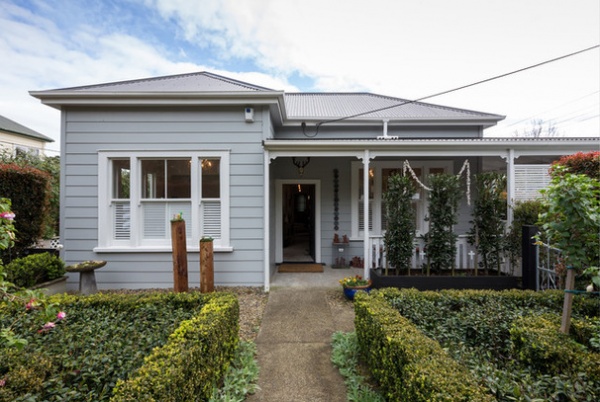 Houzz at a GlanceWho lives here:
Lisa and Chris Mak; their daughter Victoria, 24, and her partner Lincoln, 26; and cats Charlie, Matt and Molly
Location:
Devonport, a suburb of Auckland, New Zealand
Size:
Four bedrooms, two bathrooms
Lisa and Chris Mak moved into this home in 2004. When they first saw the property, it was run-down, with the last renovation dating back to the '70s. However, the couple saw potential in the old clapboard house and liked its location in the seaside suburb of Devonport.
"Having somewhere safe for the kids to walk to school or down to the beach or the shops was a huge bonus at the time," Lisa says. Though the home was big enough for the family, it was in desperate need of an update. So the couple set to work, making their dream family a home.
As with most renovations, money dictated what could be done and when. The transformation was gradual, Lisa says, and the couple embarked on many of the minor jobs themselves. "I practiced [preparing plasterboard walls for painting] as I stripped each of the rooms of wallpaper and went to workshops on paint effects to hide how bad I was!" she says.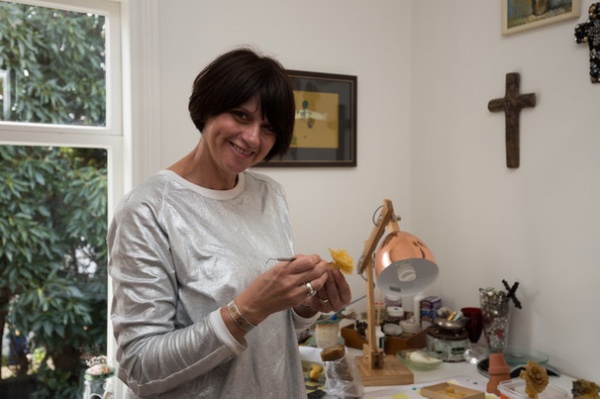 They kept the original floor plan and simply made updates. The first port of call was reroofing and replacing all the windows, which cost about $55,000. "It was frustrating to spend so much money without seeing huge results, but it was also really important to get done," Lisa says.
Next, they removed a wall dividing the kitchen and dining area to create an open-plan living space, and replaced the old kitchen and bathroom with more contemporary spaces. Finally, they repainted the remaining rooms and tore down and rebuilt another room. The result of all this hard work is a layout and style that suits the creative family.
Lisa is a glass artist and decorates her home not only with her own creations, but with the work of other artists she admires, particularly those from New Zealand. "The fact that I am passionate about art is obvious to anyone that comes to our home," she says. "It's a stimulating experience coming through the house."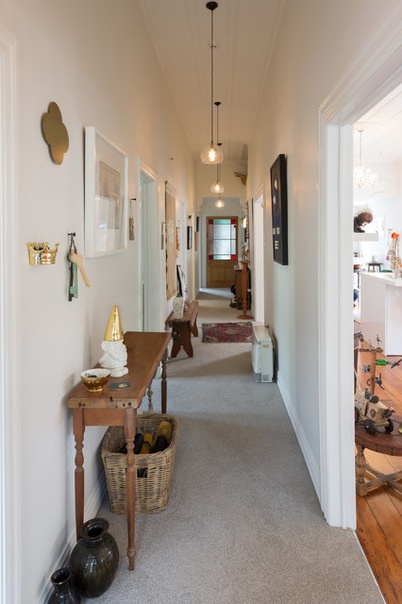 "The evolution of my collection of art makes every piece very special to me," Lisa says. "Art, to me, is not about spending a lot of money, it is about seeing something, and making a connection with it. My creativity is often inspired by affordable up-and-coming artists."
Lights: Firefly Light & Design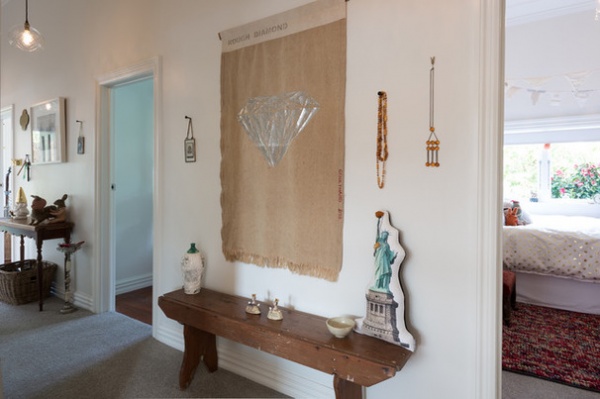 The amber necklaces hanging on the wall once belonged to Chris' mother and were bought years ago in Lithuania. Lisa says she appreciates both their beauty and heritage.
Diamond artwork: Paula Coulthard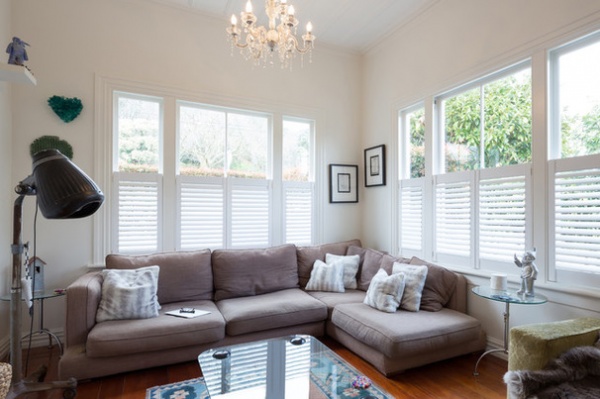 The large living room is where the family goes to relax. The generously sized windows let in the light, with louvered shutters to help reduce glare.
Sofa: Dawson & Co.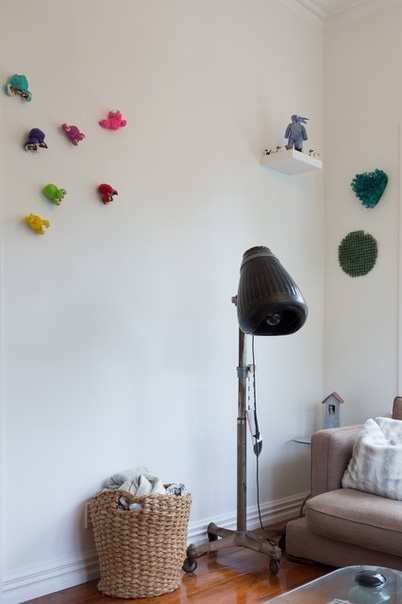 The artwork the couple have collected is displayed throughout the home, such as this vintage hair dryer that's been upcycled into a light. Lisa considers everything she buys with care.
"If I love something, I will think about it, wonder where it will go and how it will blend in with everything else," she says. "My husband says we are so full you just can't get anything else in here, but I think everything complements each other and I see a lot of white spaces to be filled."
Popcorn art: Madeleine Child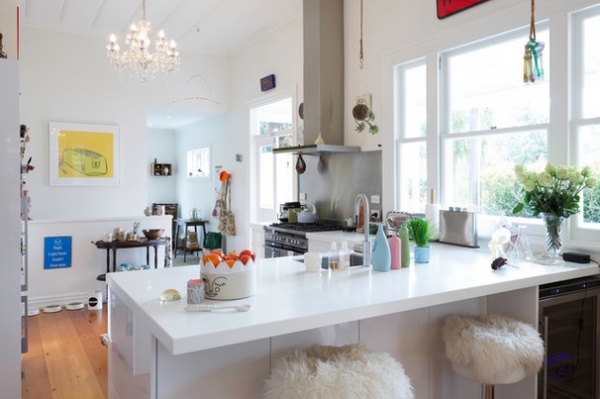 The couple removed a wall that separated the kitchen and dining area to achieve an open-plan living space. Shannon Pepper installed a new kitchen with the same layout.
Lisa requested a seamless, wide countertop in white for both functionality and a modern aesthetic.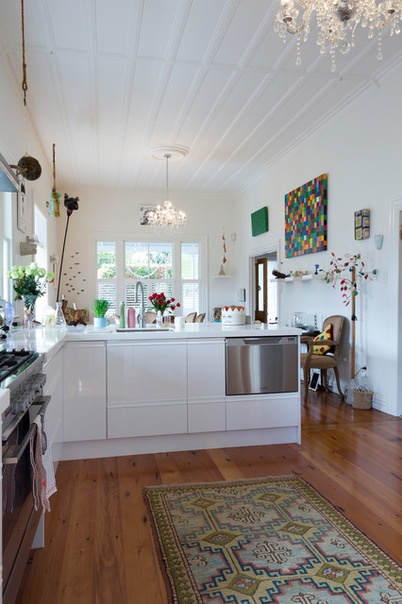 The floors were replaced and the ceiling was raised.
Chandeliers: Lighting Direct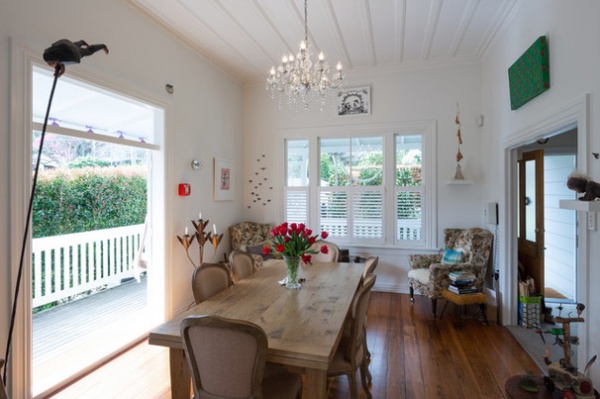 Dining Table: Cuchi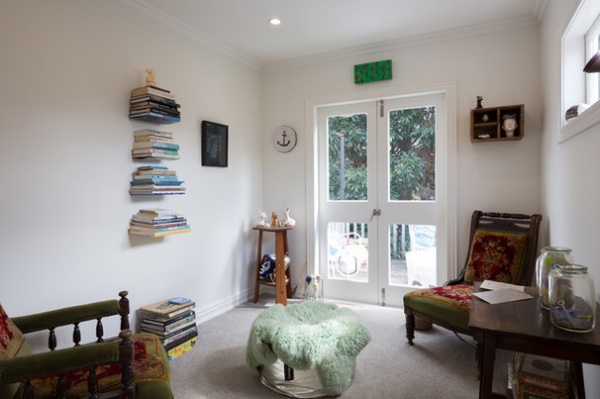 Lisa calls this sunlight-catching room "the snug." It was rebuilt in 2012 and hosts many gatherings, as it features direct access to the back veranda.
Invisible shelving: Homage; anchor disk: Ahoy Trader; chair and corner table: Junk and Disorderly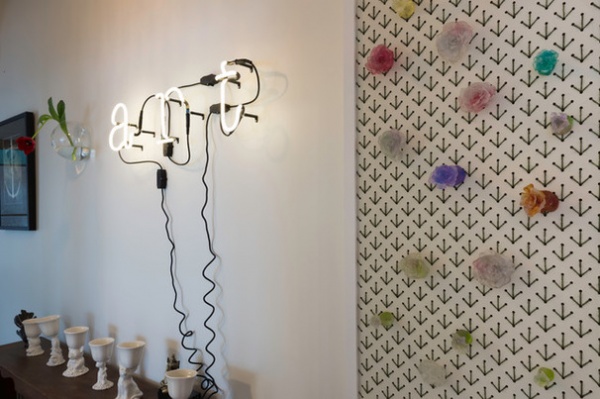 Some of Lisa's glass rose artwork hangs in the hallway next to this light by Seletti, which shouts out the priority of the household loud and proud.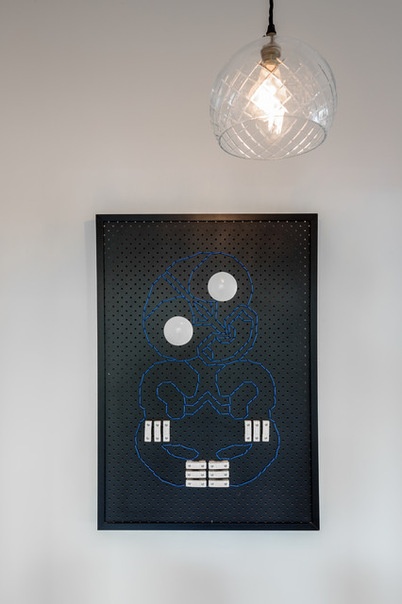 Farther along the hallway is this artwork by Jonathan Campbell; it was Lisa's first serious art purchase.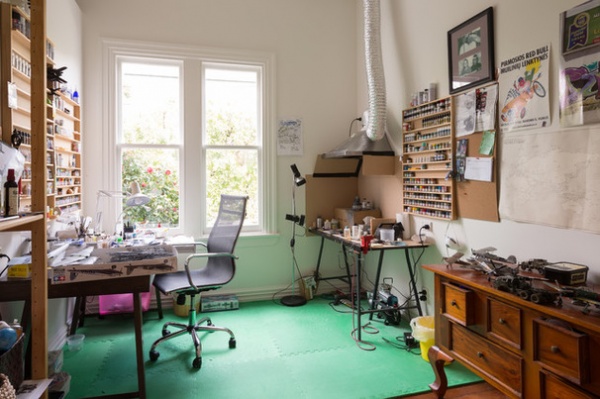 Lisa isn't the only creative one in the family. This is Chris' man cave, where he makes intricate model airplanes. He has customized the space with a work station where he can paint, as well as a ventilated area for airbrushing.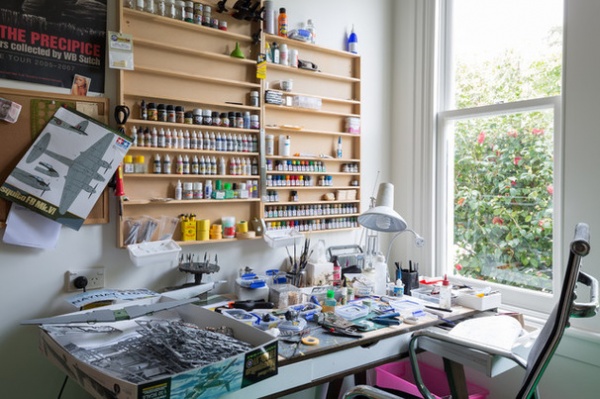 "He works very hard, and so this is a place that is solely his own where he can come to relax," Lisa says. "The only reason I would come in here is to empty his [trash] bin."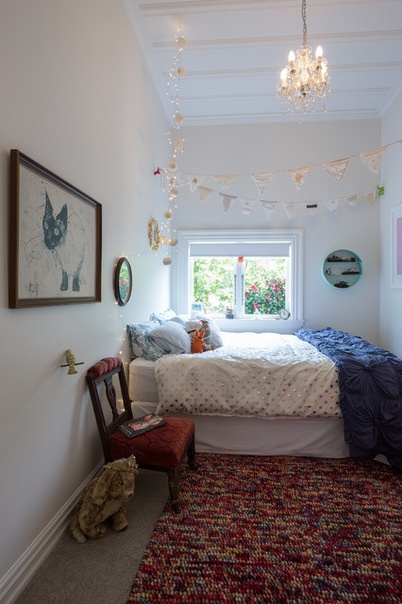 Most of the kids have flown the nest, leaving spare bedrooms behind. This one is used by the couple's granddaughter Michaela, who lives in Melbourne, Australia, with her mom and dad and visits regularly.
"She lived here with my son and daughter for her first six months to help get them settled into parenthood," Lisa says. "It's nice for her to come back and see familiarity around her."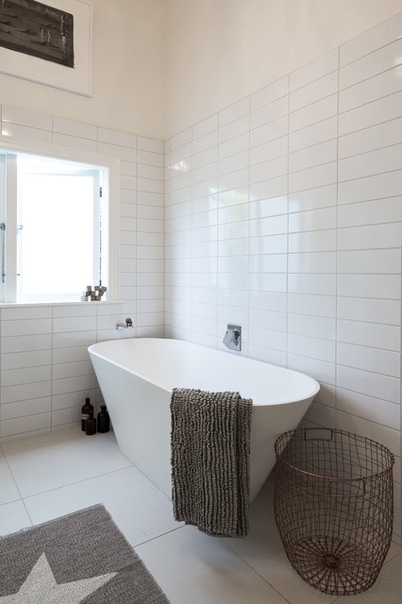 The bathroom is one of Lisa's favorite renovations in the house. "It's just come up so nicely and it's totally relaxing," she says.
Initially, Lisa was intent on keeping the vintage tub in the room, but Chris was insistent on investing in a modern bath. The new design is timeless, while the fixtures — including the tub they settled on and vanity by Micro Plumbing — are built to last.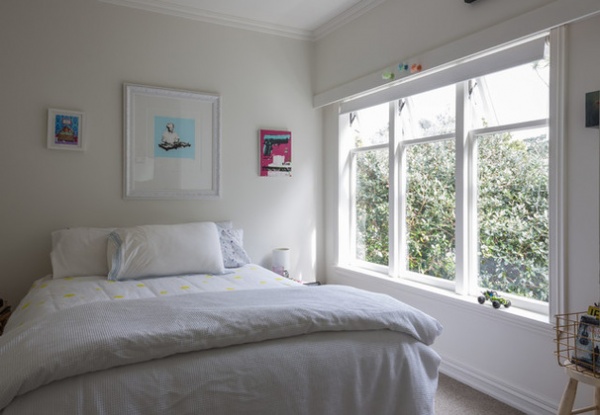 Daughter Victoria and her partner, Lincoln, are living with Lisa and Chris as they wait to move into their first home, which they bought not too far from Devonport. This room, where they're staying, was Victoria's childhood bedroom.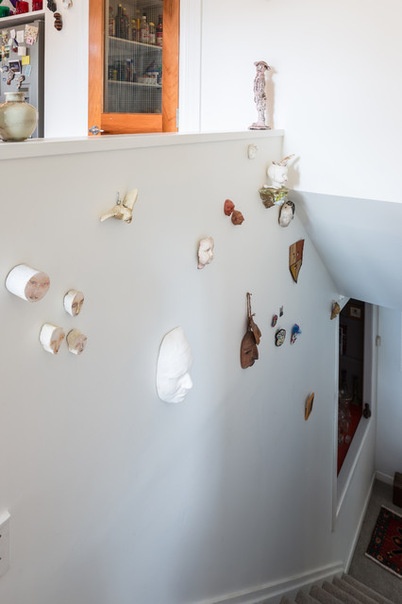 Lisa calls this her "face wall." It features collected face-themed art, including a plaster mold of her own face. The stairs lead down to Lisa and Chris' bedroom.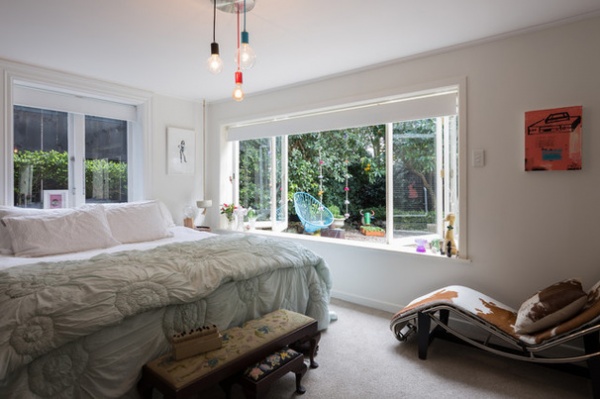 "We needed our own space as our kids grew up, and having this separate large bedroom, which also has a wardrobe and en suite, is just perfect for us," Lisa says. The large windows offer a lovely view of the garden and are kept open during the hotter months.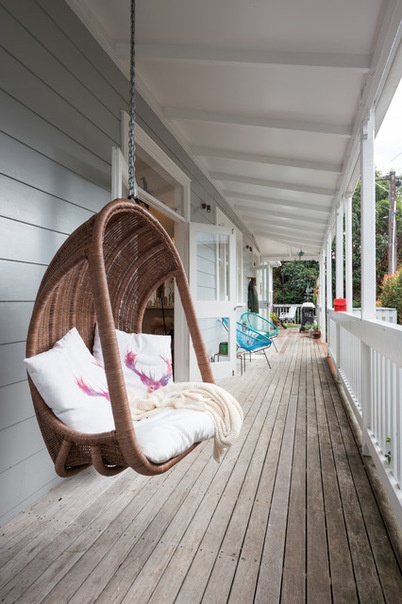 Redecking of the back veranda was the final touch in the home's renovation. The addition of the hanging egg chair helps make this another spot where Lisa can find inspiration and relax.
My Houzz is a series in which we visit and photograph creative, personality-filled homes and the people who inhabit them. Share your home with us and see more projects.
Browse more homes by style:
Apartments | Barn Homes | Colorful Homes | Contemporary Homes | Eclectic Homes | Farmhouses | Floating Homes | Guesthouses | Lofts | Midcentury Homes | Modern Homes | Ranch Homes | Small Homes | Townhouses | Traditional Homes | Transitional Homes | Vacation Homes
URL:
My Houzz: Artful Home for a Creative Family
http://decor-ideas.org/cases-view-id-27062.html