7 Bedroom Design Trends for Tweens and Teens
Teetering between childhood and adulthood, a teenager's bedroom can be challenging to decorate as it looks more to the future than the past. Not only a place to sleep and do homework, it's also a space to hang out with friends and create memories. Here are seven design ideas for tween and teen rooms that help strike the right balance of function, fun and individuality.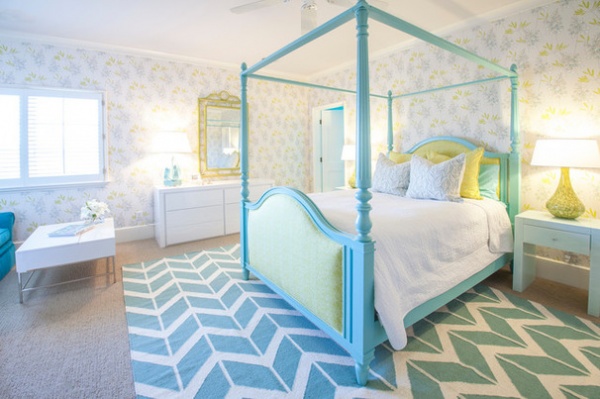 1. Big beds.
For generations, twin-size beds were the norm for children's rooms. Today, however, many parents with tweens and teens believe that bigger is better. Designer Joanna Gick of J & J Design Group says her firm rarely does twin beds unless the size of the room warrants it or there's a need for two separate beds in the same room. "I think the full or queen bed is something both the parents as well as the kids want," she says. "Sometimes a twin bed just feels too small in a room."
Besides comfort and aesthetics, another upside is that a larger bed can double as a temporary guest bed in a pinch. The drawback is that the bed frame, mattress and bedding will cost more.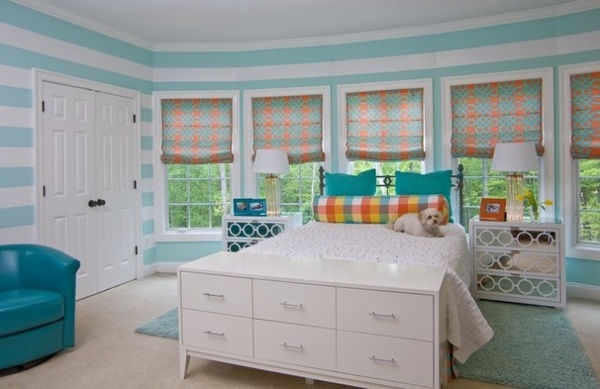 2. Sleek furniture.
In keeping with a less-is-more mantra, furniture with defined lines and smooth surfaces is becoming popular. Compared with the Shabby Chic wave, this look is cleaner and less nostalgic.
Designer Wesley Thompson of Simply Wesley says her clients are requesting pieces that transition with their tweens and teens into the next phase. "Rooms are less 'themed' and are filled with more neutral furnishings that have clean lines," she says. "This allows for a more permanent foundation to change colors, patterns and textures in bedding, draperies and accessories as the tweens and teens evolve."
Another bonus with pared-down furniture styles is that they play well with both coordinating and dissimilar pieces like antiques. So don't feel you need to take the matchy-matchy approach and fill the bedroom with pieces from a single line.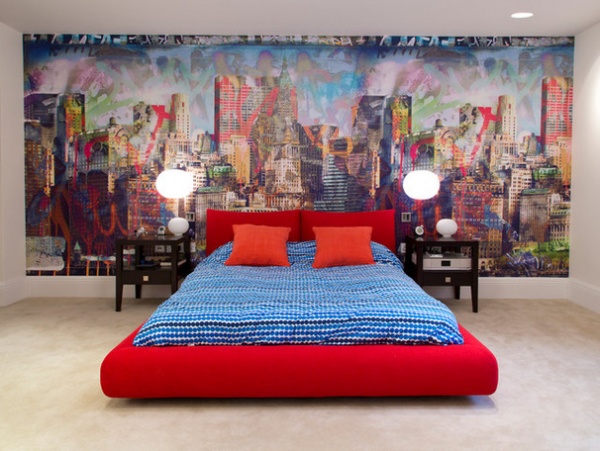 Many tweens and teens are saying goodbye to traditional bed frames in lieu of platform beds, like the one shown here. Platform beds work especially well in basement bedrooms that have limited height and light. Their lower profile also makes the room appear more spacious and creates more wall space behind the bed to show off a mural.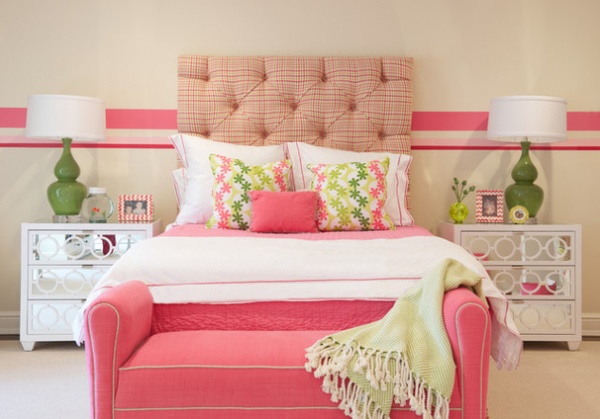 3. Fresh colors with touches of gray.
Clear, bright color palettes are making the rounds in youth bedroom decor. These aren't watery, romantic pastels, nor deep-hued primaries, but rather lively in-between colors. Although color affinities are personal, recent champs include vivid turquoises, lime greens and coral pinks, like the cheery example shown above.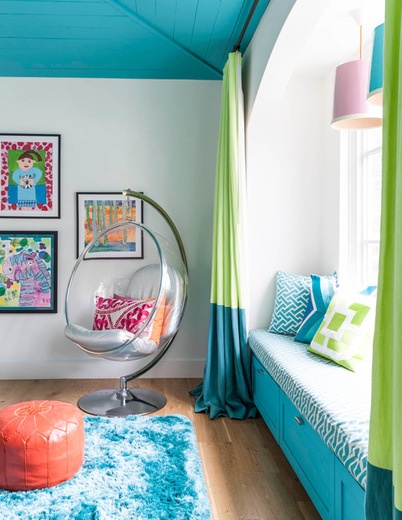 Here, designer Shannon Bowers uses an intense turquoise on the cabinetry and ceiling with accents of a fresh green. Vibrant hues like these also lend themselves to trendy graphic patterns, such as the trellis print on this window seat fabric and throw pillows.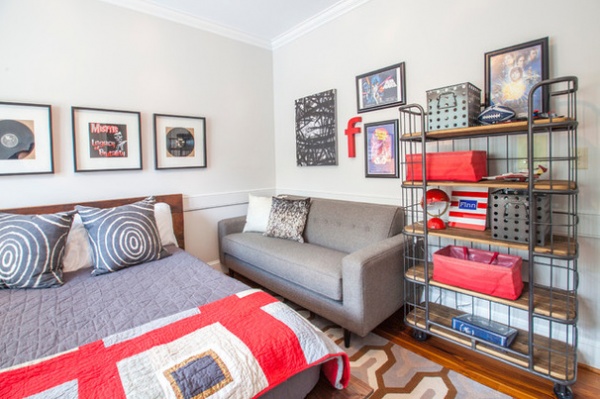 On the other end of the spectrum, gray is becoming a heavy hitter for boys and girls. Use it as a neutral backdrop for a prominent accent hue, like this brilliant red.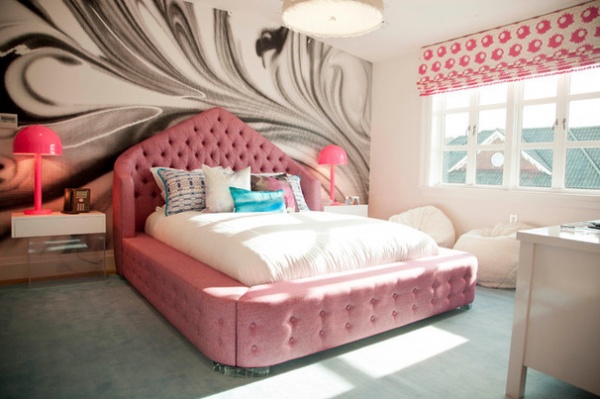 4. Feature walls.
While some parents choose to decorate one wall intentionally as a design statement, Gick says others like this option to keep costs down, especially if extra labor is needed to install wallpaper or textured wall coverings.
Wallpaper: Canvas Flow, Mr Perswall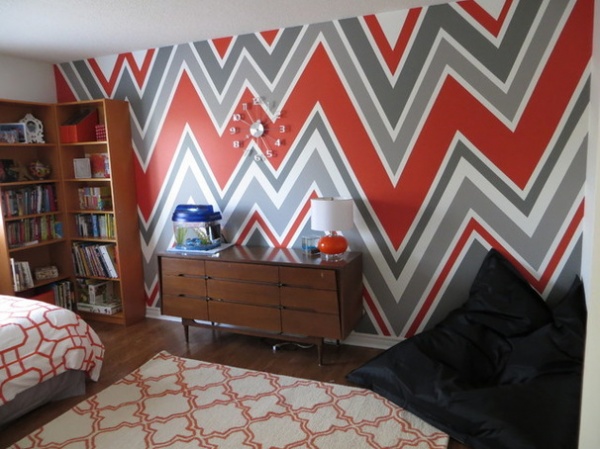 A wall painted in a bold graphic pattern is another way to add punch if wallpaper isn't appealing or in the budget. One wall with this approach is plenty. A few colors, some painters tape and a dose of patience can create an energizing feature wall like the one shown here.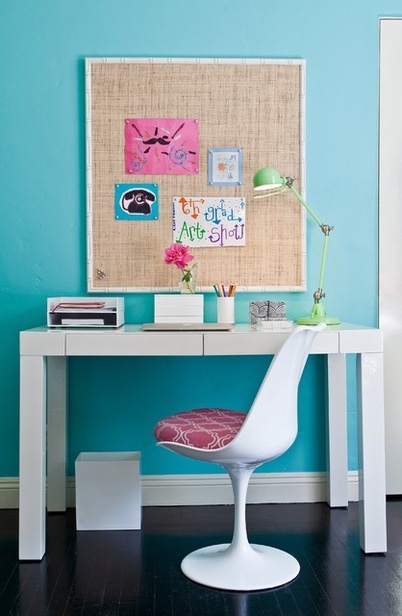 5. Open-style desks.
Desks with an open base, such as this Parsons-inspired example, are more comfortable than ones with a constricting kneehole (an area usually 2 to 2½ feet wide for your legs, typically with drawers or storage on one or both sides).
Besides being a knee bruiser, a kneehole makes it difficult to study next to a friend or parent.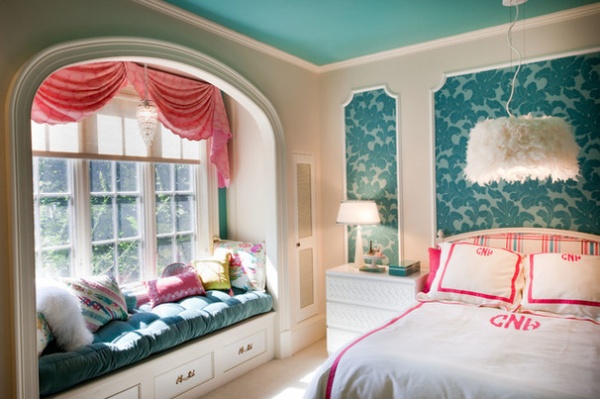 6. Comfy hangout spots.
"Comfortable seating in a child's room creates a safe place to snuggle your small one and also encourages your school-age child to hang out with friends at home. Who doesn't want that?" says designer Lori Ludwick of InDesign.
Window seats, she says, are popular features in kid rooms. "It's easy to see yourself reading books to your toddler and imagine your teenager tweeting from that same intimate space," she says.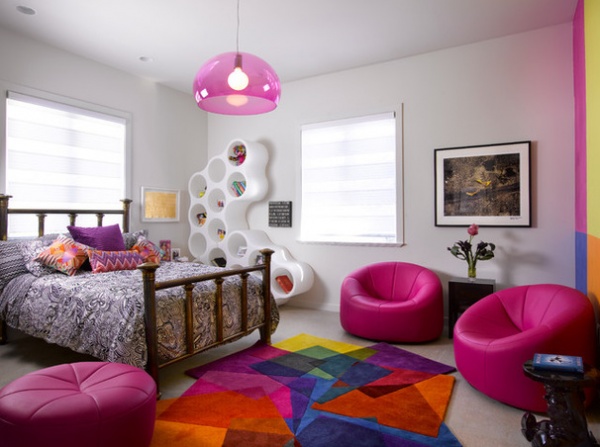 If the bedroom doesn't have the architecture to swing a built-in seat, consider some oversize freestanding chairs, if space allows.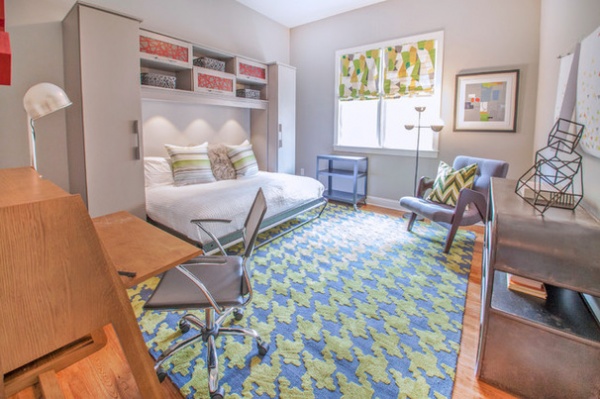 Or, for something more mature and sophisticated, think about a midcentury-style guest chair like the one in this boy's room.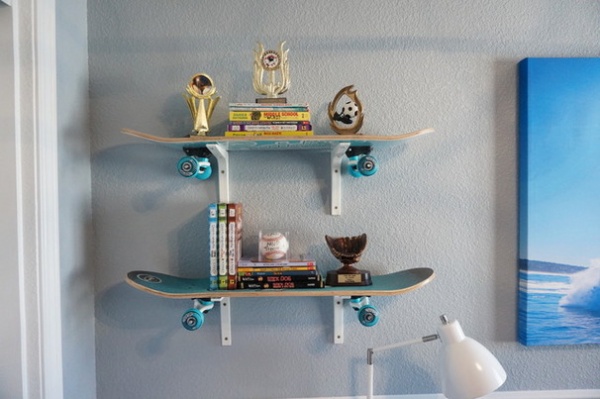 7. Fun details.
Children's rooms shouldn't be in the land of bland. Kids each have their own interests, whether it's sports, fashion design, horseback riding or art. Instead of using a conventional trophy shelf or generic poster to show off your child's hobbies, get creative. This designer fashioned wall shelves from skateboards.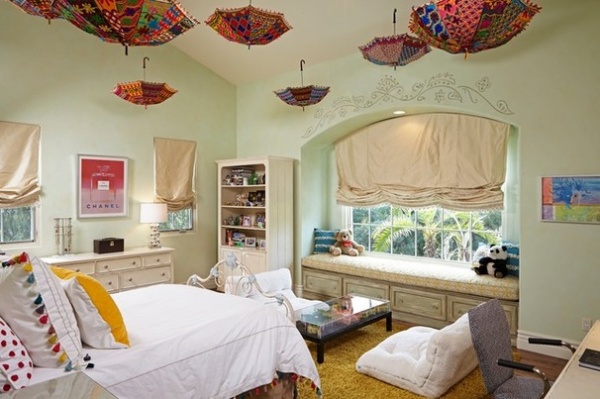 Whimsy can come from unexpected places. In this girl's bedroom, designer Susan Corry suspended colorful fabric parasols at different heights.
More
6 Ways to Ditch the Pink in a Child's Bedroom
URL:
7 Bedroom Design Trends for Tweens and Teens
http://decor-ideas.org/cases-view-id-27061.html