Studio Tour: Garage Keeps the Wheel of Creativity Turning
Lisa Russell is a professional potter, working out of the brightly lit, airy double garage attached to her home in Brisbane, Australia. With 10 years' experience making ceramics, she now runs her own business, Luna Ceramics. Russell and her family moved into their home five years ago and embarked on extensive renovations to make it their own, including turning the empty garage into a working pottery studio. When she isn't busy being a mom, Russell can be found hard at work in her design space, living out her dream as a full-time potter. "After years of stating, 'One day I will make a living from my art,' I am finally and actually doing it!" she says.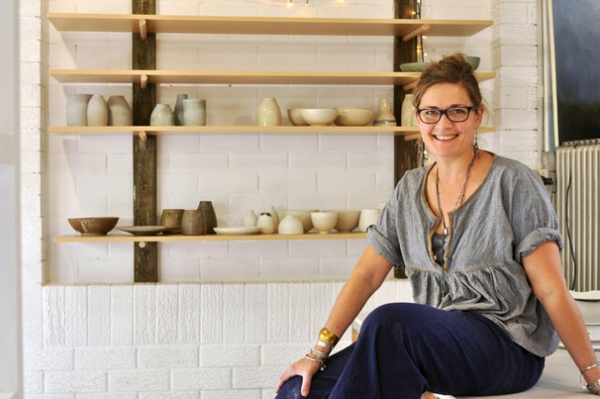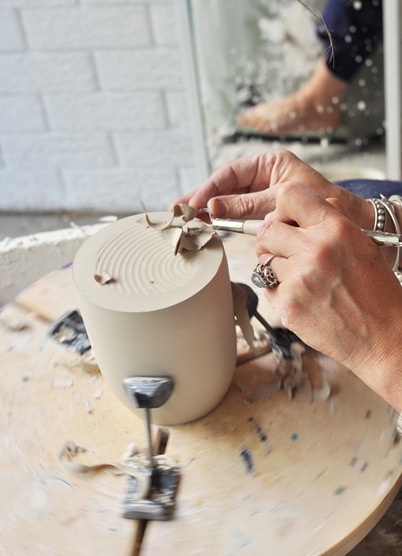 Studio at a GlanceWho works here:
Lisa Russell of Luna Ceramics
Age:
43
Occupation:
Potter
Location:
Brisbane, Queensland, Australia
Many creatives don't get the opportunity to pursue their passions full time, and Lisa Russell is grateful that she was able to turn hers into a successful career. She aims to make ceramics that are well-designed and practical as well. "I believe that good food and drink can taste even better when consumed from an item made by hand with care and love," she says.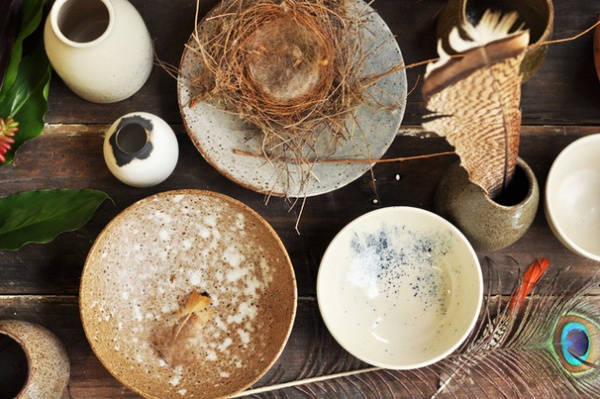 Five years ago when Russell and her family bought their home, her husband, Sam, had half of the garage space set up as his workshop, where he could pursue his love of DIY. Gradually she encroached more and more on his side, until he was left with just one small corner that wasn't yet splattered with clay.
"I have recently accomplished my dastardly plan to remove him from 'my garage' altogether," Russell says with a laugh. She did allow him to keep a few of his tools there, including his drill and hammer. "He is right to feel slightly suspicious with this arrangement," Russell says.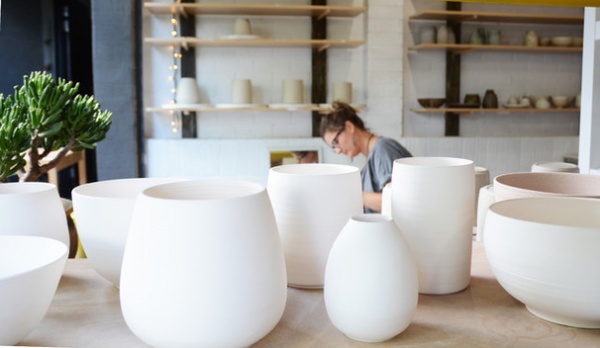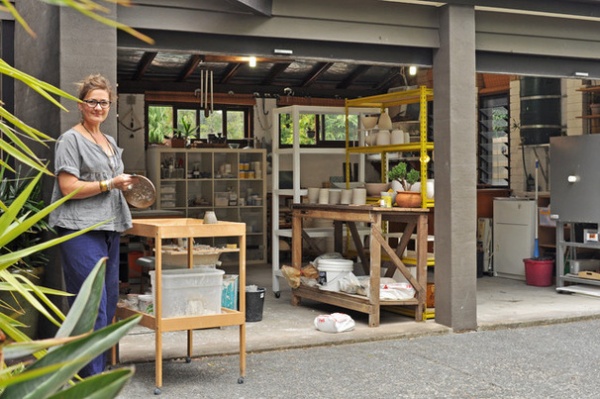 Russell works in the space year-round. With Brisbane's warm climate, she enjoys having the two large roller doors and adjacent windows open to allow air and light to flow through the studio.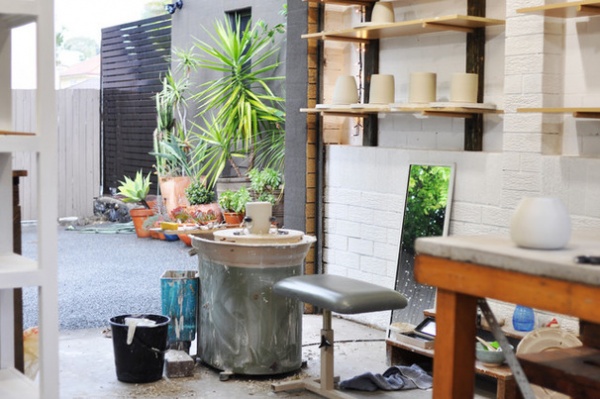 The area right by the roller door is where Russell works at her wheel. It gets plenty of natural light, and also allows water to escape when she needs to hose down the floor. That helps keep clay-dust footprints from making their way through the house. "Less time mopping means more time making," Russell says.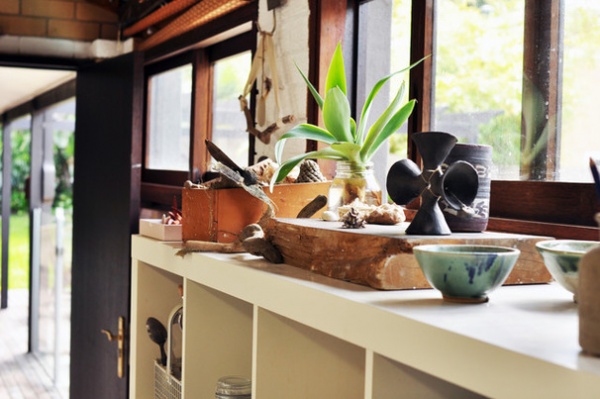 While the renovations to the family home were quite extensive, the garage customization was minimal. The aluminum windows were replaced with custom hardwood frames to match the ones in the main house, and Russell painted the brickwork white. She says it was a rotten job, because of the textured surface of the brick, but the bright shade helps to make the space feel brighter.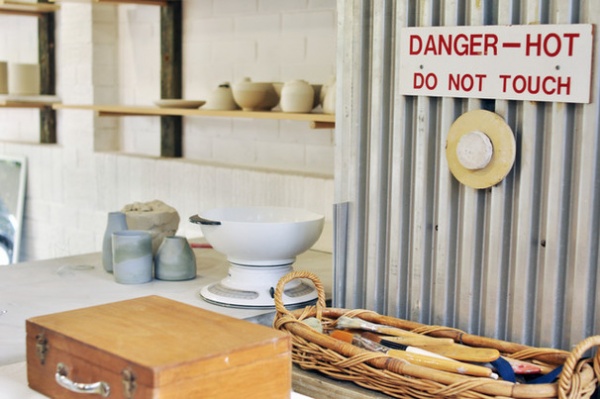 She also had the kiln professionally wired. "It's the biggest one I could get on single-phase power," she says.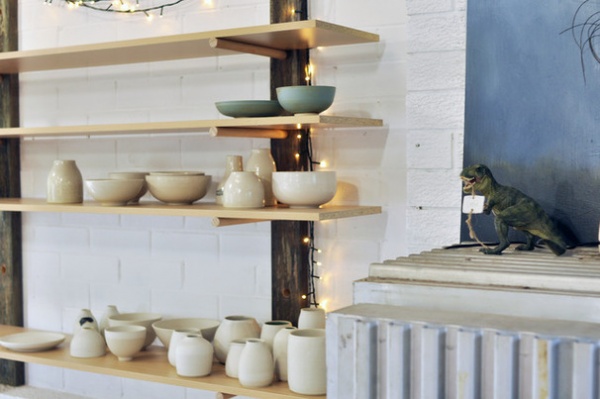 Having the right lighting is important when creating ceramics, as minor details can easily be missed without it. Russell installed additional lighting in the ceiling for that reason.
She's also a big fan of twinkle lights, and their delicate glow adds a touch of warmth to this otherwise plain corner.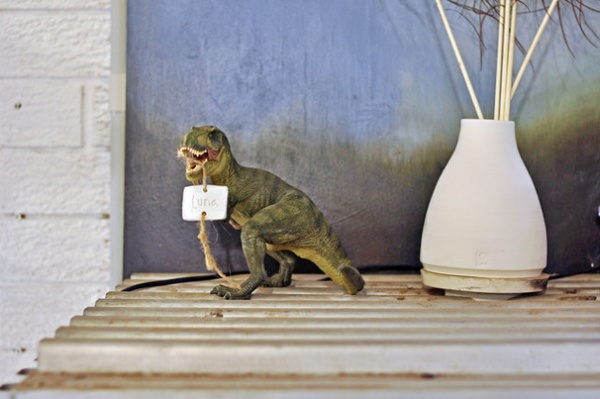 In any workplace environment, it's important to keep mementos of your loved ones around — even if said loved ones are just a few steps away. This dinosaur originally belonged to Russell's youngest son, Oscar, who was ready to part with it.
"I couldn't bear to get rid of it," Russell says, "so I found him a special place in my studio holding my Luna sign on top of the kiln."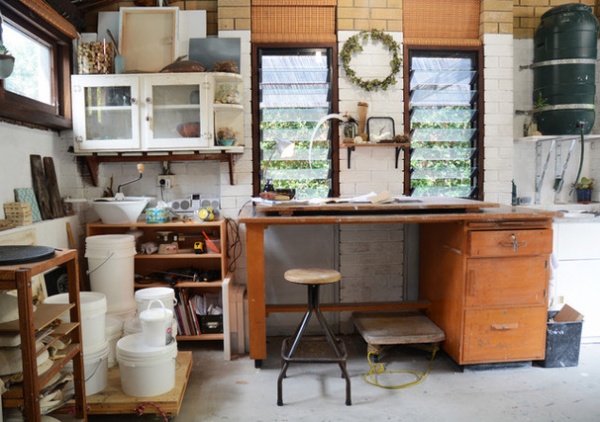 The studio contains all of the practical pottery equipment Russell needs, along with ample designated spaces for each stage of the making process. This desk area is used predominantly for glazing.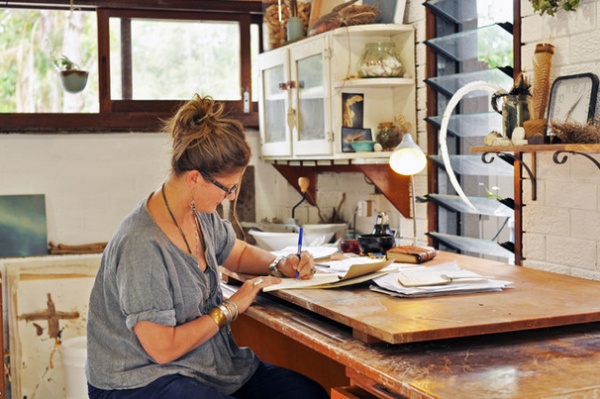 It's at her desk that Russell also keeps a few bits and pieces that make her happy and provide inspiration, such as feathers, bird's nests, shells, photographs and driftwood.
"I always carry a sketchbook with me when I'm in the house or out and about, as this is really a space where I make," Russell says.
The small aqua bowl on the bottom shelf of the repurposed wall cabinet is the first bowl she ever threw on the wheel. It's a reminder of how far she's come.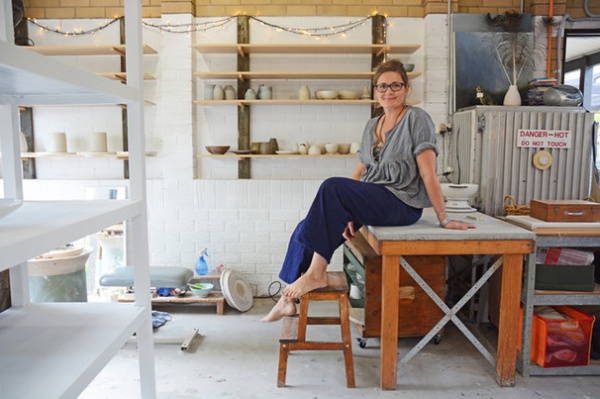 When asked which items she simply couldn't live without, Russell was quick to reply: "My kiln, my sturdy retro draftsman's desk — which has been with me since I was 18 and at art school — and plenty of shelving."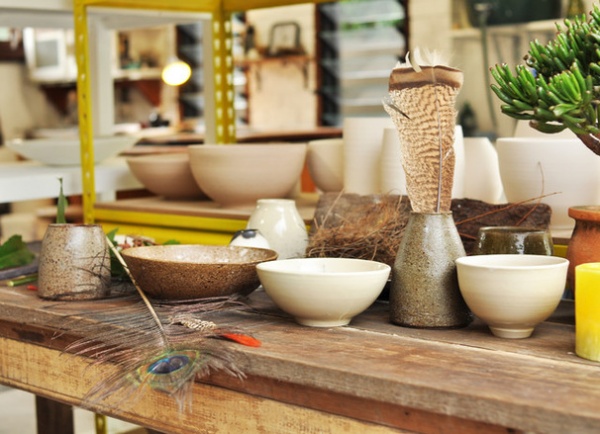 The main triumph Russell cites is the fact that this space even exists — a studio dedicated solely to her work.
Second to that, there was some difficulty in settling into a routine where studio work became a priority over household chores — especially since home is only a few feet away. 
She's gotten used to the proximity of home and family, and appreciates the convenience.
"I love that it is attached to the house and I can have all the benefits of working from home. The kids can talk to me; I can put dinner on and then continue my work," she says.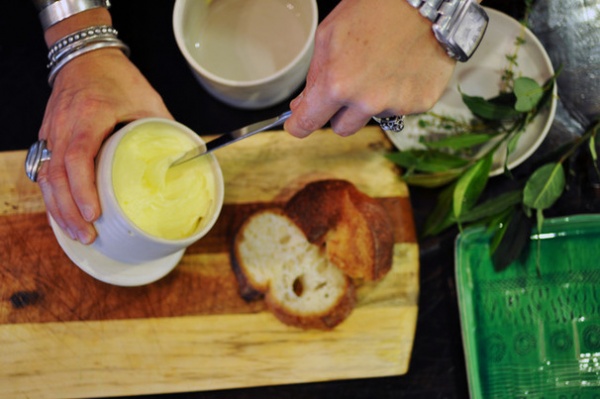 Inside the house, Russell uses her own creations in the kitchen. She made this butter dish in response to her husband's frustration with the hard butter in the fridge. The dish keeps the butter fresh without refrigeration, so it can stay sitting on the counter for up to a month.
Tell us:
Do you have a creative space at home? Share a photo in the Comments.
More
Studio Tour: A Painter's View From on Top of the World
World of Design: Artists and Artisans and Their Inspiring Studios
URL:
Studio Tour: Garage Keeps the Wheel of Creativity Turning
http://decor-ideas.org/cases-view-id-27060.html