Room of the Day: That Chic Hotel-Lobby Look
Inspired by swanky boutique hotels around the globe, this jet-setting couple made their historic Edwardian home in San Francisco's Cow Hollow neighborhood into a kind of destination. The living room, with its sumptuous yet clean-lined furniture, baroque oil painting above the mantel and classic details, sets the tone for the rest of the home.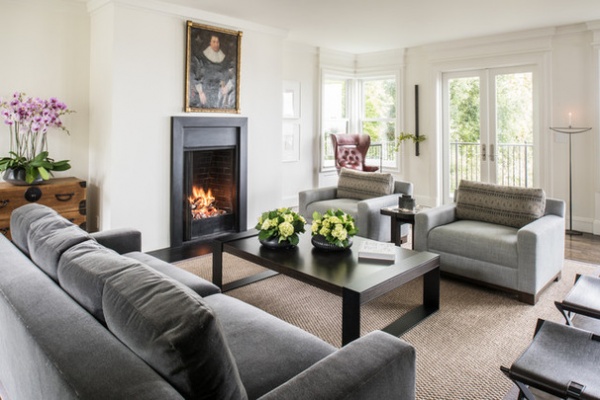 Living Room at a GlanceWho lives here:
A professional couple with twins
Location:
San Francisco
Designers:
Nick Noyes Architecture and
Antonio Martins Interior Design
Game plan:
Bringing more light to the living room was at the top of the agenda for the redesign. Architect Nick Noyes opened up the space to a small terrace on the south side with new French doors, allowing light to flow in from three sides of the room, and better integrated the kitchen, dining and living spaces. A redesigned open-riser central staircase capped by a large skylight further allows light to illuminate the heart of the home.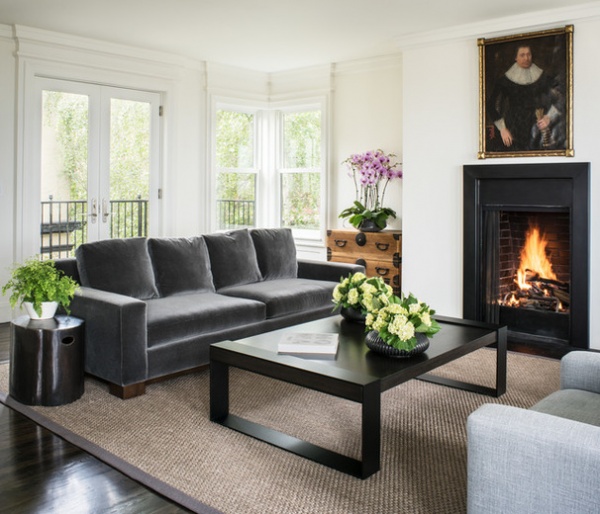 What goes on here:
It's a room for entertaining friends and family, and also a restful spot for reading by the fire. It did not need to be a space for the kids, as they have a separate play area. "The clients told me they wanted a formal space with clean-lined furniture, traditional details and pops of drama," interior designer Antonio Martins says.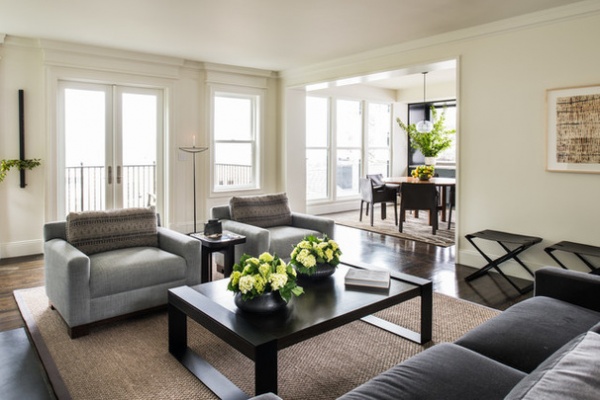 Biggest challenge:
Deciding where to locate the sofa. The great view of the San Francisco Bay couldn't be ignored, but Martins considers the fireplace to be the focal point. The solution was to place the sofa perpendicular to the fireplace (instead of facing it), so the family can enjoy the view and the fireplace at the same time.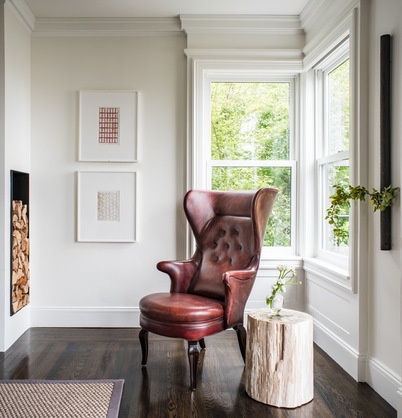 Favorite element in the room:
The architect and designer agree that the leather wing chair by Jean de Merry is the showstopper. "It creates an interesting corner and adds color to the overall furniture layout," Noyes says. "The wing chair was a big splurge…. It's unique and a real craft piece that's worth every single dollar. It completes the room," Martins says.
Breakdown:
Sofa fabric: Clarence House; sofa side table: Oval Stump by Barbara Barry for Holly Hunt; coffee table: Cathare, Liaigre; armchairs: custom design by Antonio Martins; wing chair: Aland in oxblood red, Jean de Merry; petrified wood side table: HD Buttercup; area rug: sisal, Stark; Rover folding stools: Holly Hunt
See more Rooms of the Day
URL:
Room of the Day: That Chic Hotel-Lobby Look
http://decor-ideas.org/cases-view-id-27052.html