10 Ways to Use Ornamental Grasses in the Landscape
Water-wise, low-maintenance and available in an impressive range of colors and heights, ornamental grasses have a lot to offer in the landscape. It is critical to choose the right variety for your region (native is best), because some ornamental grasses can be invasive. A good local nursery with knowledgable staff should be able to point you in the right direction. Whether you want to replace the front lawn, create a privacy screen or simply add beautiful texture, here are 10 ways to use these versatile plants around your garden.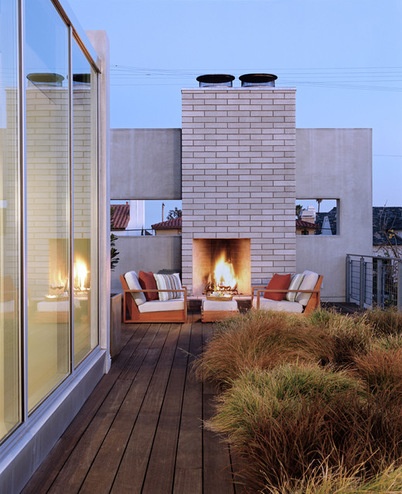 1. Enhance an urban outdoor space with a mini-meadow.
Just because you live in the city doesn't mean you must do without greenery. Create your own small-scale meadow with a custom planter filled with an abundance of lush, fluffy ornamental grasses — it makes a stunning backdrop to an outdoor seating area, and is sure to be a favorite of furry friends.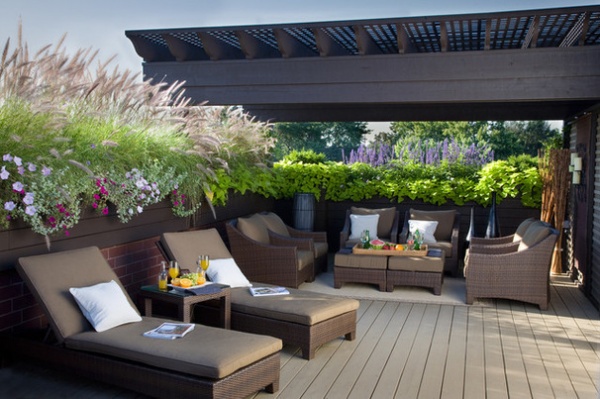 2. Soften sounds and breezes.
The breeze riffling through long, reedy grasses creates a relaxing auditory backdrop for an urban patio. A bank of tall grasses positioned around an outdoor seating area can also provide a windbreak, making time spent on the patio more comfortable and appealing.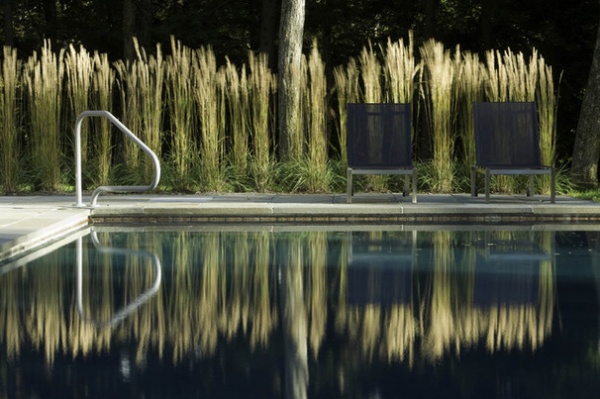 3. Create a privacy screen.
Choose a vertical-growing type, like feather reed grass, above, for the best results. While grasses will not provide the complete privacy of a tall fence, a bed of tall grasses during blooming season can give a patio, deck or pool some privacy while still letting in light.
Grass:
Calamagrostis acutiflora 'Karl Foerster'
Need to know:
Feather reed grass does well in most areas (USDA zones 3 to 9; find your zone), and grows tall rather than wide, making it a good choice for small spaces.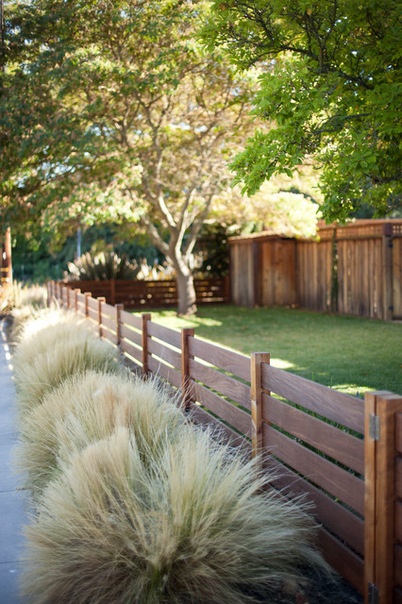 4. Use as a low-maintenance border.
Long driveway or sidewalk borders can be taxing to maintain. Use a single variety of ornamental grass to fill the length of the bed instead of mixed perennials and annuals for an easy-care (and handsome-looking) solution.
Grass:
Mexican feather grass (Nassella tenuissima)
Need to know:
Mexican feather grass is extremely drought-tolerant and hardy in zones 6 to 10, but is identified as a highly invasive species in California and Oregon. Mexican feather grass reseeds, so it may need to be pulled out in places you don't want it to spread. If you live in California, the University of California Master Gardener Program recommends as alternatives California native blue grama grass (Bouteloua gracilis 'Blonde Ambition'), California native prairie dropseed (Sporobolus airoides), Mexican deer grass (Muhlenbergia dubia) or pink muhly grass (Muhlenbergia capillaris, especially 'White Cloud').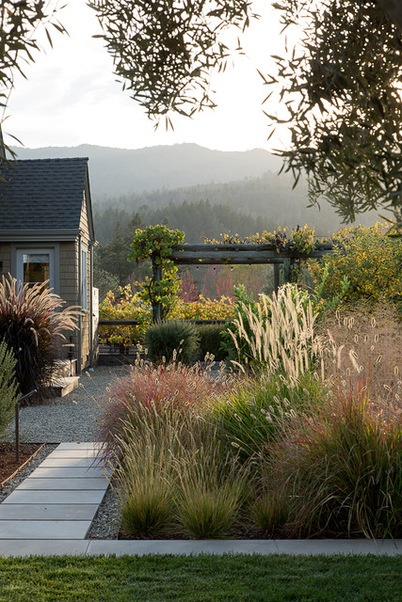 5. Replace the front lawn.
Replacing the front lawn with lush ornamental grasses cuts down on work (no more mowing!) and saves water. When you choose a variety of colors and heights, they can add more interest that a traditional lawn, to boot.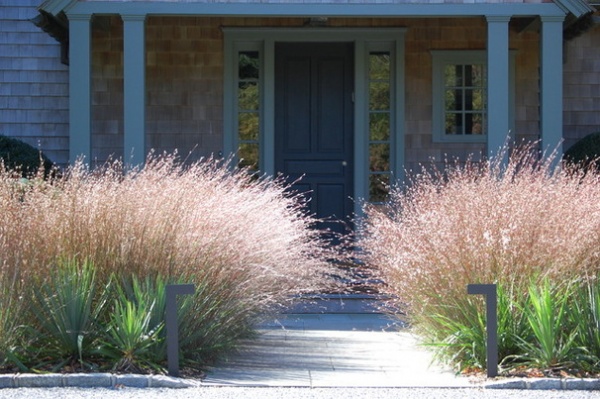 6. Boost front-porch privacy.
Taller varieties of ornamental grasses, like little bluestem, above, can create privacy on the front porch or patio without fencing. For year-round appeal, be sure to ask at your local nursery how the variety you choose will look in each season.
Grass:
Little bluestem
Need to know:
Little bluestem is an incredibly hardy (zones 2a to 9b) and easy-to-care-for plant, native to all of North America except Alaska, Oregon, Nevada, Prince Edward Island, Newfoundland and the Canadian territories. Little bluestem is very drought-tolerant and grows well from seed.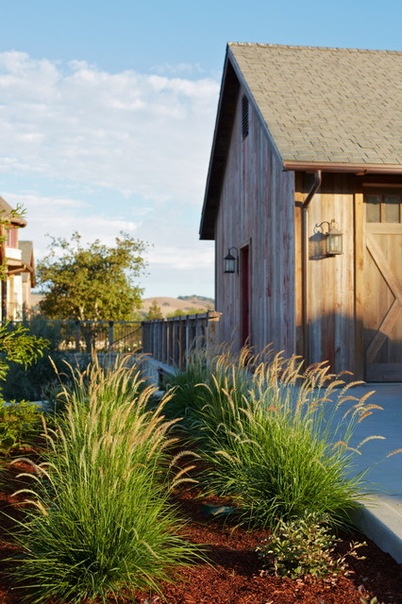 7. Complement rustic character.
Have a barn, farmhouse or rustic shed on your property? Tall grasses with some visual similarity to wheat, like Pennisetum 'Fairy Tails', the noninvasive variety of purple fountain grass shown here, look at once rustic and up-to-date.
Grass:
Pennisetum 'Fairy Tails'
Need to know:
Unlike other varieties of purple fountain grass, Pennisetum 'Fairy Tails' does not seed, and so is not considered invasive in California (two other noninvasive varieties of Pennisetum are 'Rubrum' and 'Fireworks'). Purple fountain grass is perennial in zones 8b to 11.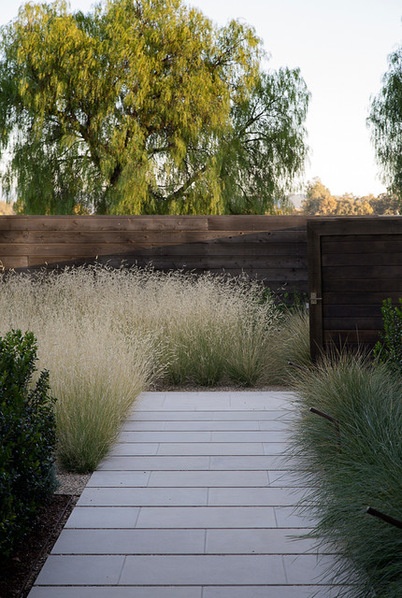 8. Gain textural contrast.
The fluffy, feathery fronds of ornamental grass provide softness amid hardscaping like fences, pathways and walls. Allowing the grass to spill over the edge of the planting area is a great way to soften the edges of a path or sidewalk, as shown here.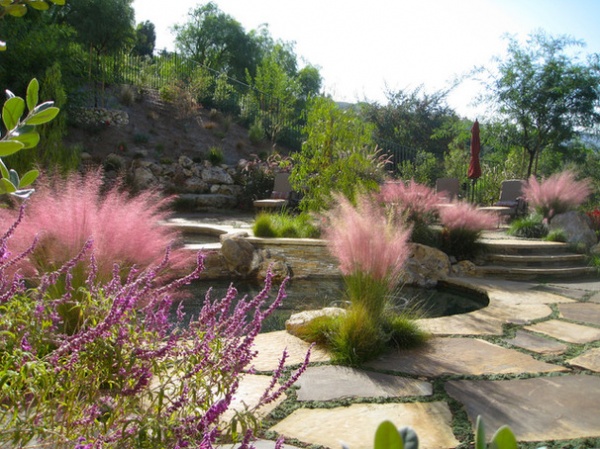 9. Add vibrant color
—
without flowers.
Some grasses, like the pink muhly grass shown here, erupt in colorful, feathery fronds from late summer to fall. This is a wonderful way to bring color to a water-wise garden where flowers are sparingly used.
Grass:
Pink muhly grass, Muhlenbergia capillaris
Need to know:
Native to the East Coast of the United States, pink muhly grass clumps, so it will not invade other planting beds. Hardy in zones 7 to 9.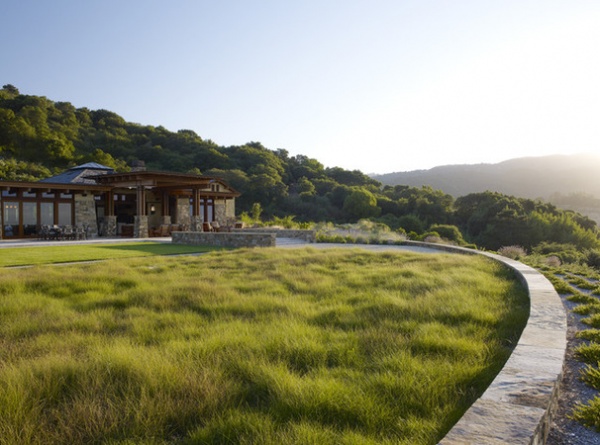 10. Grow a backyard meadow.
Native sedges, when chosen properly for the region, make excellent, low-maintenance (often mow-free) lawn alternatives, perfect for covering large expanses of yard. The Carex species, such as Carex pansa, shown here, are particularly good for this purpose.
Grass:
California meadow sedge (Carex pansa)
Need to know:
Carex pansa is a species of sedge native to the west coast of North America, spanning from California to British Columbia, and thrives in that area. For other parts of the U.S., the Brooklyn Botanic Garden recommends Texas native Carex perdentata; Catlin sedge (Carex texensis), hardy to Zone 6; Pennsylvania sedge Carex pensylvanica, native to the eastern and central United States; and Carex senta, known as Baltimore sedge, native to the eastern United States.
Tell us:
Are you a fan of ornamental grasses? Share a photo of your garden in the Comments!
Find out more about native plants in your region
URL:
10 Ways to Use Ornamental Grasses in the Landscape
http://decor-ideas.org/cases-view-id-27051.html