5 Big Trends From This Week's High Point Market
High Point Market, which bills itself as the largest furnishings-industry trade show in the world, is in full swing. The twice-yearly show in High Point, North Carolina, is a prime place to learn about the latest trends in home decor. Interior designers attending the fall show report that trends include the resurgence of bold colors (think racy red) and the articulation of familiar shapes and patterns in fresh ways.

Event at a Glance
Dates: Saturday, October 17, through Thursday, October 22, 2015
Times: Events and exhibits vary by day; see the schedule
Location: Downtown High Point, North Carolina
Tickets: There is no registration fee, but the market is open only to the trade
More info: See the 2015 High Point Market website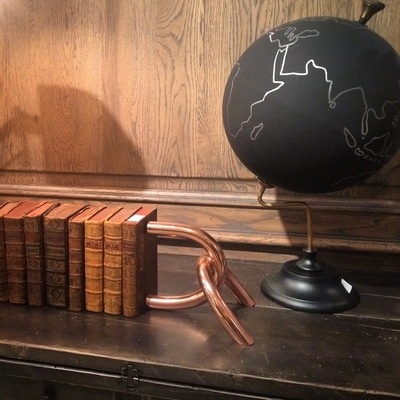 1. Chain links.
This week's market is not breaking the chains, but rather is embracing them. Interior designer Shannon Ggem says, "Chain accessories are really visible at market this year, from noted antiques dealer Julia Buckingham's new Global Views line showing fun overscaled wood chains to the ship's salvaged copper plate links stylishly turned to bookends by Objet de Curiosité," seen here.
Chain bookends: Objet de Curiosité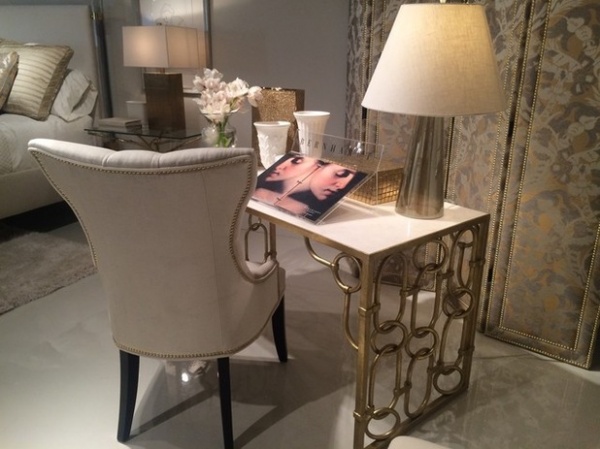 The chains are not just limited to accessories. The designer used chain-link detailing to create an elegant piece that can serve as a desk, console or glamorous dressing table. "Chain detailing has followed the industrial style with a softer, less cumbersome feel, tying in with the resurgence of warmer, antique brass and nickel metals accenting both case pieces and upholstered goods," interior designer Kim Anderson says.
Fontana desk: Bernhardt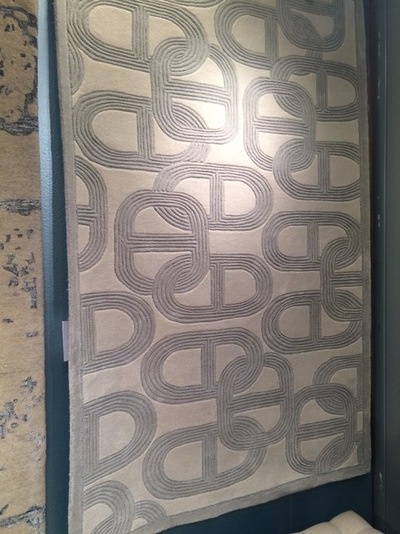 Chains are also finding their way underfoot. This hand-tufted rug lays them out on the floor in a dynamic geometric pattern.
Rug: Rug Market America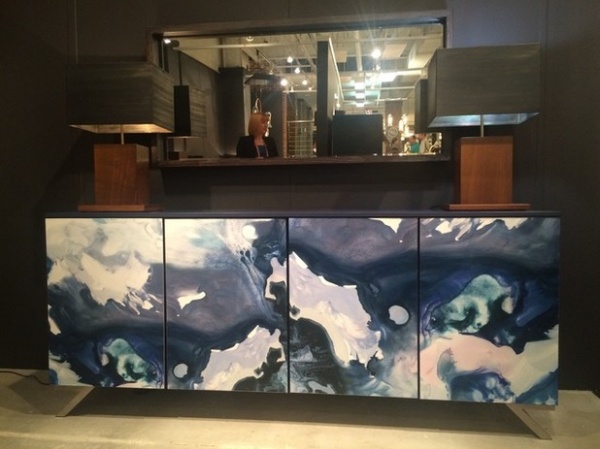 2. Marbled paper patterns.
Perhaps all those photos from George Clooney and Amal Alamuddin's wedding last year got designers looking to Venice for inspiration. They're applying the beautiful marbled paper patterns seen throughout the city's fine paper shops to all sorts of furniture, accessories, rugs, bedding and wall coverings. This cabinet is covered in an oversized marble paper pattern. Even the interiors of the doors are covered in the beautiful watercolor print.
Mabel Watercolor cabinet, customized with a wallpaper design by Tracy Hiner: John Strauss Furniture Design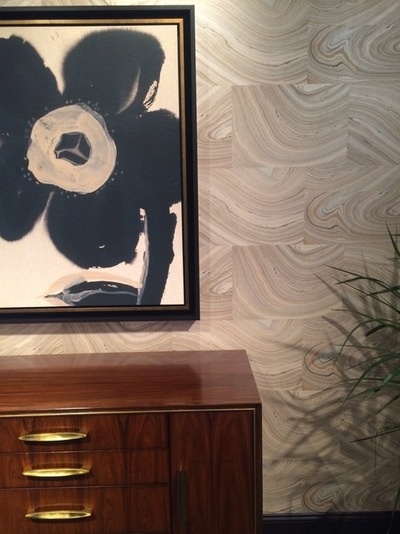 The Lexington showroom features this dreamy marble wallpaper.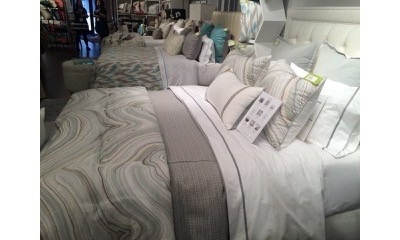 "Marble paper patterns are very hot right now — it's a design classic borrowed from the inside covers and edges of books," Ggem says. "Product designers are playing with scale and color, and taking advantage of new printing methods, to bring the element to the most unexpected places."
Bedding: Eastern Accents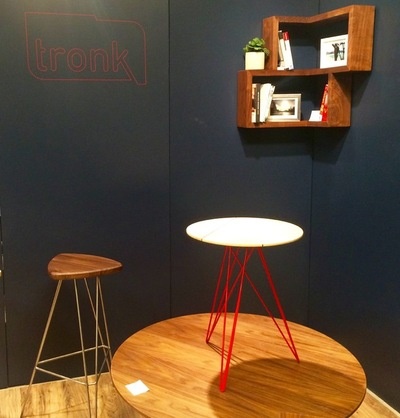 3. Red.
"The color red has made an unexpected comeback — used alone or in a symphony of pattern on pieces like grass cloth wallpaper and in bold large-scale prints on chairs, sofas, throw pillows and accented on area rugs," interior designer Angela Todd reports. Here, midcentury modern-inspired hairpin legs stand out thanks to the bold hue.
Hairpin leg side table: Tronk Designs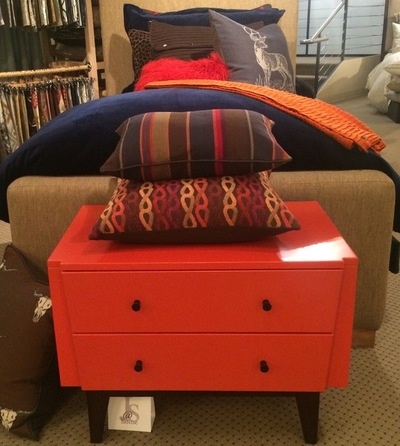 "When red was last in fashion 20 years ago, it was used with its complementary color, green," Todd says. "The current fashion is using red either grounded in the room or in a pattern with navy blue, flax and gold finishes."
Bedding: Daniel Stuart Studio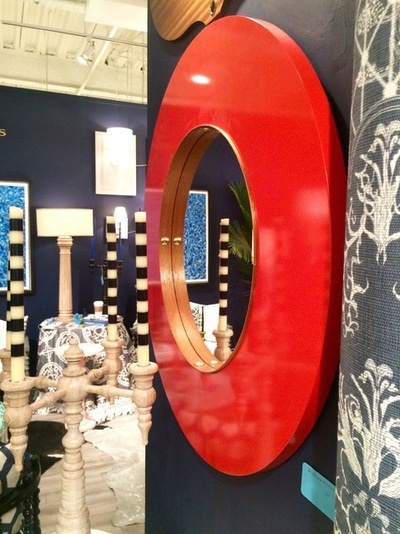 A glossy finish is adding glamour to red at the market, as seen in this mirror that offers a twist on nautical style and on the chic bar below.
Porthole mirror: Dunes and Duchess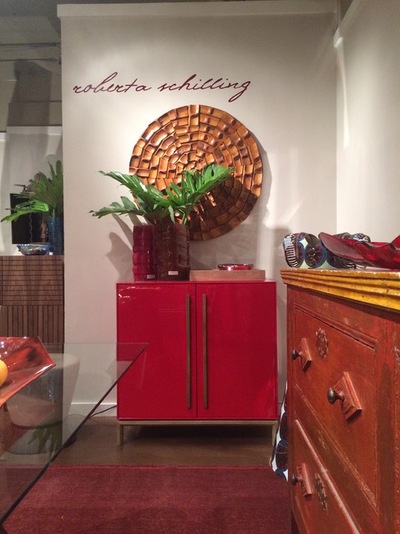 "This isn't your traditional lipstick red — it has a dose of orange, almost what I would describe as a bright, bold persimmon," Todd says. The lacquered bar has modern lines but would slip right into a chinoiserie- or Hollywood Regency-style room with ease.
"What surprised me the most is that I absolutely fell in love with the way red is being used, and I can't wait to introduce it to my clients," Todd says.
Ricci red lacquer bar: Roberta Schilling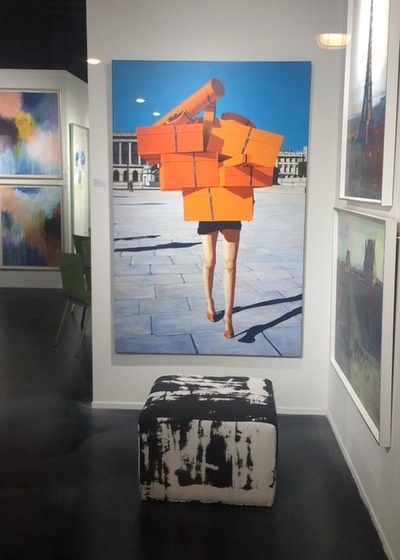 4. Hermès-inspired looks.
"There is excellent integration of fashion and interior design at High Point Market this week, from the details in hardware to pops of color that evoke specific designers," says interior designer Erika Laurito of Erika Z Interior Design Studio. Namely, the unmistakable Hermès orange, which can be used with or in lieu of the aforementioned red.
Artwork: RFA Decor at Rosenbaum Art Co.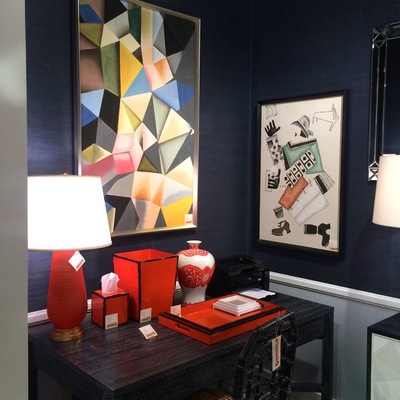 Our design reporters are seeing references to the iconic brand's signature orange hue and unique equestrian detailing throughout the market.
Furniture and accessories: Bungalow 5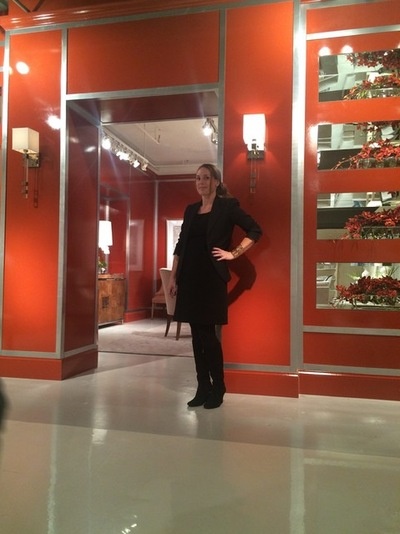 Ggem poses in front of an Hermès-inspired wall in the Bernhardt showroom.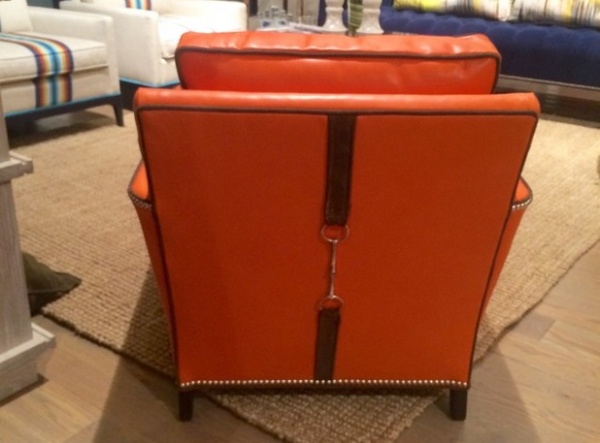 This burnt orange leather chair is not one you'd want to shove into a corner. The furniture designers thought about how it looks from the back — an often-overlooked opportunity to add detail. The strap and horse bit accessorize it like an iconic Hermès belt.
Chair: Wesley Hall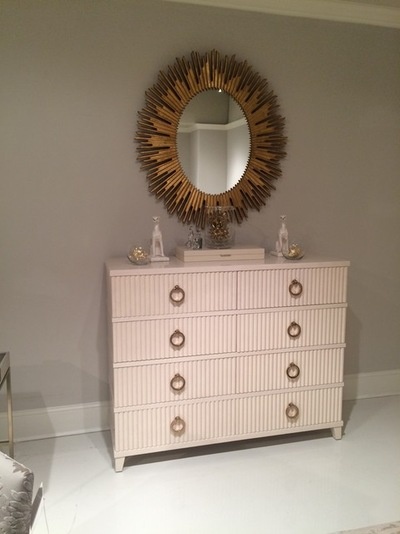 5. Wavy lines.
Channel stitching and scalloped edges are making waves at the market this year. "Seeing scallop details and channel stitching at High Point Market this year makes so much sense to me. It was very popular in midcentury interiors, and with the huge resurgence of midcentury in general, scallop is a natural next step," Ggem says. The textured front on this sweet chest resembles channel stitching.
Salon chest: Bernhardt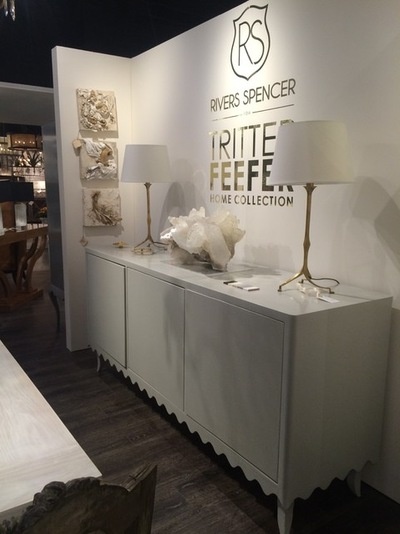 "The scallop detail at the bottom of this buffet is feminine and happy — such a lighthearted detail," Ggem says.
Tritter Feefer buffet: Rivers Spencer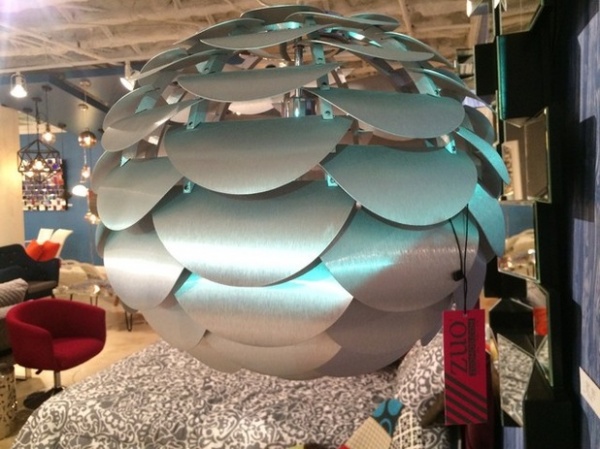 The look is not limited to more traditional pieces. This metal pendant light has oversized scallops with midcentury modern-meets-industrial style.
Pendant light: Zuo Modern
Tell us:
What do you think of these design trends? Have you been using any of them for years? Which ones do you think will be a passing fancy, and which will have staying power? Please chime in with your opinions in the Comments section.
More:
November's Hottest Home Design Events
URL:
5 Big Trends From This Week's High Point Market
http://decor-ideas.org/cases-view-id-27048.html