Room of the Day: S'mores, a Swing and Fireside Chats on a Front Porch
During the remodel of their 1926 Tudor-style home, Mark and Susan Lacek wanted to create an entertainment space that would connect them to their neighbors. While there was already a poolside porch in the backyard, they decided to renovate the front of their house to include a spacious porch where there wasn't one before. Now they're able to invite over passersby, roast marshmallows with their kids and relax on the porch swing, all with views of their neighborhood.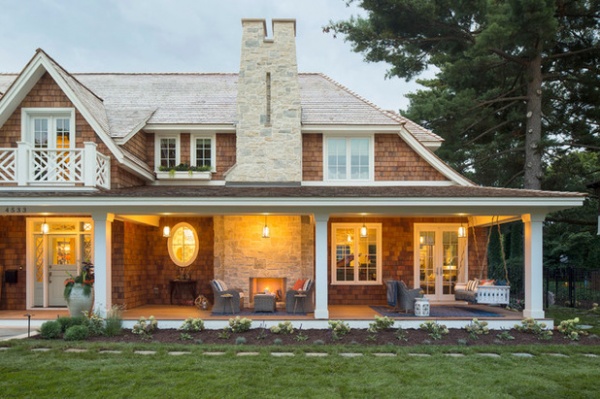 Porch at a GlanceWho lives here:
Susan and Mark Lacek; their daughters, Emmy, 14, and Ally, 12; and their dog, Mr. B
Location:
Minneapolis
Size:
325 square feet (30.2 square meters)
Designers:
Laura Engen and Rob Edman
Year built:
1926, remodeled in 2015
Homeowners' request:
A place to gather with neighbors, a fireplace to roast marshmallows with the kids and a porch swing. "It was also important to have a Haint Blue ceiling and front door to ward off evil spirits," designer Laura Engen says. Painting porch ceilings blue is a Southern tradition adopted for a variety of reasons, from deterring haints, or evil spirits, to tricking spiders and wasps into thinking it's the sky and not making nests there.
Why this room:
During the remodel of this converted Tudor home, the owners wanted outdoor spaces where they and their daughters — Emmy, 14, and Ally, 12 — could hang out and entertain friends. As for the aesthetic, the family once lived in the British West Indies, and wanted to bring that coast feel to Minnesota with a casual, relaxed beach theme. The fireplace extends the use of the space into spring and fall, despite chilly weather.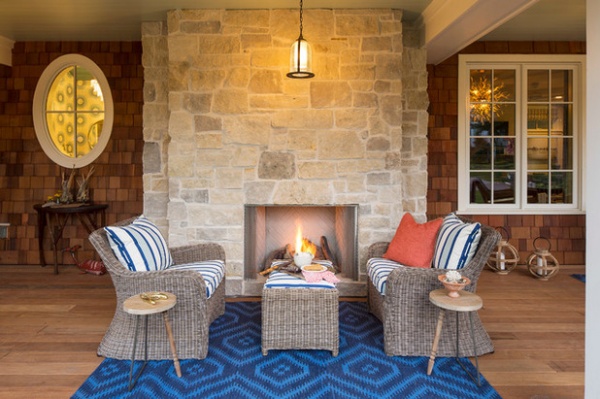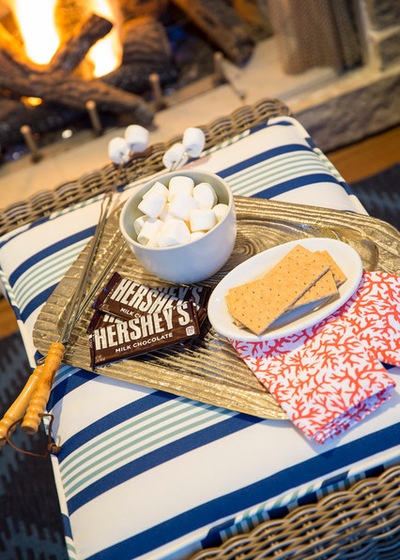 Biggest challenge:
The homeowners wanted the indoor and outdoor spaces to feel like one room, and finding fabrics and colors that worked well for each was challenging. Other challenges: finding suitable furniture and fabrics that could stay outside year-round in Minnesota, and finding materials that could be easily cleanable and withstand heavy use from kids, adults and the dog.
Game plan:
The blue ceiling and beach theme drove the initial design concepts. Then, everything had to be family-friendly and durable. The homeowner provided designer Laura Engen with photos from Houzz and other sites to help spur ideas.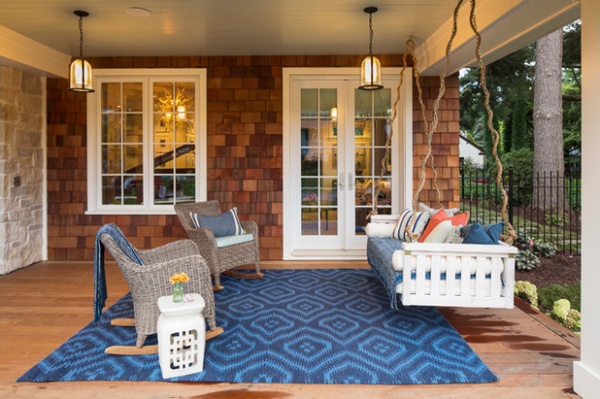 Favorite element in this room:
"We love that everything looks like it could be used indoors — it doesn't scream 'outdoor furniture,'" Engen says. "We also love the final touches that came together at the end of the project, like adding the outdoor rugs and artwork above the sofa, that really made the space come to life."
Splurges and savings:
The homeowners splurged on the upscale wicker chairs and love seat, and saved on accent pieces such as the stump tables from Crate & Barrel.
Breakdown:
Ceiling paint: Palladian Blue HC-144, Benjamin Moore; front-door paint: Wythe Blue HC-143, Benjamin Moore; Sunday porch swing: Ballard Designs; swing cushion fabric: Rascal Spa, Lee Industries; swing pillows: Ballard Designs; aqua swing pillow fabric: Kravet and Pindler; Sag Harbor lounge chair and ottoman: Kingsley Bate; lounge chair fabric: 33356 style in 515 color, Kravet; Sag Harbor rocker in driftwood finish: Kingsley Bate; rocker cushion fabric: 4553 Caldwell in aqua, Pindler; console table: NPD, purchased at Edman Hill; garden stool: Safavich, purchased at Edman Hill; sconces: One Light Storm Cloud clear and seeded glass wall lantern, Feiss; stump accent tables: Crate & Barrel; outdoor rugs: Horchow
Team involved:
Great Neighborhood Homes (builder); Mom's Landscaping
See more Rooms of the Day
URL:
Room of the Day: S'mores, a Swing and Fireside Chats on a Front Porch
http://decor-ideas.org/cases-view-id-27047.html