My Houzz: Color-Happy Country Living in Fort Worth
Jeff Jones and Shauna Glenn have always been city people, but in the summer of 2014, they were ready for a change of scenery. "We didn't get the house we wanted, but the lot across the street was empty and had a pond," Jones says. "The day we came out to look at it, a dozen or so deer came out from the tree line to have a drink — we were sold." The couple built what they consider their forever home from the ground up. Glenn, a writer-turned-interior designer, says, "What better way to get exactly what you're looking for than to build."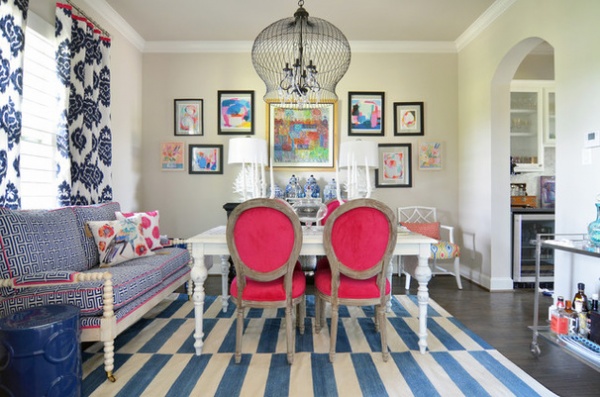 Houzz at a Glance
Who lives here:
Jeff Jones, Shauna Glenn and their six children, Jamie, 25, Lindsey, 21, Presley, 21, Riley, 20, Harley, 13, and Ethan, 10, along with Duke the Goldendoodle
Location:
Fort Worth, Texas
Size:
4,111 square feet (382 square meters); four bedrooms, 3½ baths
The family of Jeff Jones and Shauna Glenn is a blended one with six children, two of whom still live at home. Designing a home for a large family might seem daunting to some, but Glenn views it as a wonderful adventure. She mixes practical family items, like durable furniture and easy-clean surfaces, with eye-popping patterns and a bold mix of color. "Being a design professional is new territory for me," she says. "I'm a writer by trade, but design and design projects and entertaining have always been side passions for me."
The formal dining room lies just off the foyer. "I love the front dining room. I like walking in and staring at all the pretty things," Glenn says. "My ginger jar collection and white artichoke lamps from Stray Dog Designs make me the happiest."
Lighting fixture: Savoy House; dining chairs: World Market; art: Britt Bass Turner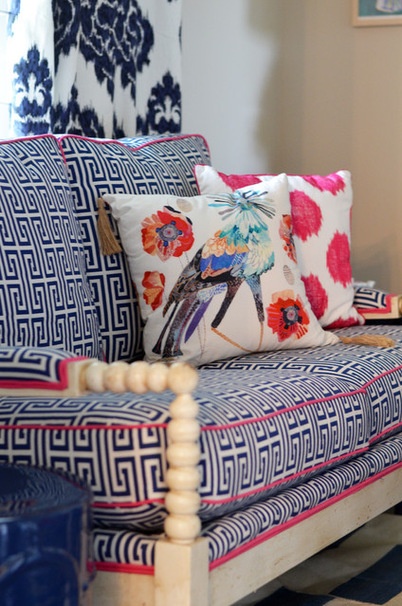 The dining room design began with this upholstered bench. "I love mixing contemporary and traditional pieces. I don't really follow any design rules, I just do what's pleasing to the eye," Glenn says. "I love whimsical fabrics and bright colors. It's probably obvious my favorite color is blue."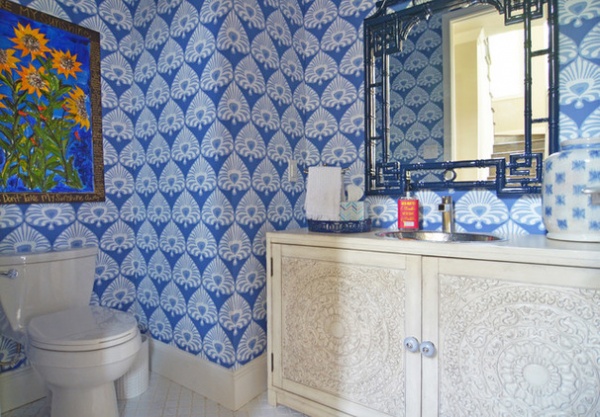 A jewel-box half bath just off the foyer boasts kicky geometric wallpaper and a custom vanity. "The hardest part of designing for myself was not second-guessing my decisions," Glenn says. "Sometimes I would wake up in the middle of the night and panic about wallpaper options." Jones says the hardest part of the process for him was making sure they stayed on budget. "We didn't, by the way," Glenn says. "Totally my fault. I love high-end finishes. Who doesn't?"
Wallpaper: Palmetto in Cobalt/Periwinkle from Serena & Lily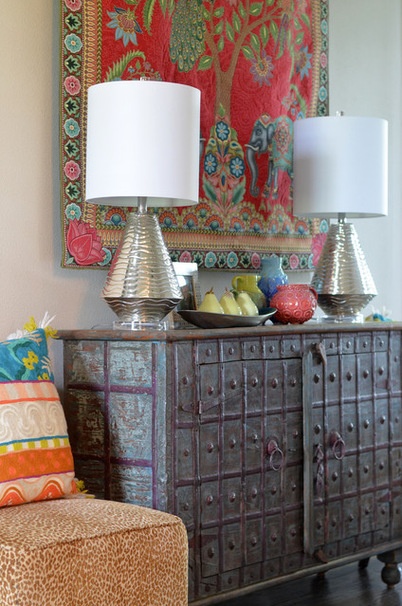 The foyer sets the stage for the rest of the house with an eclectic mix of furniture and brightly colored textiles. Glenn decided to paint all the interior walls in Sherwin-Williams' Modern Gray. "It's a beautiful and warm neutral background for all of my crazy color," she says.
Buffet: Western Heritage; silver lamps: HomeGoods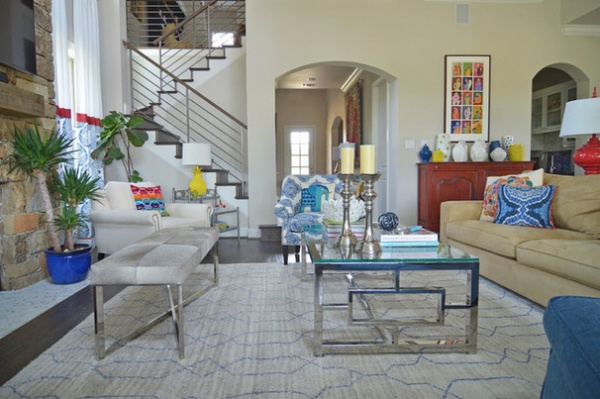 Glenn's personal style is on full display in the great room, which is filled with fabulous architectural details like arched doorways, an open-concept stairwell, vaulted ceilings and a stacked-stone fireplace.
The new home came just at the right time for Glenn, who recently underwent a career shift. She's a humor blogger and published author with an online following. But for the last two years, she's worked for J&D Interiors in Fort Worth. Designing her own home allowed her to sharpen her natural talent and growing skill set while being mentored by designer Juan Castro.
Sofa: Pottery Barn; area rug: Dash & Albert; coffee table: Wayfair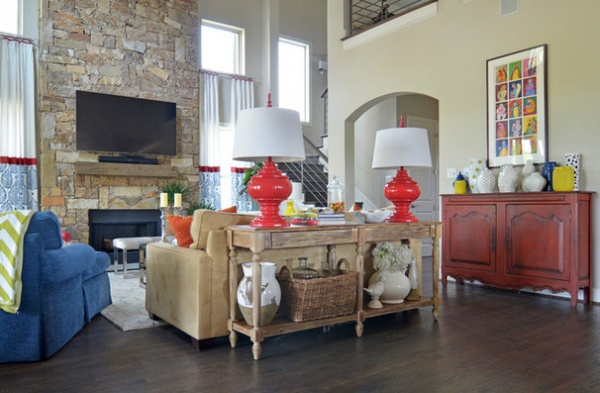 "My latest splurge is definitely the super yummy fabric for my drapes in the master bedroom and living room," Glenn says. "But my money-saving trick is to pair just a little of the pricey stuff with something more affordable." The curtains feature a mix of high-end fabric that Glenn lengthened with less expensive fabric, sewn together with dark pink trim.
Curtain fabric: Galbraith & Paul; coral lamps: Horchow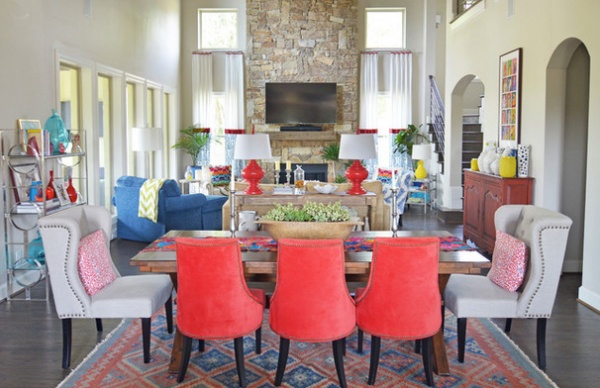 The open-layout great room maintains a sense of grounded energy and intimacy. The couple's longtime friend Rick Wegman of HGC Residential Real Estate and Development helped oversee the home's construction. "The scale of each room needs to be considered in isolation and as a component of the whole," Wegman says. "There needs to be a cohesive, synergistic flow throughout the home that balances the open spaces with the cozy corners."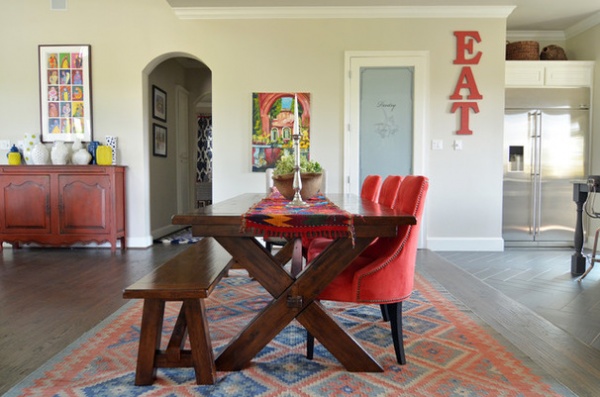 The large picnic-style table and bench give the eat-in dining area a casual family vibe. The vibrant table runner is from the couple's recent trip to Mexico. "I absolutely love Mexican textiles and pottery," Glenn says.
Dining table: Pottery Barn; dining chairs: World Market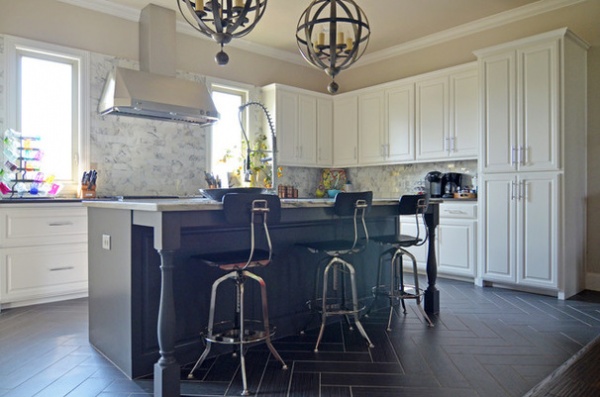 The family-style kitchen is centered around a massive island. Soothing gray paint colors pair well with the veined marble countertops and backsplash. Porcelain floor tiles are laid in a herringbone style.
Barstools: Restoration Hardware; floor tile: Emser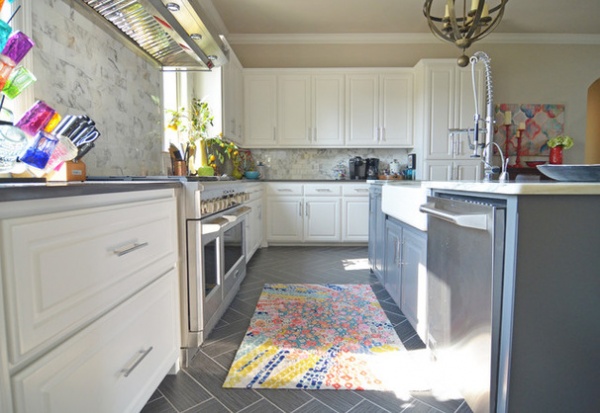 Wegman says he loves working with clients on custom houses because they are sharing a vision of their perfect home. "Jeff and Shauna spent a good deal of time explaining exactly what that vision was in the planning and design phase," he says. "The clients' openness and the exchange of ideas is really the key to the process and ultimately turning their vision into reality. Shauna would constantly send pictures off of Houzz or magazines that helped illustrate exactly what reflected her ideas."
Area rug: Anthropologie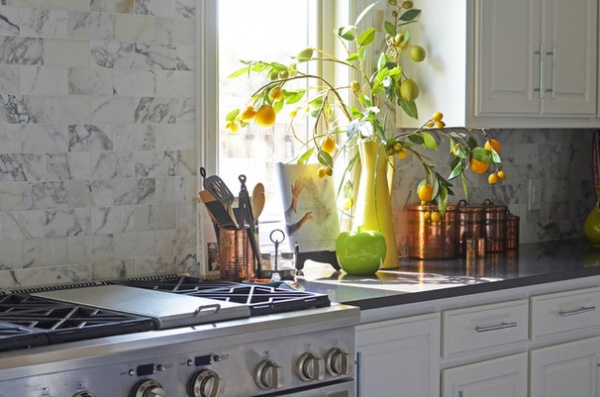 Glenn loves to cook and says a gas range is a must. Her kitchen is the epicenter of the home when entertaining guests or hosting family. A cookbook stand sits at the ready next to a collection of copper kitchen accessories.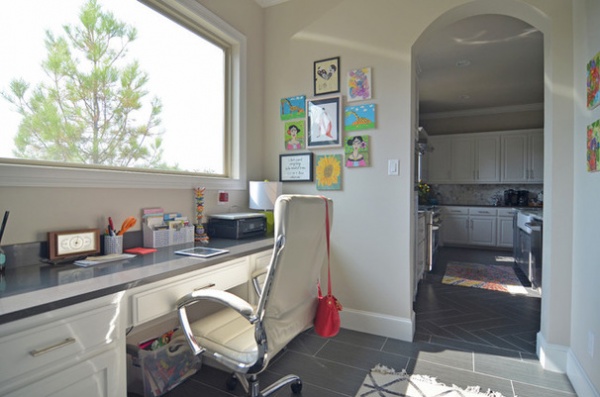 Glenn also loves her bright, tucked-away workspace. "I can pop in to do some work and it's easily accessible to the rest of the house." A small gallery wall showcases framed artwork created by her children.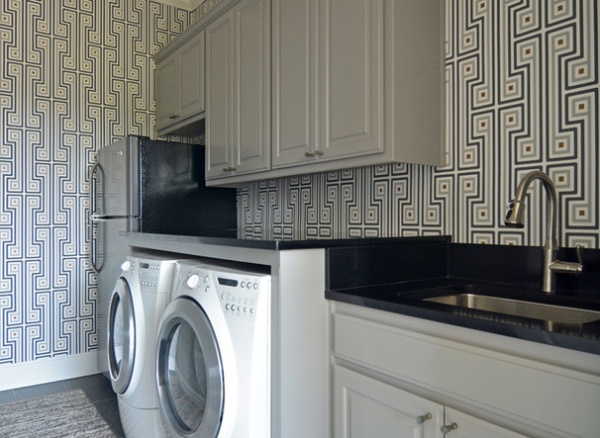 A hard-working laundry room, equipped with a utility sink and second refrigerator, lies just off Glenn's office.
Wallpaper: George by Jonathan Adler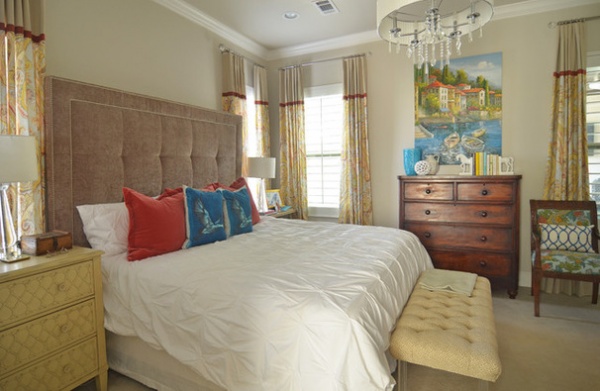 The master suite color scheme consists of calm neutral tones and splashes of Mediterranean blue, soft yellows and coral, all inspired by an oil painting Glenn procured from The Old Home Supply in Fort Worth.
She designed the custom headboard and had it upholstered at J&D Interiors. "Jeff says the house started feeling like ours when the drywall went up, when you could see the rooms and the actual layout of the space. It felt like home to me the first night I slept in my bed," she says.
Heron pillows: Anthropologie; curtain fabric: J&D Interiors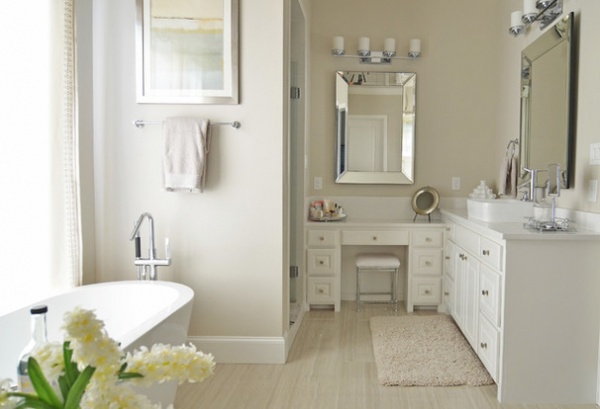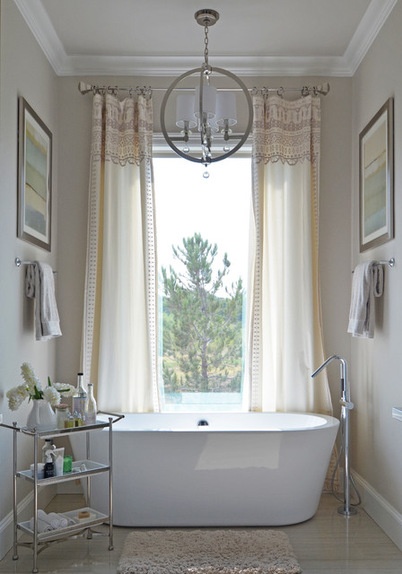 A stunning master bathroom, clad in shades of white and off-white, makes for a luxurious retreat. The bathroom boasts a free-standing tub, large walk-in shower and vintage-style dressing table. Jones gave Glenn the pine tree just outside the window as a Valentine's Day gift one year.
Tub: Kohler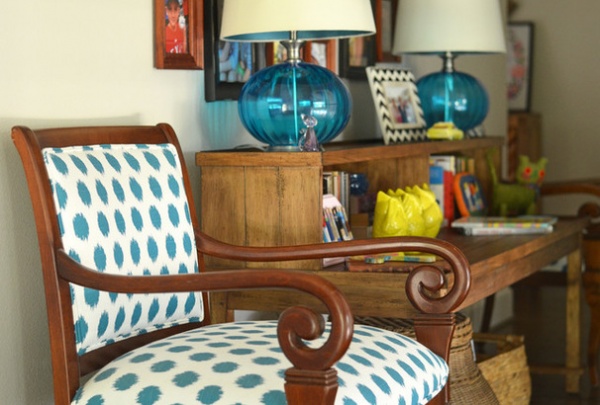 The upstairs hallway features a vignette that includes a wood worktable and two accent chairs upholstered in fabric from J&D Interiors.
Glenn says that while she sources decor from "anywhere and everywhere," her favorite places to find stylish bargains include HomeGoods, Target, World Market, Pier 1, Wisteria and West Elm.
Blue glass lamps: Pier 1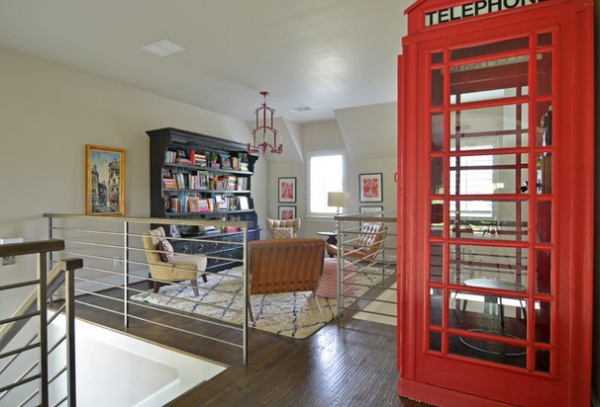 A groovy seating area is perched at the top of the stairs. At its center is a large hutch-turned-bookcase that Glenn found at an antiques store in Forney, Texas. Replica leather Barcelona chairs, framed embroidered Otomi placemats and a red chandelier to match the couple's phone booth make for a playful and eclectic mix.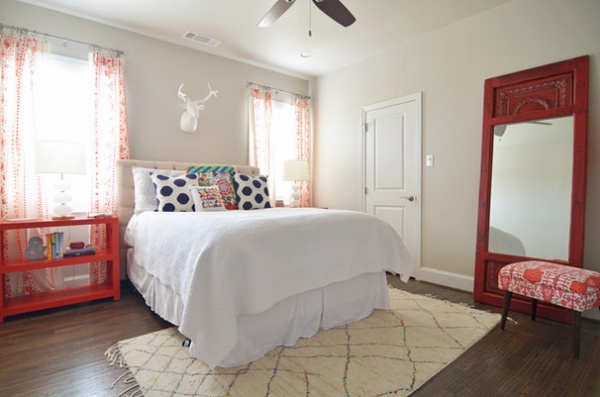 The guest room is frequently used by the couple's children when they're visiting from college. The red and white palette paired with punchy throw pillows makes it a cheery spot.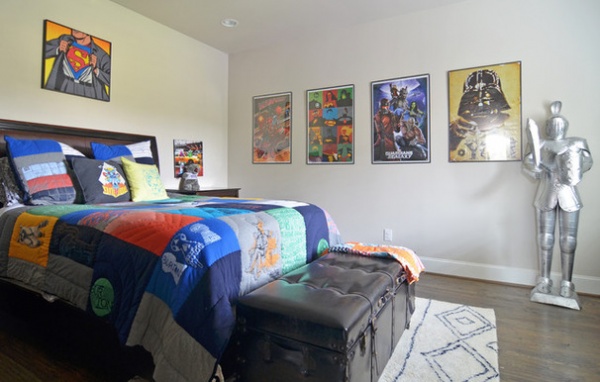 Ten-year-old son Ethan's bedroom is the perfect mix of practicality and design. A quartet of framed Star Wars and Marvel posters shares space with a suit of armor. A trunk at the foot the bed is both a great spot to sit and storage for Ethan's belongings.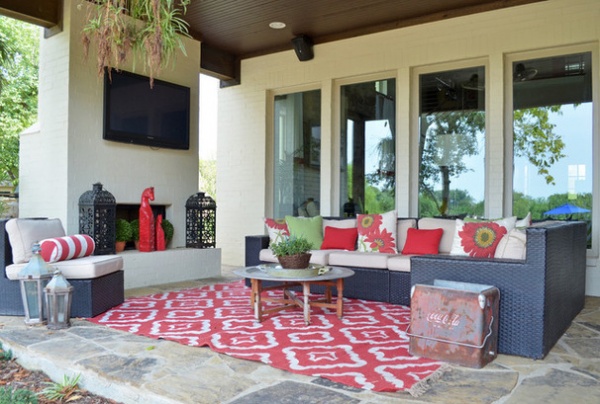 The outdoor spaces are just as thoughtful and colorful as the interiors. Jones, who works in the pool industry, says, "Shauna did the inside, but I was really particular about the exteriors."
Patio furniture: Frontgate; outdoor rug: Pottery Barn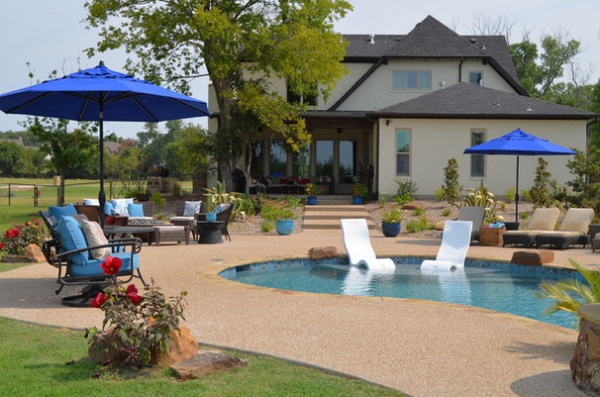 Jones oversaw the installation of low-water plants all around the house, including native grasses and agave plants. The pool and hot tub were also in his purview. Jones is North American sales director for DEL Ozone, a company that specializes in alternative sanitation for residential pools-spas and commercial pools, as well as other applications such as food safety and agriculture. Jones' pool makes use of this green technology and has reduced chlorine usage by 60% to 90%.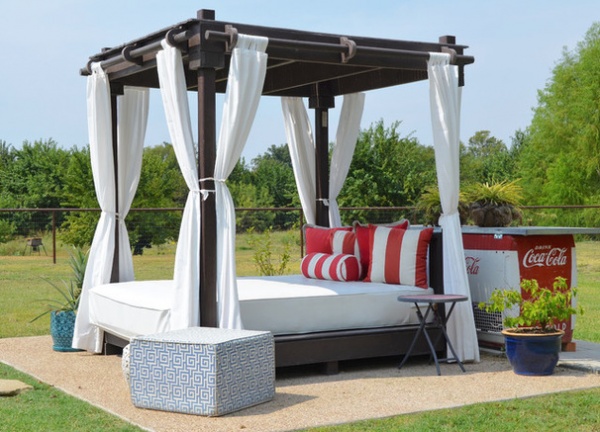 Glenn's favorite thing to do at home is "chill out by the pool." After a trip to Cancun, the couple were inspired to find a wooden four-poster bed suited for outdoor use. This replica was created for them in Mexico. "Jeff drove all the way to Mexico to pick it up and bring it home. That's love," Glenn says.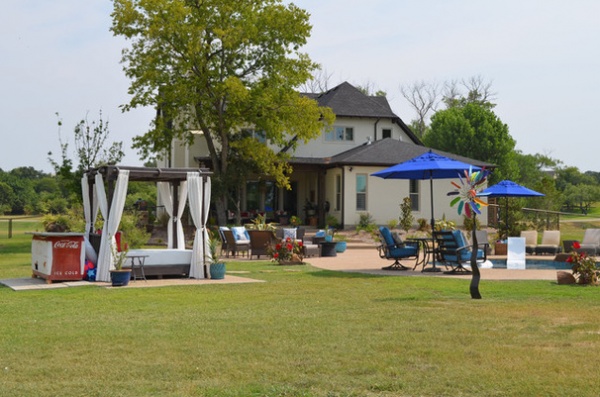 The exterior of the home has a rustic contemporary farmhouse vibe. Wegman says: "When designing a custom home, it all begins with the land. The size, topography, proximity to neighbors, views all have to be considered. With Jeff and Shauna's home, the views out the back and the phenomenal pool area were always going to be one of the major focal points."
Outdoor fire bowls: Grand Effects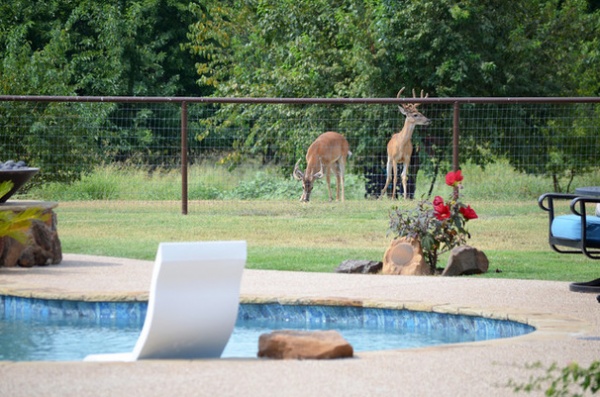 The couple love to watch the deer from the pool area. "Jeff hand-feeds them corn every afternoon," Glenn says. "They hear him shaking the bucket and come running. They're magnificent and lovely."
A pair of white loungers, anchored in the shallow end of the pool, make for the perfect place to observe the surrounding wildlife.
White lounge chairs: Ledge Loungers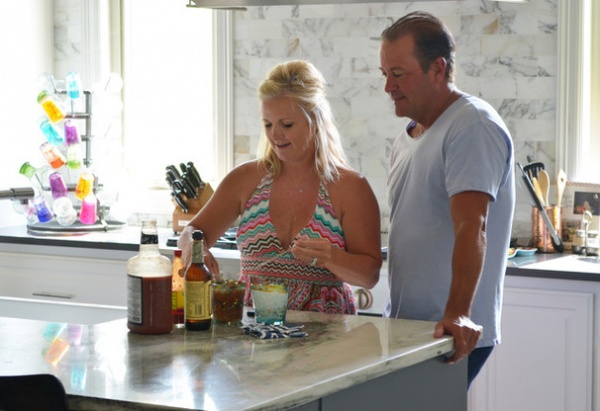 Glenn, left, and Jones are pictured in their kitchen. "To me, home is the place I'm happiest and feel safest. It's a place for eating good food, enjoying friends and family, and making unforgettable memories," Glenn says. Their home is a marriage of their individual sensibilities. "You can have different styles — I'm more contemporary and Jeff is more rustic -— and find a way to make them work in harmony," Glenn says. "Our home is the perfect example."
My Houzz is a series in which we visit and photograph creative, personality-filled homes and the people who inhabit them. Share your home with us and see more projects.
Browse more homes by style:
Apartments | Barn Homes | Colorful Homes | Contemporary Homes | Eclectic Homes | Farmhouses | Floating Homes | Guesthouses | Lofts | Midcentury Homes | Modern Homes | Ranch Homes | Small Homes | Townhouses | Traditional Homes | Transitional Homes | Vacation Homes
URL:
My Houzz: Color-Happy Country Living in Fort Worth
http://decor-ideas.org/cases-view-id-27046.html