Room of the Day: Custom Storage Supports a Minimalist Living Room
Faced with the counterintuitive task of creating a clean, minimalist living room packed with plenty of display, storage and lounge space, project architect Gunther Kragler needed an "aha" moment. Luckily, he got one in the form of a large custom bookshelf that neatly stores books and heirlooms behind acid-etched glass while keeping the light-filled living spaces crisp, modern and free of clutter.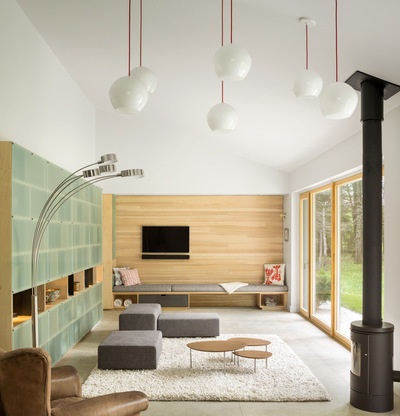 Living Room at a GlanceLocation:
Freeport, Maine
Size:
17 by 42 feet (5.1 by 12.8 meters), including dining and kitchen spaces
Year built:
2014
Game plan:
"The story began with the windows," says Kragler, of Go Logic. The windows span a space that's 8 feet tall and 24 feet wide, opening the room to the landscape. "The windows allow the space to feel larger than it is, and provide natural light and solar gain for heating the home in the winter," he says. He organized the functions of the spaces around the windows, with the dining area in front of one unit (from where this photo is taken), and the living area around another.
The sofa (some pieces of which were removed for this photo shoot) can be organized in various arrangements for watching TV, looking out the windows and huddling around the wood stove.The rug provides texture and definition against the concrete slab floor. The subtle gray tone helps harmonize the interior finishes — wood, concrete, steel and glass.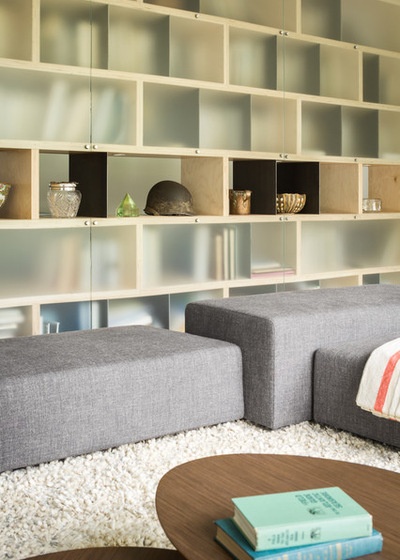 Favorite element in this room:
The custom bookshelf is "a functional object that provides much-needed storage space for books and heirlooms, but also acts as a buffer to define space within the overall volume," Kragler says. The bookcase separates the guest bedrooms and the main living space, while connecting the master bedroom suite to the kitchen and entry so the homeowners don't have to walk through the main space.
The bookshelf is made of clear finished Baltic birch plywood with mill-finished steel dividers. Integrated lighting in the display shelf backlights the acid-etched glass from the hallway side during the evening to offer a variation of translucency.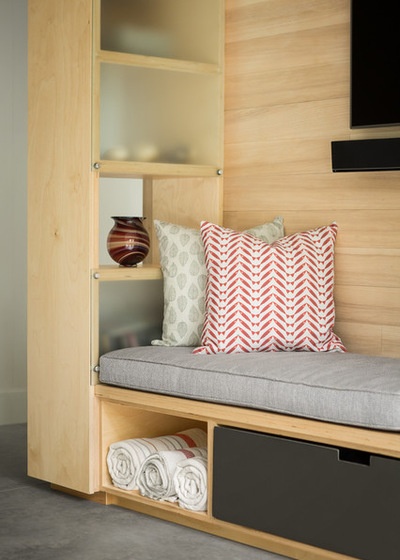 Who uses it:
A lawyer and a schoolteacher with college-age children who come home in the summer and during school breaks.
What goes on here:
Dining, reading, relaxing, TV watching. "The space had to be designed and furnished in a manner to accommodate the day-to-day needs for two people, but also flexible enough to accommodate children when home for college, as well as dinner parties or book club meetings," Kragler says.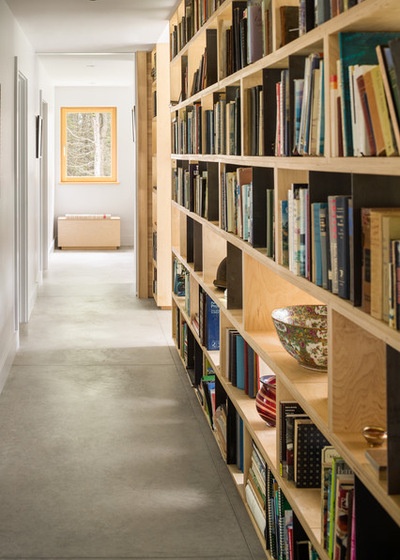 Biggest challenge:
Accommodating seating requirements for three functions on different sides of the room — TV viewing and daybed area on the eastern wall; views to the exterior on the south wall; and engaging the kitchen, dining area and wood stove on the western side.
"The solution was the sofa," Kragler says. "We selected a sofa that fit the style of the house and was capable of addressing all three requirements, because it offered multiple seating arrangements and could face two or three sides of the room simultaneously."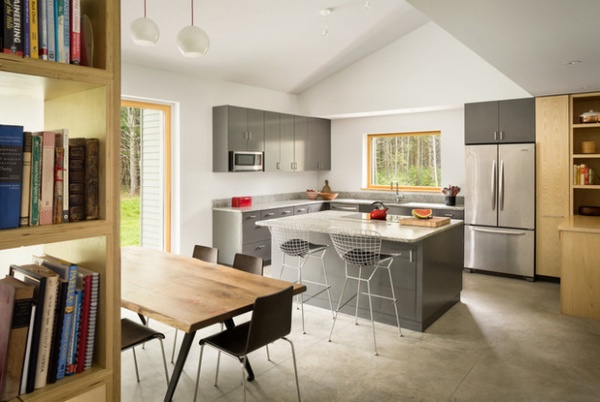 Breakdown:
Sofa: Living Divani; daybed: custom, clear-finished Baltic birch with mill-finished steel panels, Go Logic; feature wall: plain sawn ash with white soap finish; bookcase: custom, clear-finished Baltic birch with mill-finished steel panels, acid etched glass and custom integrated lighting, Go Logic; floor: custom-dyed concrete, Go Logic; wall paint: Tundra 2133-70, Benjamin Moore; triple-pane wood- and aluminum-clad windows: Kneer-Südfenster; coffee table and kitchen stools: Design Within Reach; rug: West Elm; wood stove: Morso; dining lights: Cleo Pendant, Tech Lighting; dining table: District Eight Design; pillows: Trosko Design; throw: Brahms Mount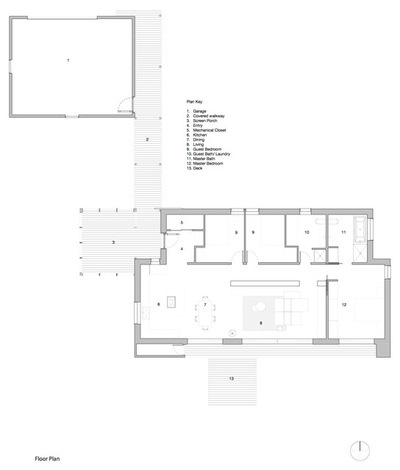 Team involved:
Go Logic (architect, interior designer, general contractor), including Timothy Lock and Riley Pratt; Albert Putnam Associates (structural engineer); Trent Bell (photographer)
See more Rooms of the Day
URL:
Room of the Day: Custom Storage Supports a Minimalist Living Room
http://decor-ideas.org/cases-view-id-27043.html