Vanities That Pack a Storage Punch
Vanity storage doesn't have to be sacrificed in a powder room or small bath just because space is at a premium. These designers got creative — using both ready-made and custom-made vanities to build stylish storage into these petite bathrooms.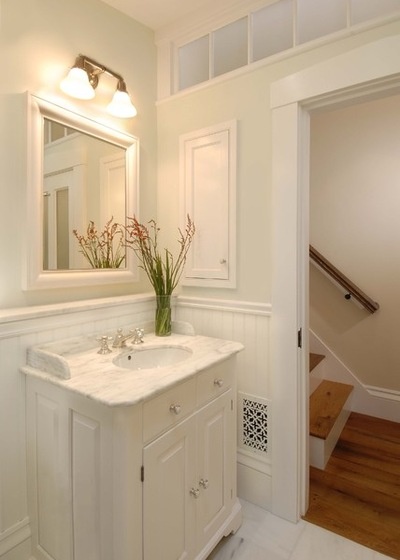 Child size.
Things can be downscaled in a bathroom for children, and that's what designer Julie Palmer, president of Charlie Allen Renovations, says was a driving factor in the design of this Boston bath for two toddlers. The parents chose Waterworks' York single vanity to store soap, shampoo, washcloths, bath towels and other kiddie necessities. "With small bathrooms it's important to avoid trying to squeeze too much into the room," Palmer says. But kid-size doesn't need to be style-free. Palmer says the vanity fits well with the style of the 1850s Greek Revival home.
York single vanity in Paper White and York recessed medicine cabinet: Waterworks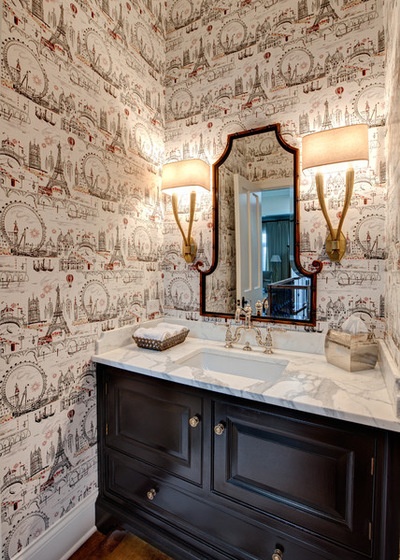 Smart classic.
Designer Melissa Lewis of Lewis Giannoulias opted for a stylish custom Christopher Peacock cabinet in this Chicago powder room. "We wanted to ensure the cabinet was functional and beautiful at the same time," she says. Space on the marble top is more than adequate for toiletries and other items, while the bottom drawer allows for more organized storage. In keeping with the house's "curated blend of styles rooted in the classics," as Lewis describes it, she used a high-gloss black paint paired with a Calacatta Gold marble top for the vanity, along with eclectic wallpaper, to impart a sense of timelessness.
Vanity: Christopher Peacock; wallpaper: York Wallcoverings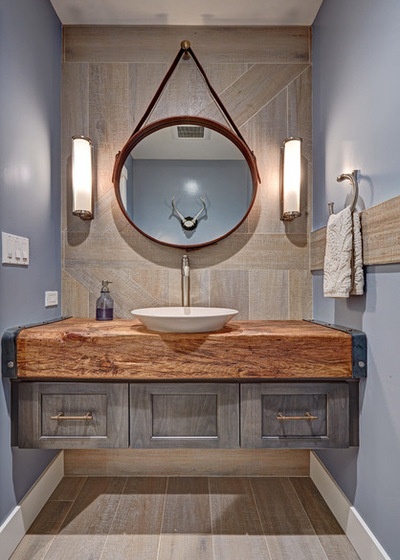 Urban rustic.
Industrial farmhouse was the feeling designer Ashlee Richardson of Nar Fine Carpentry was aiming for in this Sacramento, California, powder room. A handsome reclaimed wood beam fabricated locally tops the vanity and complements the wood-grain tile flooring and the wall behind. Two deep drawers hold toilet tissue, towels and soap, and the iron straps that cover the seams where the vanity meets the wall complete the farmhouse design. The biggest challenge was getting the piece to fit.
Cabinetry: clear alder with a shale stain, Columbia Cabinets; tile floor and part of wall: Britania Top, Porcelanosa; leather strap mirror: Jamie Young, Lamps Plus; Royal adjustable sconces: Restoration Hardware; cabinet pulls: Dakota Collection, Top Knobs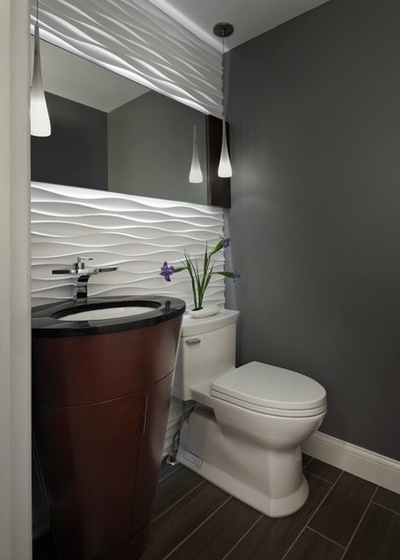 Sleek sophisticate.
This barrel vanity's sleek doors open past 90 degrees, and there's a glass shelf inside for lots of storage. Designer Tanya Woods of Xstyles Bath + More in Bloomfield, Michigan, says she needed a "very small vanity with an interesting shape" that would play off the modularArts sculptural wall behind it for this 20-square-foot powder room. Ronbow's Leonie vanity in dark cherry fit the bill and was also chosen to complement the fan shape of the faucet.
Vanity: Leonie, Ronbow; Fan Fluid faucet: Sustainable Solutions International; wall panels: Dune, modularArts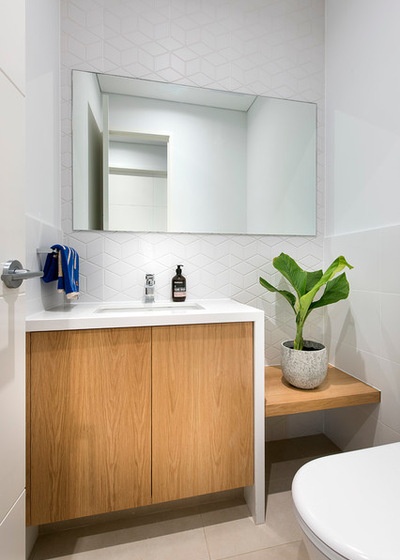 Modern minimalist.
The custom-made modern vanity in this small powder room in Perth, Australia, has a shelf inside and plenty of countertop space for a soap dispenser and toiletries. Designer David Wilkes added a shelf next to it for extra storage or display space for a plant or other items, "to bring some life and color to the small room," he says. He used an open shelf rather than more cabinets to make the space feel more open and larger. For a sleek look, the vanity cabinets open with magnetic push latches instead of handles.
Vanity top and side panel: Essastone in Bone White; wall tiles: Ceramo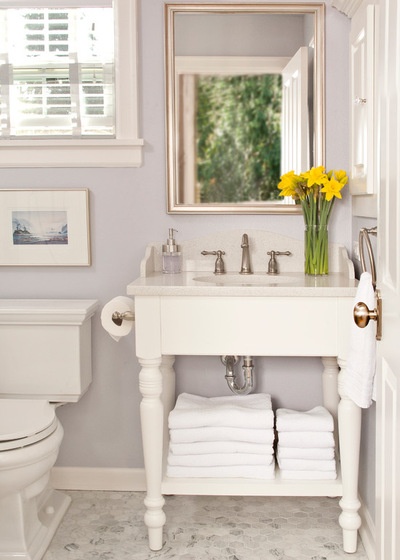 Cozy cottage.
One way to solve space issues in small bathrooms is to construct a vanity to fit, which is what Chris Riddle of Riddle Construction and Design did for this small bathroom in Redmond, Washington. Small but mighty, this quartz-topped vanity does triple duty with counter space for soap and toiletries, a toilet tissue holder and a shelf below for plenty of towel storage. Riddle says everything from the leg style to the countertop shape and material was designed to be functional and cottage-style. "Since it was a whole-house remodel, it was developed with the rest of the house in mind," Riddle says.
Countertop: Silestone in Stellar Snow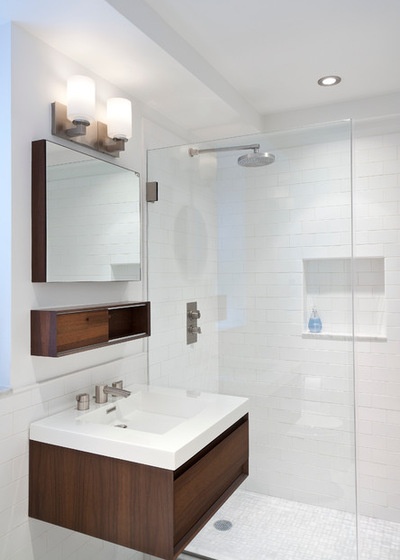 Petite profile.
At 10 inches tall, this petite modular-style hardwood vanity from Wetstyle's M Collection fits the space and contemporary design of this New York bathroom by Weil Friedman Architects. It contains a drawer for storage. The companion horizontal cabinet above adds extra storage space.
Vanity and cabinet: M Collection, Wetstyle; wall tile: Pratt & Larson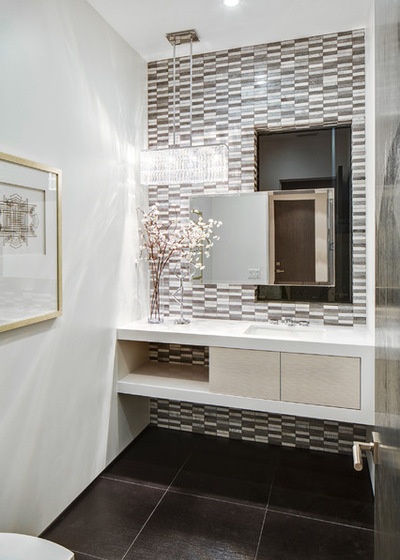 Custom contemporary.
This stylish vanity set against a striking gray tiled wall was fabricated in the bathroom, "because it would not fit if it was done elsewhere," says Keia Payne of Boswell Construction in Encino, California. "Storage is always a problem in small powder rooms," Payne adds, and the last thing they wanted to do was "convolute it by lots of cabinetry and stock medicine cabinets." The solution: A custom 5-foot-6-inch-wide vanity was built in place. Even without a medicine cabinet, there's plenty of room on the quartz countertop and behind the cabinet doors, which are hinged and contain additional storage. Neutral colors allow the accent wall to be the focal point.
Countertop: Caesarstone Classico collection in Pure White; backsplash: Porcelanosa in Greek Blanco Marmara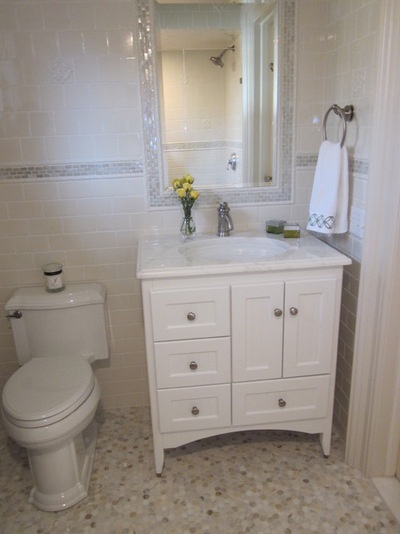 Furniture look.
Here's one hardworking vanity that proves store-bought can hold its own against custom. At 30 inches wide, the compact but practical Strasser Woodenworks furniture-style vanity is a favorite of designer Nanette Baker's, who wanted it to mesh with the 100-year-old traditional house in Old Westbury, New York, and needed it to do big-time storage duty in the master bath. "With this vanity, you have an entire side of functioning drawers on one side. In addition, there are doors that open to store taller items under the sink, and an additional large drawer underneath that space as well," Baker says. "Other companies do not offer this option, and I think the design is superior!"
Vanity: Strasser Woodenworks with custom Calacatta Gold marble countertop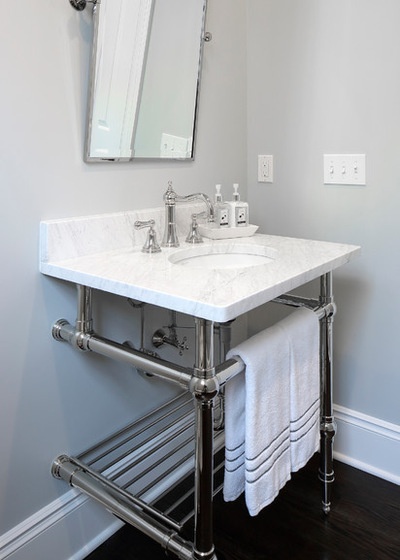 Open chrome.
This Armonk, New York, powder room features a classic console table with added storage underneath. The Palmer Industries polished chrome console vanity measures 30 inches wide, 32 inches tall and 21 inches deep. Console bases with a stone top are a very popular look for small powder rooms, says Carlos Goncalves of Best Plumbing Tile & Stone, as the open styling makes the room seem larger. The Palmer bottom shelf is sold separately, provides more storage and adds to the traditional appeal.
Vanity: Palmer Industries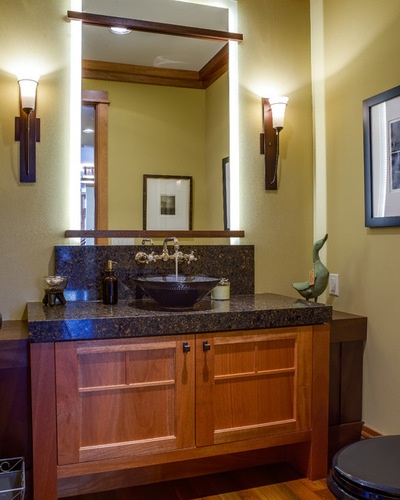 Handcrafted.
"A spacious feel through artful design" and the efficient use of space are what designer Steve Kleineman recommends to clients. The Arts and Crafts detailing in this powder room is consistent with that philosophy and reflects the custom detailing throughout the Minneapolis home. Kleineman was looking for an attractive way to provide storage, and went with the warmth of natural-finished mahogany topped by a thick quartz surface. Instead of squeezing a sink and toilet on the same wall, he got a more spacious feel by moving the toilet to another wall, allowing for a wider vanity.
Vanity cabinet: designed by SKD Architects and made by JL Rosewood Corp.; countertop: Cambria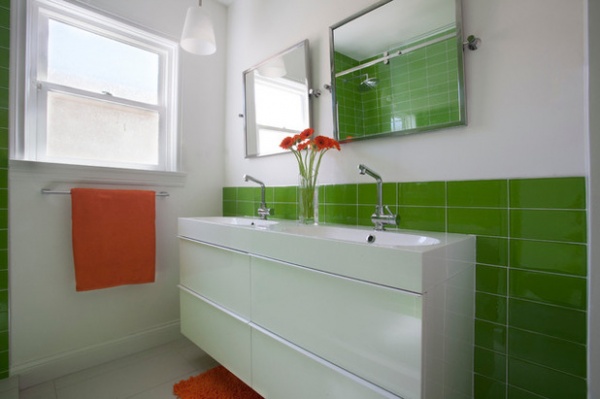 Lean and clean.
In addition to this Ikea vanity's perfect fit in this Los Angeles bathroom, designer Alison Glen of LA Dwelling liked it for its clean lines, functionality and good price. The 55-inch-long, 19-inch-deep high-gloss white piece suits the long and narrow space, and because it floats, it provides a sense of spaciousness. This kids' bathroom is "a playful space. We liked the simple, uncomplicated white vanity because it blends in and doesn't compete with the wow factor — green glass tile," Glen says. And its four drawers provide plenty of storage.
Vanity: Godmorgon/Bråviken, Ikea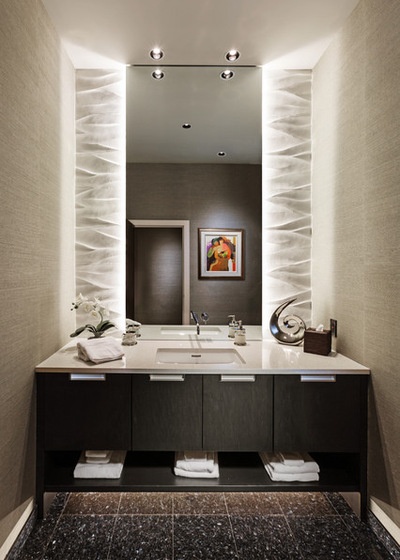 Optical illusion.
Working with very tall walls in this powder room was a challenge for designer Timothy Benkowski of timothyj kitchen & bath in Milwaukee. Benkowski says he wanted to add some horizontality to the space by elevating the cabinet off the floor, shortening the visual height of the wall. The center drawer section under the sink utilizes an obstruction cutout around the plumbing pipes, allowing the drawer to wrap around pipes and creating storage where it wouldn't normally be accessible. The open shelf below is handy for folded towels.
Vanity: Brookhaven line, Wood-Mode; textured wall: Boreal engineered marble, Giovanni Barbieri
More
Browse ready-made vanities in the Houzz Shop
URL:
Vanities That Pack a Storage Punch
http://decor-ideas.org/cases-view-id-27038.html