14 Fun and Easy DIY Projects With Paper
Do you have a collection of magazines piling up? How about a drawer crammed with old notes and postcards? Here are 14 do-it-yourself projects using paper you may already have on hand to brighten up your walls, doors and furniture.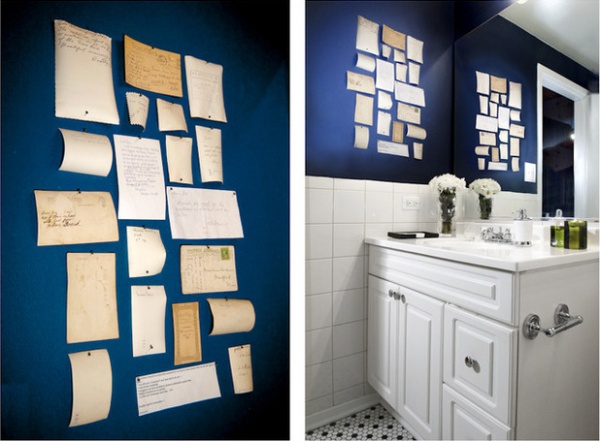 1. Memory collage.
We all have the best intentions to live mindfully and prioritize what's truly important to us. But more often than not, cherished memories get lost in a drawer. Take a page from this designer's book, and hang meaningful postcards and notes where you'll be reminded daily of what life is about.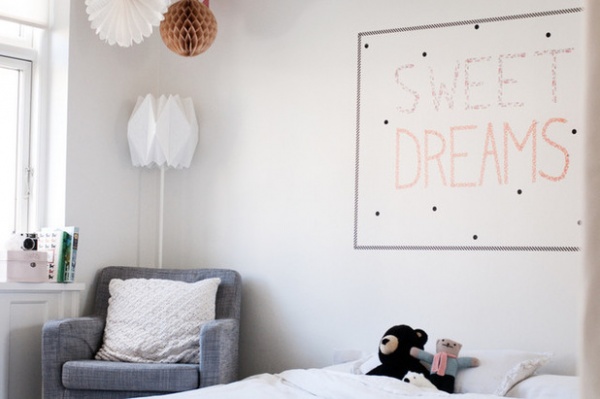 2. Stand-in picture.
Fine art can be an expensive investment. Though many agree that it's better to leave a wall blank until you find just the right piece, you can still have fun dressing the space in the meantime. Here, a young family on a budget used Japanese washi tape to give their white walls character. Punchy craft paper in a neat frame can achieve the same effect.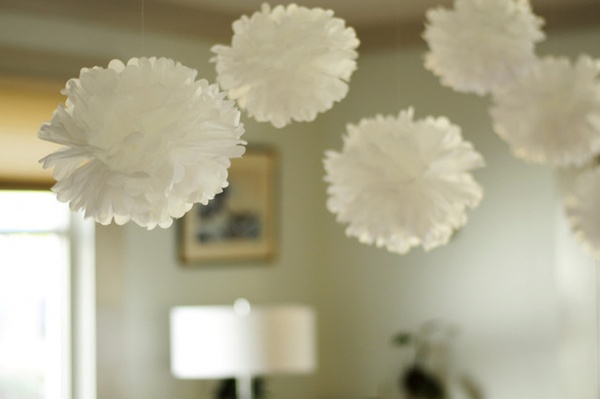 3. Pompoms.
Paper lanterns are as popular as ever, but functioning ones may be difficult to DIY. You can easily replicate their lightness by scrunching and folding loose-leaf paper into pompoms to hang above a desk or reading alcove. String twinkle lights around them, and you'll have
instant
bohemian appeal.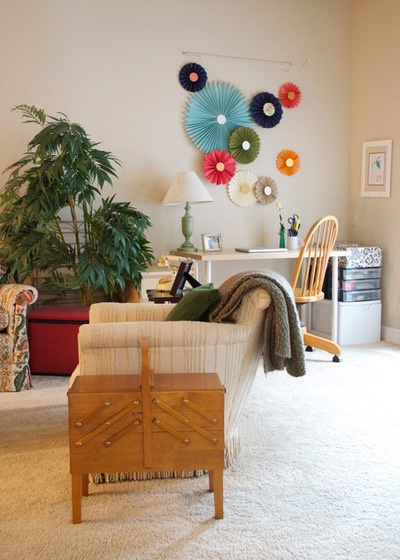 4. Fans.
Create a gallery of colorful paper fans (or flowers). Arrange them in an artful pattern, then stick them to the wall with double-sided tape. This is a great project for dorm dwellers (and their resident assistants), who'll appreciate that no nails are required to hang them.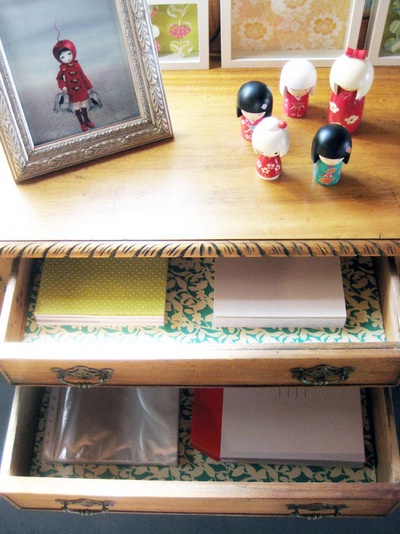 5. Drawer liners.
Tired of your old desk (or the work you do there) and looking to freshen things up? Maybe you have hundreds of photos of new paint schemes bookmarked but no time to tackle a refinishing project. For an interim fix, line your drawers with patterned paper, either leftover wallpaper or 12-by-12-inch scrapbook paper you can buy at the craft store for less than a dollar a sheet.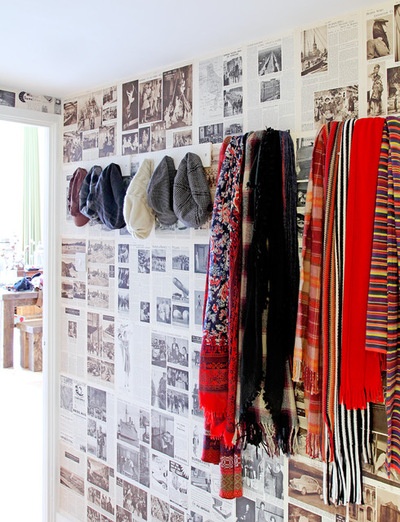 6. Magazine wallcovering.
The London designers at Avocado Sweets Interior Design Studio made a striking first impression at an entryway by gluing pages from old magazines to the walls, then coating them in a clear varnish. Not only is it a fun twist on the photo-wallpaper trend, but it's also a clever way to recycle paper rather than toss it.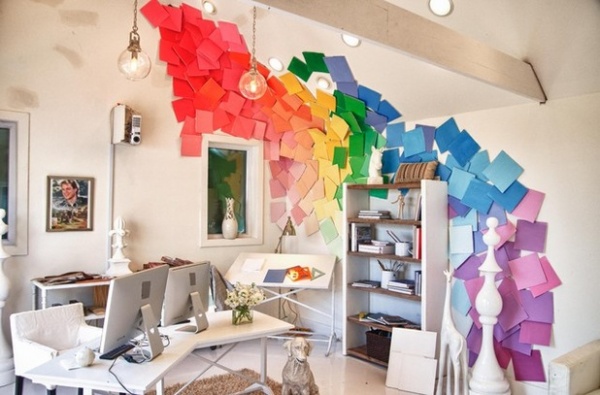 7. Rainbow bright.
The best thing about affordable paper is that it can achieve major design impact on a minuscule budget. A couple of reams of painted card stock is all it takes to spread a band of color across the white walls of this creative professional's office.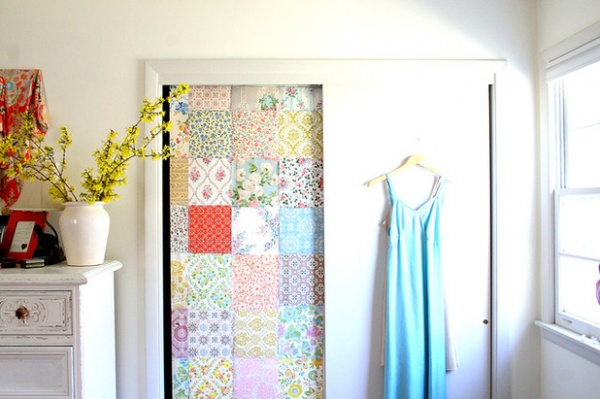 8. Door decoration.
Pieces of vintage wallpaper pasted to a closet door add charm to a whitewashed boudoir.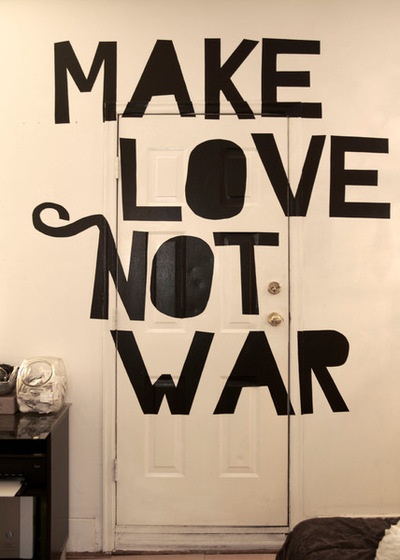 9. Statement art.
This designer seized on a brilliant "aha" moment when she used a projector to cast a catchy motto on the wall of a bedroom in Vancouver, Canada. Enter black contact paper, and the picture is complete.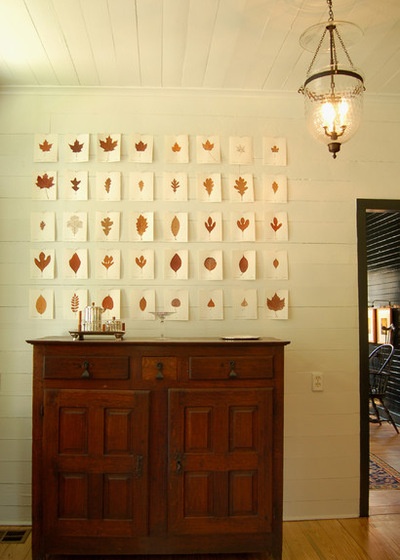 10. Framed foliage.
You don't always have to go far to find inspiration. A collection of dried leaves from your backyard mounted on paper counts as art as much as photorealistic paintings or abstracts by the masters. Framed magazine pages or vinyl records work too; it's all in the presentation.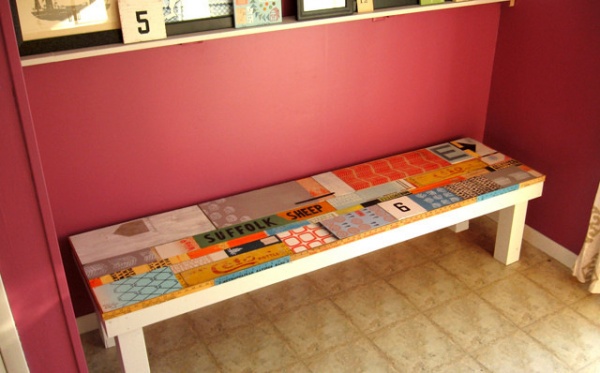 11. Furniture topper.
Take a page from mixed-media artist Erin Lang Norris' book, and transform an entryway bench into a masterpiece with all manner of craft supplies. Stencils, paper, stamps, Mod Podge, wallpaper, magazine cutouts — anything goes when you're creating personalized art for your home.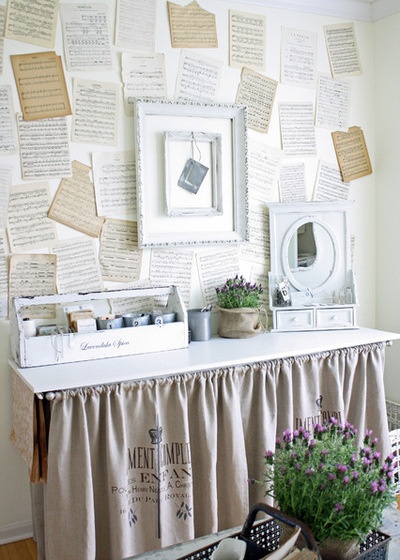 12. Sheet music wallpaper.
A soft mix of French and bohemian, this stylish home office owes its charm to the sheet music taped artfully to the wall. It's easy to imagine Beethoven himself using a similar visual as daily inspiration to unleash his own creative genius.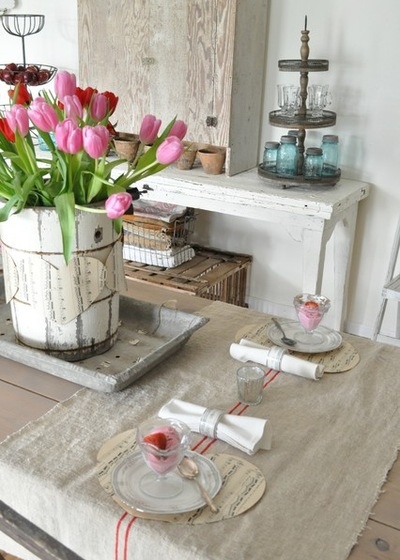 13. Placemats.
Though we've seen paper working its way into a modern bathroom and a crisp white office, DIY touches seem most at home in a Shabby Chic cottage. Here, romantic sheet music placemats serve up an enchanting vignette at the dining table. Get the same look with pages from a book if you're more of a bookworm than a virtuoso.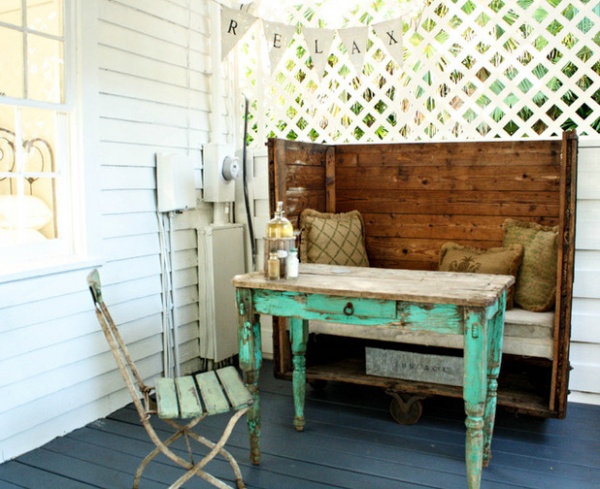 14. Pennants.
These classics impart a sense of playful festivity to a space, making them a natural fit in nurseries, playrooms, game rooms, breakfast nooks and other casual lounging areas. Gussy up a porch with a sweet "Relax" banner like this one, or come up with your own mantra to broadcast from the rafters.
More:
10 Ways to Reuse Wrapping Paper
URL:
14 Fun and Easy DIY Projects With Paper
http://decor-ideas.org/cases-view-id-27036.html