horse heaven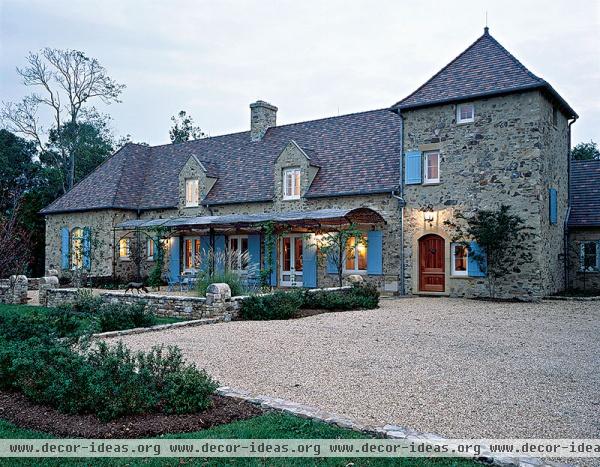 horse heaven
Diana Cummings worked with Virginia architect Mark Buchanan to build a house on her scenic acreage about 50 miles from Washington, D.C. Diana, an avid horsewoman, wanted a French-inspired country house with a "rugged elegance" and weekend attitude. Drawing inspiration from a 17th-century French single-stall-wide horse stable, Buchanan created a home that featured local fieldstone for the exterior, a tiled hipped roof, dormers, and shuttered doors and windows.

Sources:
Door: Woodstone Architectural Windows & Doors, 802/722-9217. Outdoor lantern: Brass Light Gallery, 800/243-9595, brasslight.com. Stone Lewis Whitesell, Traditional Stone Masonry Inc., 540/687-6693. Roof tiles ("Provincial''/Black Mist): Ludowici Roof Tile Inc., 800/917-8998, ludowici.com. Arbor: Nol Putnam, 540/636-4545. Shutters : Neumann Lewis Buchanan Architects, 540/687-3917. Shutter paint: custom.
Design:
Architect: Mark Buchanan, AIA, Neumann Lewis Buchanan Architects, P.O. Box 1144, Middleburg, VA 20118; 540/687-3917, nlbarchitects.com. Interior designer: Shoshana Datlow, Lifestyle Interiors Inc., P.O. Box 3, The Plains, VA 20198; 540/253-5571. Builder: Jim Eicher, J.D. Eicher Builder Inc., 50 S. Fourth St., Warrenton, VA 20186; 540/347-7591. Landscape contractor: Rich Shoemaker, Shoemaker Landscape Inc., 9183 John S. Mosby Hwy. , Upperville, VA 20184 ; 540/592-3800.
Photographs by Ron Blunt
Written and produced by John Francisco Andreu
horse heaven
http://decor-ideas.org/cases-view-id-1249.html