BLISS ON THE BAYOU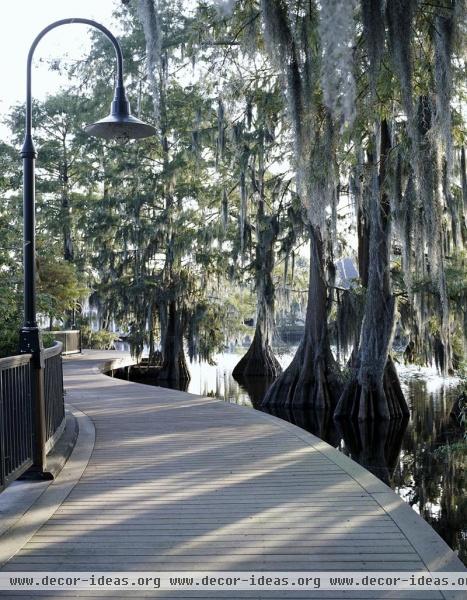 BLISS ON THE BAYOU
There are no bad views in this new home in Monroe, Louisiana.Bayou DeSiard laps up lazily to the serpentine wooden boardwalks that ribbon around the house. Mature bald cypress trees stand knee-deep in the water, dripping Spanish moss. "The best thing about this house," confirms Harlan Sager, who shares the home with his wife, Dawn, and their three school-age children, "is that every room has a view of the bayou.
It's one of the salient architectural goals for new homes in the south: making the most of nature, which is among the region's most gracious features. Architect Lee Ledbetter intended nothing less: "We sited the house for a two-mile uninterrupted bayou view." Having made his mark on the East Coast working with architecture icons such as Michael Graves and Robert A.M. Stern, Ledbetter wanted one of his first major commissions back home in Louisiana, where he returned in 1993, to be a standout. A further incentive was the clients themselves. "Lee's older brother has been my best friend since childhood, and his younger brother introduced me to Dawn," explains Harlan, cinching tight the families' circle.
A small world can mean big pressure, but Ledbetter was unfazed. "It was an honor to design a grand house for my lifelong friends in my hometown," says the Monroe native, whose office is in New Orleans. But his ultimate inspiration was the property itself. Steeped in natural beauty and family history, the project would have been a can't-miss even for a lesser talent than Ledbetter. The land originally belonged to Harlan's great-grandfather, the first bottler of Coca-Cola. In 1894, at age 28, he opened his bottling plant in Vicksburg, Mississippi. Then in 1905, he moved to Monroe to open another small plant. The family's been there ever since and has kept a hand in the business-Harlan served as Coca-Cola's vice president.
"In the 1920s, my great-grandfather bought the old Hard Times [cotton] plantation, which my property is just a small part of," explains Harlan. His grandfather, one of the original founders of Delta Airlines, grew up there. But with 700 feet of bayou, Harlan's portion of the old estate offers plenty-especially considering it was literally luck of the draw. "I and the 12 other members of the fourth generation drew straws. I think I got the best," Harlan says with a chuckle. All that was lacking was a southern plantation house.
He had dreamed of it for years-at least since his first date with Dawn, when she was 18, and he was 26. "Harlan drove me out to the property and told me that someday this was where he was going to build a house," Dawn recalls.
In 1996, he made good on his word. He hired Ledbetter, who modeled Harlan's dream house on Louisiana's traditional raised plantation cottages, then built it on a promontory at the confluence of Bayou DeSiard and Hog's Bayou.
Like the intersecting waterways, the rooms flow one into the other, eliminating the need for formal hallways. "The floor plan has a Northern Louisiana plantation antecedent," says Ledbetter. "This means the house is only a single story high and has a more informal flow." But make no mistake. It has its share of grandeur.
BLISS ON THE BAYOU
http://decor-ideas.org/cases-view-id-1247.html