A Lot to Love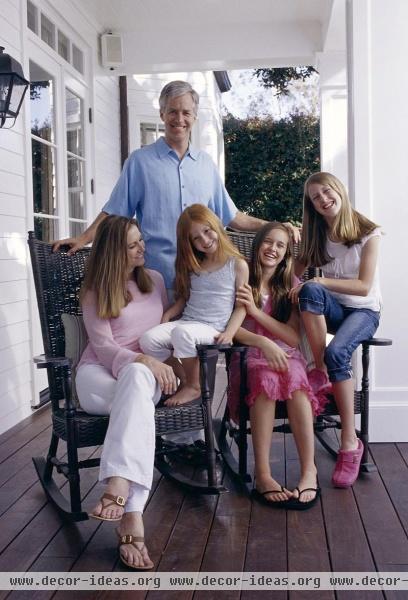 A Lot to Love
Some people buy a house for a floor plan that suits their family needs; others are attracted by its history or architectural significance. But when Southern California natives Lisa and Doug Holte went searching for a new home, it was a piece of land that captured their hearts. Situated on a lot against a scenic canyon in Pacific Palisades, the house featured privacy and a spacious front yard that seemed perfect for the soccer and volleyball games that the couple's three athletic daughters love. They bought the property, and lived in the existing house-a structure that was funky and chic but destined to be torn down because it was definitely not their style-for three years so they would know exactly how they wanted to use the land.
For the new place, Lisa and Doug enlisted the help of Los Angeles-based architect Doug Burdge, who translated their wishes into a traditional family-friendly East Coast-style home, but one that gleams with natural California light. "Doug is so great at scale and proportion," says Lisa. "He has two sons of his own, so he is familiar with our lifestyle and knows how families work. He has a gift for enhancing my ideas and filling the house with bright light."
Burdge had to factor in a couple of challenges when he started drafting the design. The existing house had a pool that backed up to the canyon with a wonderful ocean view, a feature the Holtes wanted to retain. But city codes no longer permit pools to be constructed that close to a slope, so building a home completely from scratch would have meant compromising the pool, deck and, ultimately, the view. Burdge cracked that code by keeping one wall from the existing house as well as the original pool so that the new structure could qualify as a remodel. In addition, he designed the house around a pair of beautiful flowering eucalyptus trees that the Holtes insisted remain a part of the landscape.
"Building the house around the trees and the pool ended up giving them a larger front yard," explains the architect. "And because the house was set so far back from the street, barriers to create privacy weren't necessary."
The hardworking exterior is a testament to the Holtes' casual lifestyle and love for the outdoors, and the interior reflects that style as well. They requested a house with an open and airy view from front to back. The resulting floor plan uses a minimum of walls, dividing the space into specific areas by incorporating such architectural elements as moldings, functional built-ins, and interesting ceiling details.
A Lot to Love
http://decor-ideas.org/cases-view-id-1246.html