BORN AGAIN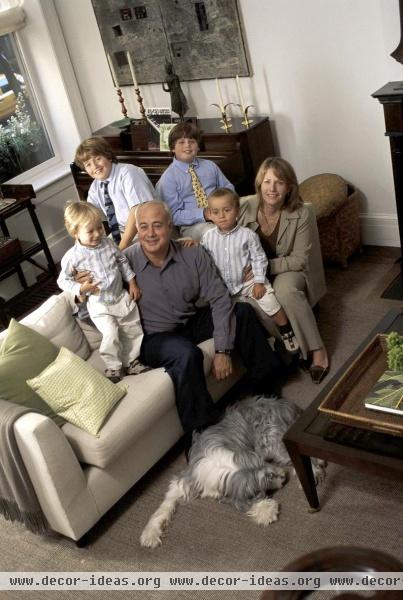 BORN AGAIN
Growing families always needmore space. This is an especially challenging reality in New York City, an island of space-deprived apartments. For Michele Kolb and Eric Rosenberg, the parents of four young sons, including 3-year-old twins, searching for more room in the suburbs was not a solution. Instead, the couple has brought a dilapidated circa-1890 brownstone house up to 21st-century snuff.
Frankly, when they began their home remodeling three years ago, there wasn't much to work with. Previous owners had sheared off the three-story building's elaborate cornice and window surrounds. Someone had painted the exterior white in an effort to brighten the brownstone, a Connecticut sandstone that was a popular and later much-maligned feature of mid-Victorian Manhattan. (The novelist Edith Wharton claimed it "coated New York like a cold chocolate sauce.") At some point, the high front stoop had been torn away to make a ground-floor entrance. The interior was mangled, too, carved into small apartments and professional spaces, most recently a foundation for mood disorders.
"There was nothing left of any value," explains Michele, one half of the award-winning Rosenberg Kolb Architects. (Eric trained with tastemaker Peter Marino, while Michele worked for the modernistsLella and Massimo Vignelli.) "Real-estate-wise, it could have been developed into a significant piece of property." Next door, however, stood a landmark whose architectural distinction proved to be an inspiration: an elegant Beaux-Arts building that was the first public library funded by the steel magnate Andrew Carnegie. Completed in 1902, it was the last work of architect James Brown Lord, whose pièce de résistance is the Palladian-style Manhattan Appellate Courthouse on Madison Avenue, finished earlier the same year. Though the couple's brownstone was not part of a historic district, she says, "We felt compelled to create a house that responded to the character of the library."
That meant restoring the Italianate façade from old photos but not replicating everything that was lost. "Our lifestyle is very different than the people who built this house," says Michele. For her, dinner means cooking with friends, then gathering around a fuss-free communal table. She and her husband also had no interest in the typical brownstone floor plan. "The uses of the rooms were formal, and backyards were service areas, not gardens," Eric says. "Our challenge was to bring as much light and air into the house as possible."
Off the drawing board came an old home renovation plan that combines 1890s grandeur (beefy moldings, a dramatically arched double front door found at a salvage shop) with a commitment to casual living. That includes Eric's pride and joy: an open staircase that allows his school-bound sons to toss their backpacks down from an upper landing. "If a staircase doesn't have a well," the architect adds with a laugh, "you can't stand at the bottom and shout up to the boys for the tenth time to come to dinner." Michele concurs. "No matter what the exterior of a house looks like, the interior still has to respond to your lifestyle."
BORN AGAIN
http://decor-ideas.org/cases-view-id-1244.html