Destined to Delight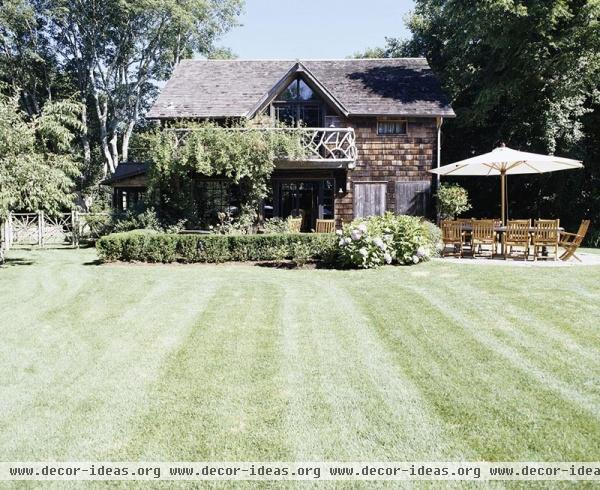 Destined to Delight
French Canadian Francois Simard decided to put on his rollerblades and take a spin down Main Street. Breezing along the sidewalk past posh boutiques, gourmet food shops, and tiny restaurants, he was thinking not about house-hunting, but about going later that day to the beach. And then kismet paid a call.
Francois, from Montreal, explains: "I happened past a real estate office with photos of properties displayed in the window. I had never given thought to buying a house here, but for some reason one of the photos really grabbed my attention, and I decided to go inside and inquire." Still shod in rollerblades, he had to teeter up a flight of stairs to reach the office, where he was told by an agent that the property that had caught his eye consisted of two barns—the older one built roughly 160 years ago. The two buildings had been attached at some point and turned into a dwelling.
That was the good news. The bad news was that the place had been abandoned for several years, it was in disrepair, with two feet of water standing in the basement, and—to further complicate matters—it was under foreclosure. Francois was nevertheless fascinated. He bought the barns, and for the past nine years, he has never once rued the day.
It took eight months to ready the house for habitation, during which Francois replaced all existing windows and added several new ones, including a 28-foot-wide wall of glass windows and doors in the living room. "I am absolutely, totally connected to the island of Bali," he explains. (He discovered the reconfigured barns shortly after returning from a visit to that exotic island.) "And as much as possible, I wanted to create an inside-out feeling like the houses have there," he says. With the new window wall, the terrace becomes an extension of the living room, and vice versa. It's a perfect layout for summer entertaining.
Bali-esque in feel, if not in fact, are the converted barn's ebony-stained oak floors, dark wood beams and wainscoting, and walls washed in white. Furnishings in the living room and elsewhere are an eclectic compilation of antiques purchased on world travels, estate-sale and flea-market finds, and certain items that Francois just "happened upon" (like the barn itself) when not even looking. Examples include a pair of old post lamps that he found in a flea market in upstate New York. He turned the shapely fixtures upside down and hung them from the pergola just beyond the living room. The living room's elegant marble-topped gilt console was plucked from a Palm Beach estate sale, and two rustic wooden stools next to one of the sofas were discovered at a Paris flea market.
Other serendipitous acquisitions are the dining room chairs. Francois spotted them while taking a tour of a furniture-manufacturing company in New Jersey. "The chairs were one-of-a-kind samples from a furniture maker in Europe," he relates. "The company I was visiting had purchased them with thoughts of putting them in a new line, but since they decided not to manufacture the chairs, they agreed to sell them to me. No two are alike, and this makes for an interesting dining room."
Destined to Delight
http://decor-ideas.org/cases-view-id-1241.html