THE WHITE STUFF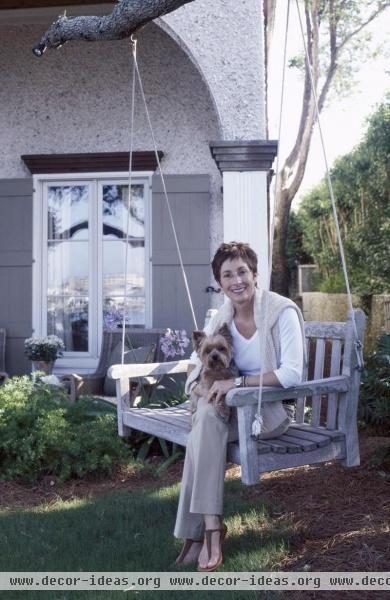 THE WHITE STUFF
When there's an ocean outside your windows, it's easy to succumb to seaside decorating clichés-plantation shutters, a trophy marlin over the fireplace, bowls of seashells by the bedside, books about Caribbean villas on the cocktail table. When interior decorator Leah Richardson moved from Atlanta to the Florida resort city of Destin a dozen years ago, however, she was determined to avoid all that maritime mania as she designed,built, and decorated the house she shares with her husband, Jim, an entrepreneur, and their daughter, Lauren, a college student. Though the interiors are as white and pure as a conch bleached by salt and sun, the only shells at the Richardson house are on the outside of the building. Literally.
"My grandparents had a house on Jekyll Island, so I was very familiar with tabby," says Leah, referring to an old fashioned type of concrete made of oyster shells, lime, and sand that is a centuries-old construction material in coastal South Carolina and Georgia, where she grew up. " Florida has coquina"-a natural limestone speckled with small shell fragments-"but I wanted a house with large oyster shells," she adds. "The workmen weren't pleased with me at all, because the tabby work took three to four weeks, and each shell has to be hand-thrown on the walls."
That's not the only out-of-the-ordinary gesture in Leah's aesthetic arsenal. When she and her family moved to Destin, they chose to build on a hillside overlooking the city's bustling harbor rather than gravitate to a location on the more popular flanks of the Gulf of Mexico. "We looked at the beach, the bay, and the harbor, but there's just something about being downtown and having a bit of urban excitement," explains Leah. At the end of the day, for instance, she and Jim often head down the hill to their waterside terrace-glasses of wine in hand and their Yorkshire terrier, Rudy, scampering along beside them. There they can watch the fishing boats come in from a long day, loaded with pompano and tuna, and relax as the city's lights begin to sparkle against the wide and darkening sky.
THE WHITE STUFF
http://decor-ideas.org/cases-view-id-1237.html